The 2019 MCUL GAC: A Recap of Our Annual Advocacy Event
A record number of participants — more than 200 attendees — joined the League in Lansing for the annual Government Affairs Conference (GAC). The GAC is MCUL's annual advocacy event that brings credit union professionals and volunteers together with industry experts and state legislators and regulators for the sake of pushing credit union issues further.
MCUL EVP/COO Patty Corkery started the morning off with a brief overview of MCUL's previous year in review as well as a look at the current advocacy agenda at both the state and federal level. She conveyed to attendees the League's current expectations on many of these issues, including a hot topic for the day: cannabis banking and the STATES Act.

Corkery also went through a brief list of new legislative faces in Michigan and stressed the importance for credit union leaders to get familiar with these folks, invite them to events and branches and remind them about all the things credit unions do.

Before "Tough Questions with Tim Skubick," MCUL Manager of Legislative Affairs Haleigh Krombeen was able to provide a quick legislative update, which touched on the latest status on the top-of-mind issues, such as data breach, cannabis banking and escheats of military accounts.
Tough Questions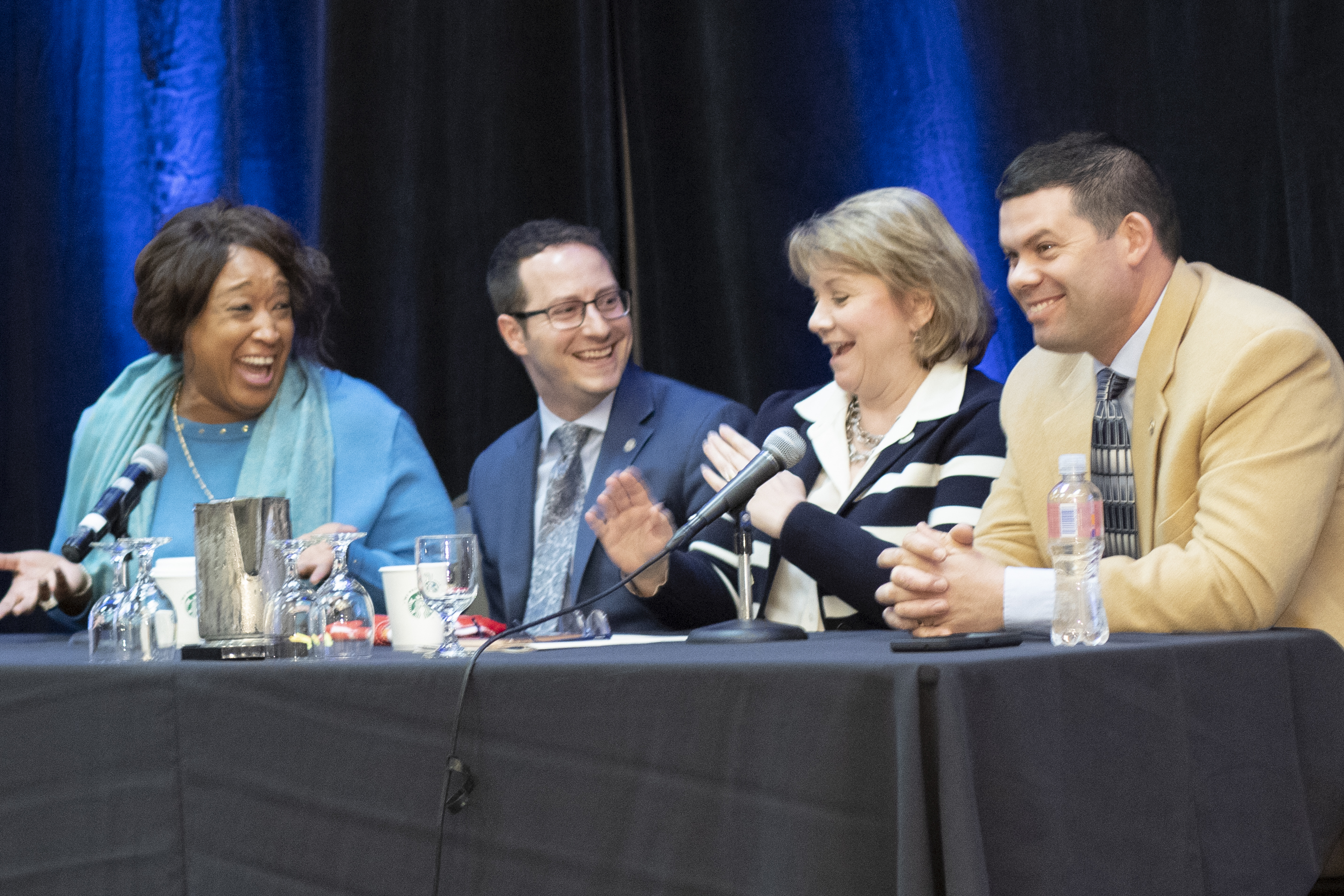 "Tough Questions with Tim Skubick" has become a regular feature at the MCUL GAC, wherein Skubick, a political reporter, is joined by a legislative panel whom he uses to talk about the latest issues in Michigan politics.

This year, the panel consisted of the following:
Rep. Sherry Gay-Dagnogo (D-8)
Rep. Christine Greig (D-37)
Rep. Triston Cole (D-105)
Rep. Graham Filler (D-93)
During the talk, attendees are able to see issues through the perspective of representatives from both sides of the aisle. Skubick uses audience participation and his own questions to draw debates between the legislators.
Issues discussed:
Fuel tax and road fixtures
Cost of car insurance
Data breach and merchant's security standards
Cannabis banking
Sports gambling
The crowd was very vocal about the need for data breach legislation, informing lawmakers about the many dollars they lose due to a lack of security standards. Cole responded to attendees with a plea to have their legislator's cell phone number in their phone. Legislators need to hear real, not hypothetical stats, he said, and they need to hear from people directly. Filler finished his thoughts by saying the credit union industry should be optimistic about movement on data breach legislation in the near future.
Ending the panel, Gay-Dagnogo told attendees she has learned a lot during her three terms, specifically from MCUL about these issues, commending the movement on their ability to advocate and educate.
Grassroots Midwest Insider Look
Two representatives of Grassroots Midwest, Adrian Hemond, partner/CEO, and Scott Bean, director of development and strategic engagement, then informed guests on the year ahead in Michigan regarding election outcomes, district changes, what other associations are doing and what the credit union industry can do to make political progress.

Hemond stressed the small community businesses and organizations within the community that represent specific groups of people. They need to make sure their voice is heard and their influence made. Continuing, he said it's important to continually recruit new folks in the community to join your moment, because more people will not only broaden your representations, but give you a better idea of the many experiences inside the community.

Dykema's Cannabis Banking Panel

Following the grassroots feature, two Dykema representatives, R. Lance Bodrey, member, and Shelly J. Edgerton, senior counsel, conducted a short panel on cannabis banking. Edgerton spoke about how the industry is currently in a stage of constant change.

Regarding the SAFE Act, she, like Filler, spoke about the momentum at the federal level to move along legislation that will go towards the decriminalization and de-scheduling of cannabis.

"It's a major step forward. It's going to go a long way to protecting banks and credit unions," Edgerton said.

However, she continued to say that it's going to take a huge lobbying effort to keep the momentum up until cannabis is decriminalized and de-scheduled from its current Schedule 1 status.
Bodrey talked briefly about the Executive Order 2019-07, which took effect just a day previous to the event. The order reorganizes the Bureau of Marijuana Regulation into a Type 1 Agency within Licensing and Regulatory Affairs (LARA) and eliminates the five-person licensing board putting the authority and responsibility of license issuance with the Agency and the Executive Order.
Before taking questions, Bodrey said adult use is going to change drastically, saying the Marijuana Regulatory Agency (MRA) is charged with establishing a regulatory program to issue licenses to those seeking to participate in the adult use market. Continuing, he said the MRA is expected to issue Emergency Rules by late June or July with an exception of opening the market as early as September.

Political Forecast with Lt. Gov. Garlin Gilchrist

The day finished with a visit from Lt. Gov. Garlin Gilchrist, who opened by saying he's a proud member of the University of Michigan Credit Union, told attendees this was an introduction of sorts for him to the credit union industry and he looks forward to developing relationships with the movement's professionals and volunteers over the next four years.
Gilchrist spent much of his time at the GAC discussing Michigan's potential for growth and his dedication to creating pathways for that to happen. He talked about three P's: Policy, Power and Presence — particularly stressing the importance of presence to make progress happen.
"As we work alongside you to ensure there is a vibrant environment in Michigan, we want to make sure we are creating those environments so people in Michigan can thrive and that people in Michigan realize this is a path for careers and financial services," he said, speaking specifically about credit unions.
More generally about the state, he said he wants to break new ground in the midwest because Michigan is possible of that.

"If people realize they can do the things they want in Michigan, they will stay in michigan. We need to create pathways and pipelines for people to be successful," said Gilchrist.
One of the pathways he spoke specifically about was allowing Michigan consumers to have access to broadband internet, saying a lack of access is a limiting factor that can impede education, small businesses, health and more.

"Everyone needs to be connected in order to realize our full potential," he said before finishing by telling attendees to continue to let legislators know what their issues are throughout the year.
DIFS representatives, including Director Anita Fox and Director of the Office of Credit Unions Denise Schultheiss, were also present and talked to attendees about up-to-date issues and their current focus and transitions.
Go to main navigation