In Brief, April 19
UP Chapter Names First Recipient of the Pat Ruecker Scholarship
The U.P. Chapter of Credit Union named the first-ever recipient of the Pat Ruecker Scholarship: Julie Johnson from Embers Credit Union.

In honor of the U.P credit union pioneer and everything he has done for the credit union community, MCUL created the Pat Ruecker Scholarship to fund a $1,500 education scholarship for one emerging leader to attend the MCUL's Annual Convention & Exposition. The scholarship will cover the Johnson's travel, lodging and registration fees.
Peters and Stabenow Sign Letter in Support of CDFI
MCUL would like to thank Senators Gary Peters and Debbie Stabenow for their continued support of the CDFI program and for recently signing on to a letter to Senate appropriators requesting the program be funded at no less than $300 million in fiscal year 2020.

In 2018, four Michigan credit unions (Advia, Frankenmuth, Lake Trust and One Detroit) received CDFI awards totaling $2,950,000. CDFI recipients use the dollars, along with their own funds, to develop and promote financial products and services that generate economic growth and opportunity in distressed areas.
For more information on CDFI, please visit here.
Last Chance to Register for Collector Training School
Last call for those wishing to register for the Credit Union Collection Consortium's collector training school! Steve Kreitlow, a national speaker and instructor from CU Recovery, will present a one-day seminar on best practices for skip tracing, repossessions, remarketing and bankruptcy.

The school will be held May 7 in the main auditorium at the MSU Management Education Center in Troy. Fun, prizes, giveaways, sponsor tables and lunch are included.

"We're really excited about this school. We've had a tremendous response so far and thanks to our sponsors we've been able to price this event at $110 so that hopefully everyone representing their collection department can attend," said Consortium President Peggy Dombrowski. "I think people are going to be pleasantly surprised with this event."

The school is the finale of the 2018-2019 meeting schedule for the consortium until next October when monthly two-hour educational meetings begin again. For registration details for the school, click here.
INSIDE Young Professionals
Credit union professionals about 35-ish or younger are encouraged to register for the INSIDE Young Professionals http://www.cvent.com/d/86q8ht?RefID=19INS_YPmon event taking place in conjunction with the MCUL/CUSG 2019 Annual Convention & Exposition. Each credit union who registers at least one full conference participant for the AC&E, may choose to send one other individual as a complimentary attendee to an INSIDE event. The day's agenda includes networking with peers facilitated by Pete Honsberger and offsite tours at Techtown Detroit, Little Caesars Arena and Eastern Market with lunch. The AC&E Center Stage! Opener, with Special Guests and Keynote is included, as are the optional MCUL Membership Meeting and Leadership Summit and CU Solutions Group Welcome Reception. Registration is available for $189 per person.
Northland Area Donates over $3,100 to Hearts for Hospice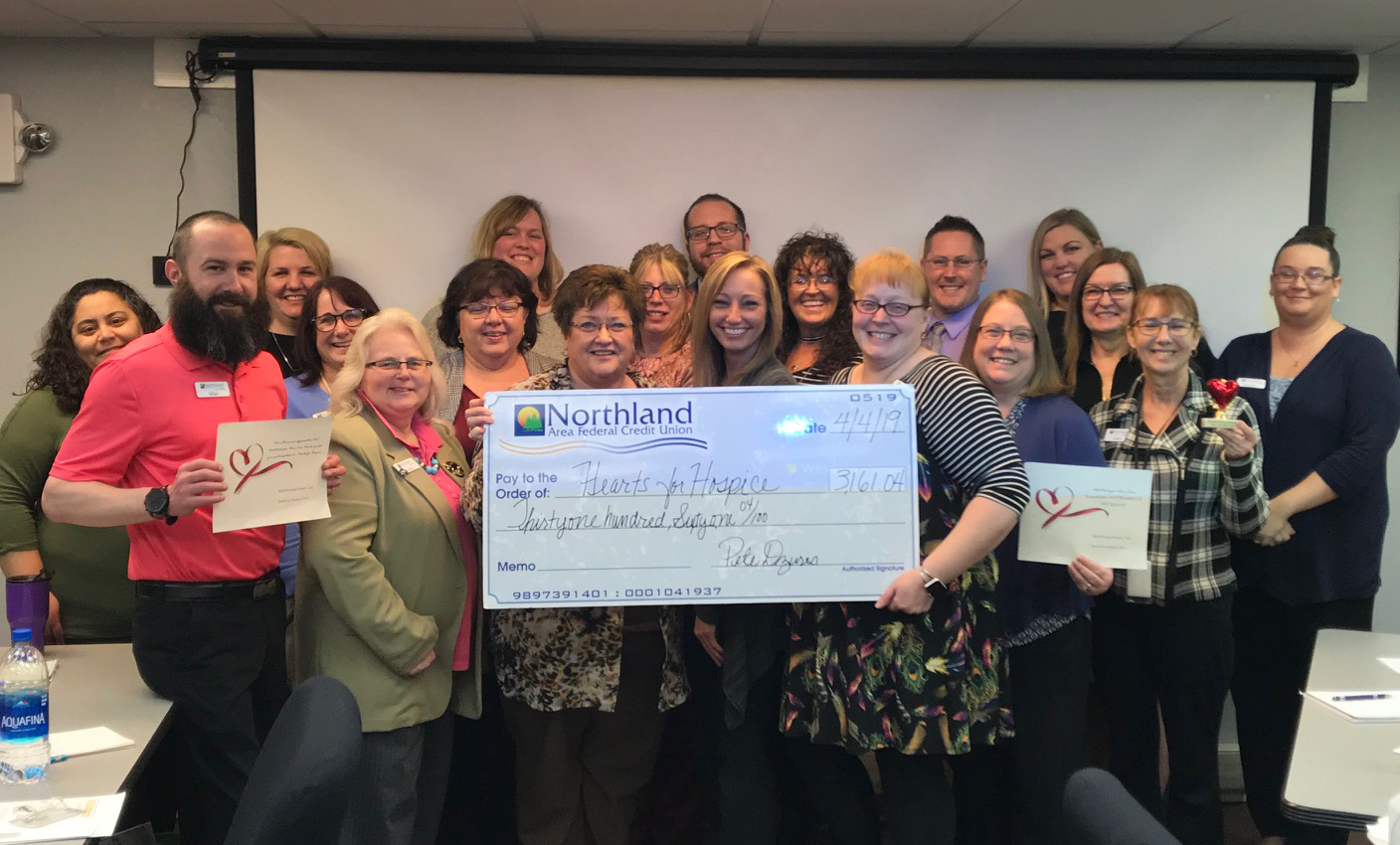 Northland Area Federal Credit Union recently celebrated last month's fundraising efforts for MidMichigan Homecare Hearts for Hospice. Because of Northland's members' tremendous generosity and Northland's team members' ambitious efforts, $3,161.04 was raised for this great organization. MidMichigan Home Care provides a variety of health-related products and services that help individuals throughout middle and northern Michigan remain independent at home. Home care can help patients avoid admission to a hospital or nursing home, providing care in the comfort of their homes.
Marshall Community Credit Union Announces Kids Day 2019
In conjunction with National Credit Union Youth Month, Marshall Community Credit Union (MCCU) has announced their 2019 Kids Day Event.
Kids Day 2019 will be held at Bogar Theatre in downtown Marshall on May 11, starting at 10:00am. Tickets are required to attend the event and are available at both MCCU locations while supplies last. Tickets are free and include admission to the viewing of the new release, The Lego Movie 2, as well as a small pop and small popcorn. The concession stands will be open if attendees would like to purchase anything additional. Kids attending the movie will also receive an MCCU swag bag and one lucky winner will win a copy of the movie.
Tickets are available beginning April 22. They are on a first-come-first-serve basis. You do not need to be a member of MCCU to attend. For more information about MCCU's Kids Day, please contact MCCU's Financial Education Coordinator, Andrea Tucker, at 269.781.9885 x3144, or via email.
LAFCU Invites Public to Shred Day to Help Prevent Identity Theft
LAFCU is inviting the public to participate in LAFCU Shred Day to help fight identity theft, May 18, 10 a.m. to noon. The credit union is hosting a mobile shredding truck at LAFCU's West Lansing Branch and headquarters, 106 N. Marketplace Blvd.
"Secure destruction of personal information is an important part of protecting one's financial identity," said Kelli Ellsworth Etchison, LAFCU's chief marketing officer. "Once a thief has a person's financial, medical or tax information, they can fraudulently apply for credit, medical services or tax refunds. This is great timing if your spring cleaning involves disposing of personal documents."

Each person can bring up to 10 Bankers Boxes of materials to be shred at no cost.
Recommended materials include any documents that have identifying information such as financial, medical and Social Security account numbers. This includes receipts, address labels, bills, insurance claims and tax forms.

Financial identity protection is a key LAFCU benefit for members. In addition to regular free Shred Days, LAFCU partners with CyberScout™ to offer identity management and monitoring services that include full identity-theft recovery assistance. More information is here.
Go to main navigation