A Big Day for Teen Financial Education at the Federal Reserve
This week, the Federal Reserve Bank of Chicago–Detroit was host to a big day for teen financial education. The main event was the third annual High School Personal Finance Challenge State Finals, which takes place every Money Smart Week — a month-long campaign coordinated by the Federal Reserve Bank of Chicago to spread financial literacy education across Michigan.
This financial-based education competition between high schoolers throughout the country is hosted in Michigan through collaboration of the Michigan Credit Union Foundation (MCUF) and the Michigan Council on Economic Education (MCEE).

The High School Personal Finance Challenge started earlier this month with teams from high schools across the state participating in online financial literacy tests (based on the National Standards for Financial Literacy from the Council of Economic Education).
In the online qualifying round, 561 students from 21 high schools participated. Monday, the top 13 teams (52 students) from across Michigan participated in a live case-study presentation competition during the state finals at the Federal Reserve Bank of Chicago—Detroit Branch.
"When I come to this event every year and see these kids and what teachers are doing with them, it gives me hope for our future — that someday, these will be our leaders," said Kelly Masters, Michigan chair of Federal Reserve Bank's Money Smart Week Campaign.

"It's a perfect example of the meeting of educators and youth and public, private and non-profit sectors all working together for the common good," she continued. "This whole idea of empowering our youth so that they're making better decisions as they enter adulthood is good for all of us. It's good for them as they move through the world, and the impact they have on the world can be a far more positive one because they have this knowledge."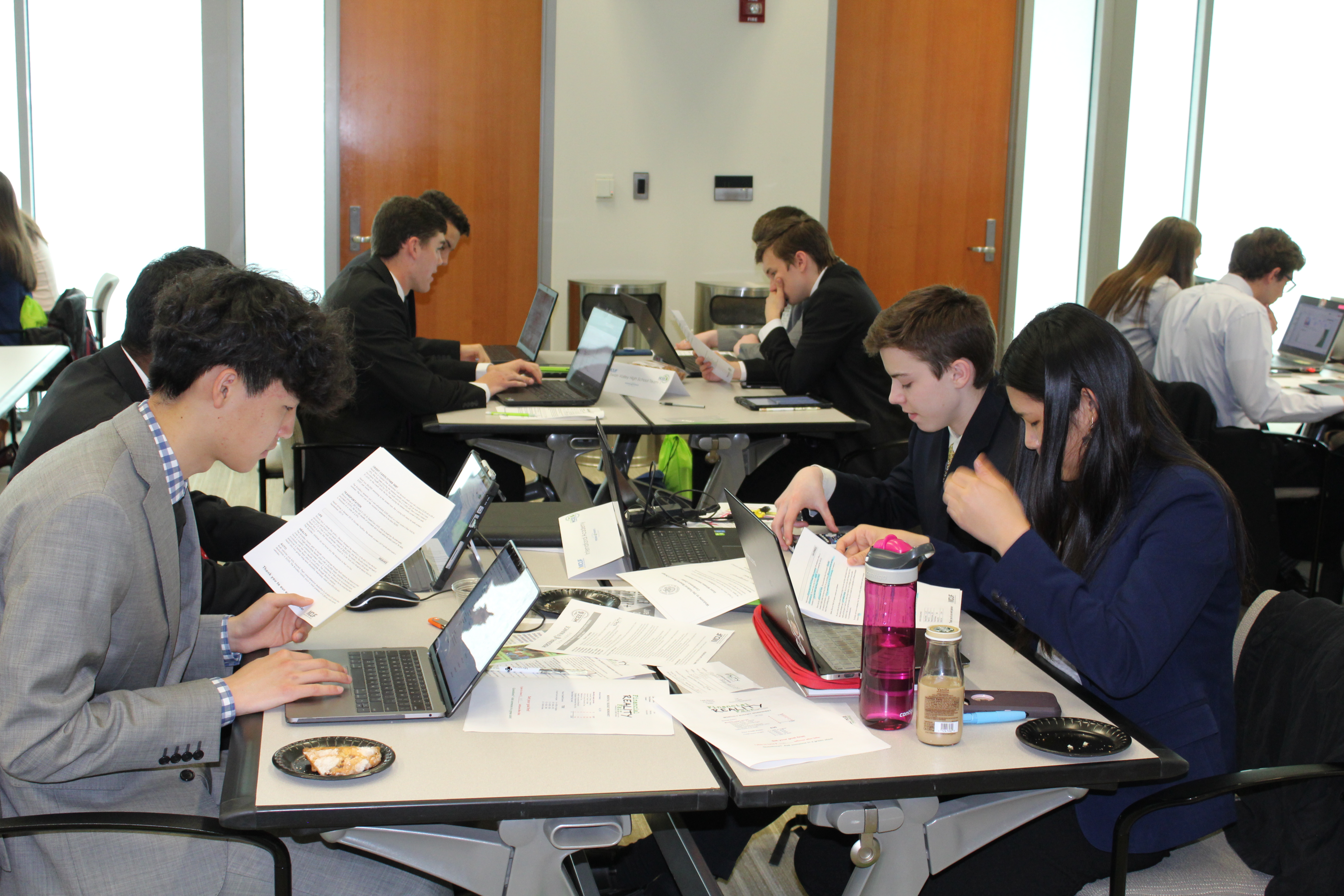 The competition, which gives students a chance to be passionate about personal finance with their fellow classmates, is also a chance to earn a $2,000 scholarship from MCUF (to be split among team members for an MESP investment) and go on to represent Michigan in the national finals in Nebraska to earn even more towards a college savings account.
Last year, a team of four Michigan students from Chelsea High School not only won the state finals but went on to take first place in the National Personal Finance Challenge, showcasing the emphasis on youth financial literacy we have here in Michigan.
"Michigan schools are increasingly including personal finance concepts in all grade levels, and Michigan credit unions are partners with schools, dedicating significant time and resources to enhance financial education with classroom presentations and experiential learning opportunities, such as the Financial Reality Fairs," said MCUF Executive Director Beth Troost.
"Supporting the High School Personal Finance Challenge allows credit unions and schools across the state to work together to help teens be more prepared, in a fun way, for the financial choices and challenges in their future," Troost continued.
The event was also visited by Rep. Diana Farrington, who attended for the second year in a row, exhibiting her advocacy for youth financial education in the state. She's currently working to implement personal finance programs into the state school curriculums.
"The students need a practical application for what they're learning about; they can't just be theoretical," said Derek D'Angelo, president of MCEE and administrator of the High School Personal Finance Challenge State Finals. "What we try to do is make it real for them, give them a case study, make sure they understand how much the grocery bill is each month, how much car insurance is. Those things are taken care of by their parents and they might not have that experience; we want to make sure they aren't learning in the school of hard knocks like a lot of others had to. The earlier we can get to students, the better."
When asked what it means for Rep. Farrington to attend the event and being able to talk with someone who is actively working on financial education curriculum, D'Angelo said he has been able to meet with her personally due to living in her district and has seen that she has a real passion for making sure students get the right knowledge and information so they can live successful lives.

Rep. Andrea Schroeder was also present. Earlier this year, Schroeder introduced a House resolution promoting sound financial planning and being "money smart," and was adopted to declare Money Smart Week in Michigan.
A Safe Space for Learning How to Budget
As is routine for the state finals, before the event starts, students can participate in a Financial Reality Fair conducted by financial educators from many Michigan credit unions.
Through a one-day "real world" simulation, these fairs offer students a hands-on budgeting experience. They go to a set of separate lifestyle stations, making choices for the goods and services they will need and want to live as financially independent adults.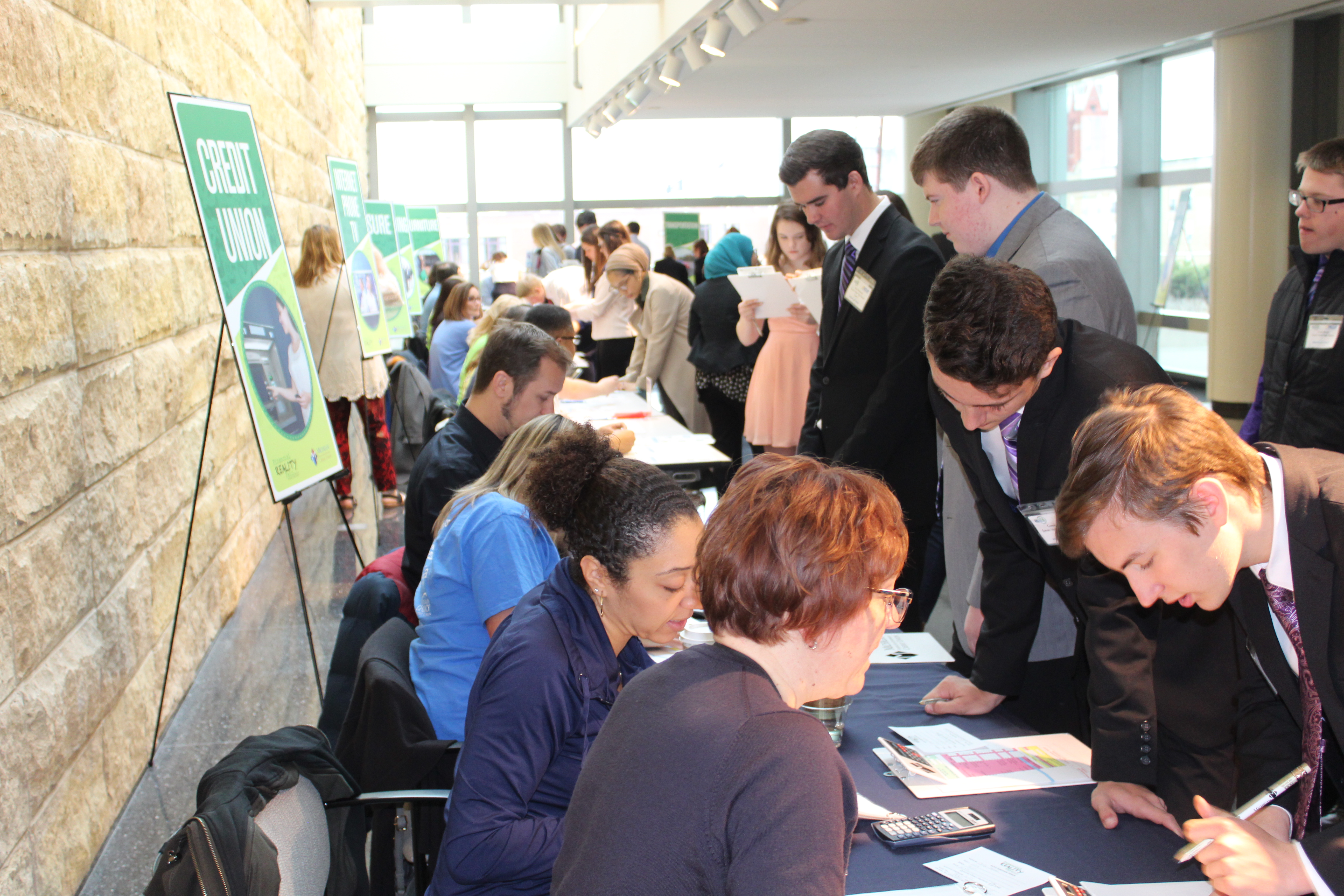 Students choose between entertainment packages (e.g. cable and internet), used or new cars, what size living they want to have (e.g. roommate, one- or two-bedroom apartment, house). For instance, at the transportation table, if students choose to own a car, they can pick between many options of varying years, sizes and amount. Credit union volunteers at the station then tell them what their options for financing the car is, down to the detail of how much of a down payment they want to allocate.
The addition of the fair to the High School Personal Finance Challenge was at the suggestion of Michigan Schools & Government Credit Union (MSGCU).
"We decided to add the Financial Reality Fair as an element of the competition so that it was a more robust day than just coming in and taking a test, especially for those that don't make it to the quiz bowl," said Colleen Godfrey, consumer education specialist at MSGCU.
In addition to all the benefits the fair provides for students, Godfrey also said having the fair specifically at this event helps spread the word about Financial Reality Fairs to new teachers and schools. Once teachers see the impact of a Financial Reality Fair in action, they're eager to bring this hands-on experience to their schools with the assistance of Michigan credit union financial educators.
in 2018, Michigan credit unions facilitated 51 Financial Reality Fairs, reaching 4,706 students.

Financial Counseling
After going through every station, each student sits down with a financial counselor — a credit union representative that analyzes their budget, step by step — to find out if they came in under or over budget.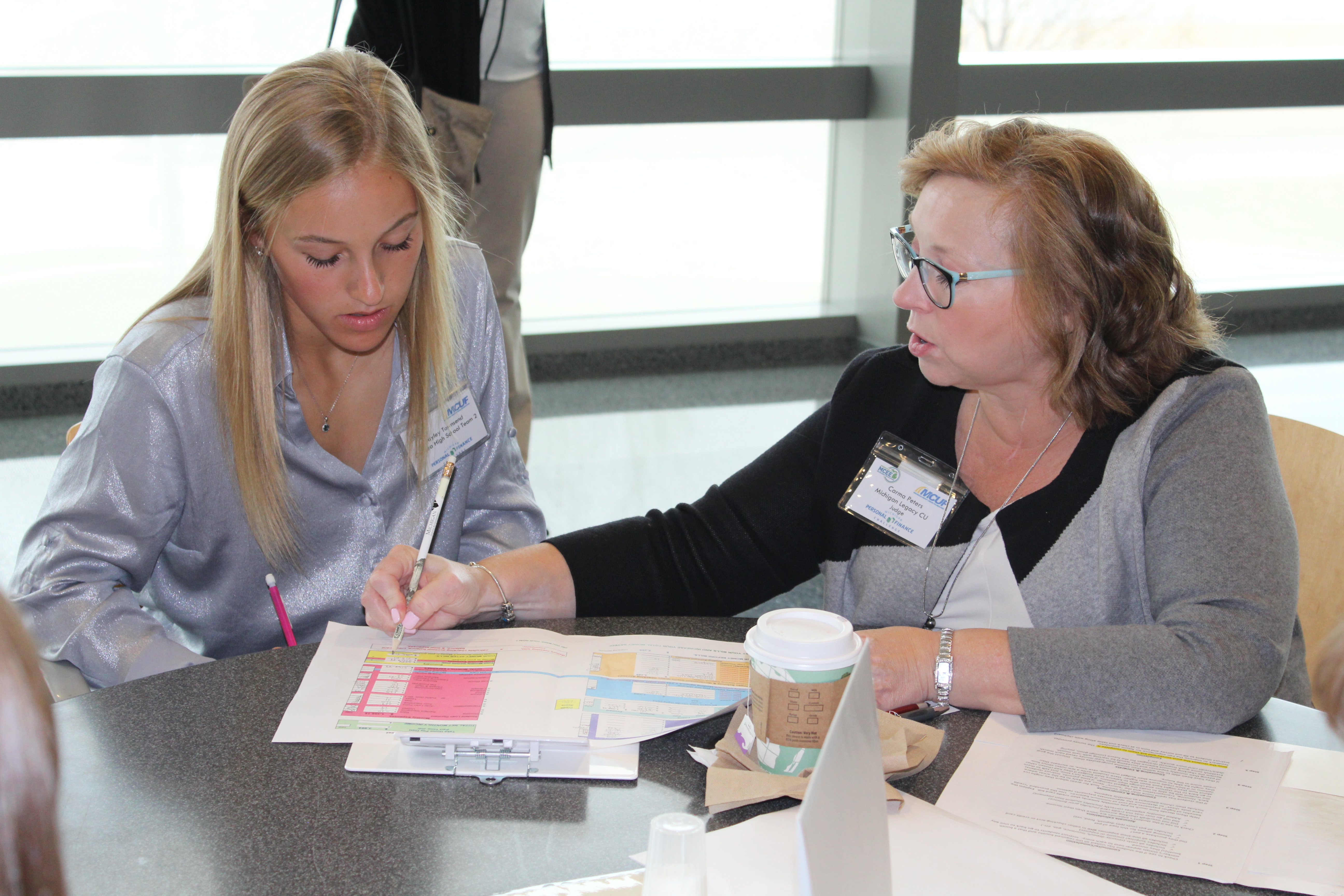 Counselors go through budgeting nuances, asking the students how they plan to pay for all the choices they made during the fair. This can often give them some insight into how they will balance their car payment with their rent, student loans, credit card payment and other living expenses. Additionally, this can show participants how much they'll have left over as well as how their choices will affect their credit score.
One of the counselors, Jeremy Cybulski, community engagement manager at Community Choice Credit Union, also called reality fairs "a safe space," saying they allow students a place to learn while the stakes are low as opposed to learning the hard way.
"I had to learn the hard way and that's part of the reason why I do financial education. I want to give them the opportunity to hopefully avoid some of the decisions that I had to learn that way and pay my way through," he continued.
Cybulski said the most impactful part of the counseling is being able to inform students about how credit scores work, showing them in dollar signs how varying credit scores impact things like car and insurance payments.
More broadly speaking, the Community Choice representative said the fair "builds on the cooperative spirit of credit unions — the fact that we can come together for the good of education and build a strong base of future members and keeping them financially savvy."
Carma Peters, chair of MCUF and president/CEO of Michigan Legacy Credit Union, was present as a first-time counselor and repeat judge of the competition.
"It was really satisfying to help the students see why the budgeting process is so important and how they can adjust their lifestyle to hit savings goals," she said. "Getting them to understand savings goals, which will keep them out of the large percentage of American households where a $500 catastrophe could really tip them into financial ruin and explaining it so they understood that establishing that habit early can set them up for success later on."
Peters said she also appreciated being able to be at the event, along with MCUF, in front of the students' teachers, showing them the credit union difference.
Michigan Legacy's president/CEO also saw this as an opportunity to educate the young leaders of tomorrow about credit union career opportunities, saying "it's more than just tellers that are working at credit unions."

The State Winners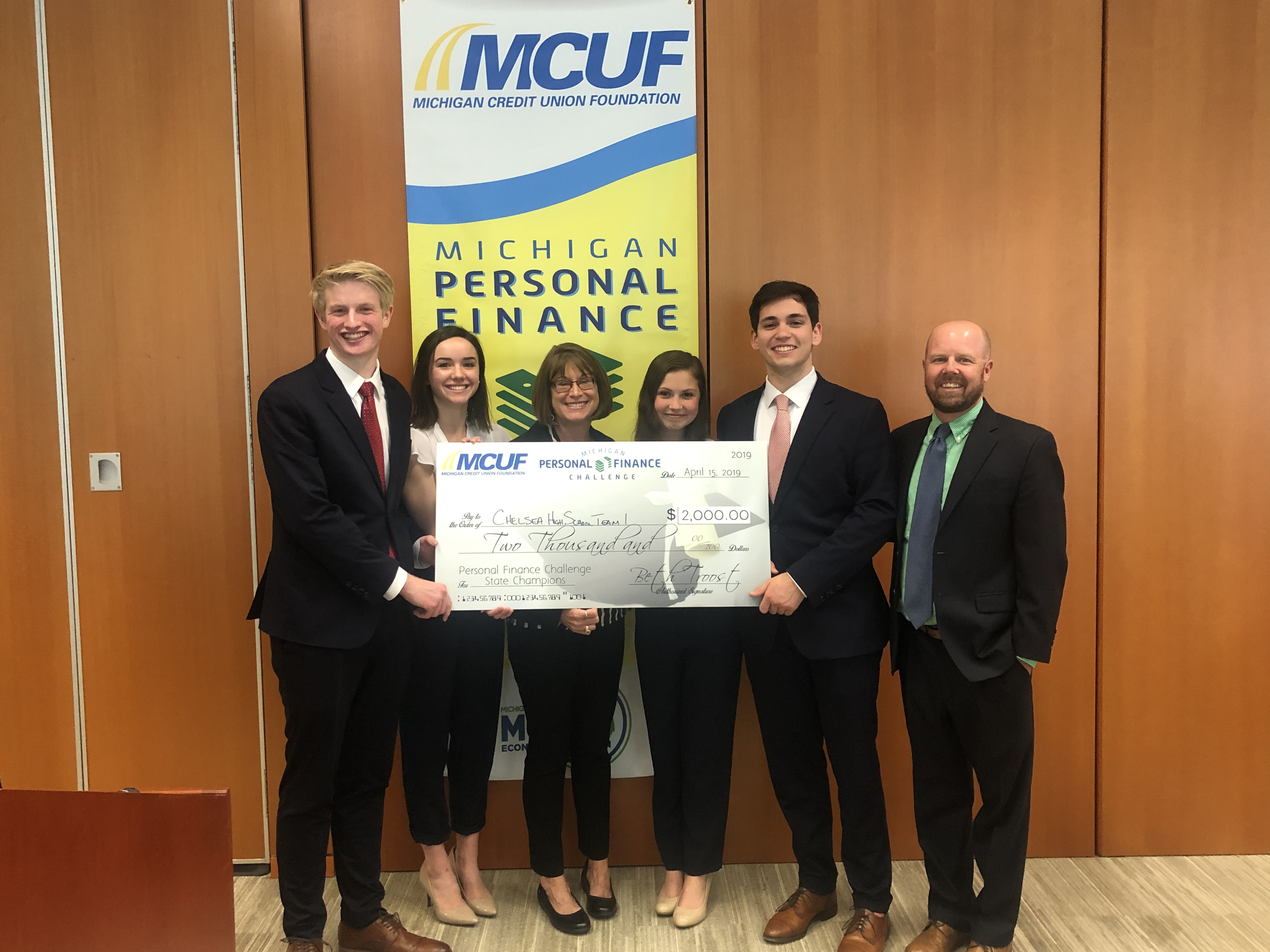 After the fair, the attendees compete in the main event, the Personal Finance Challenge State Finals. The competition consists of team presentations, wherein they present a financial plan for a case-study family in front of judges. The two winning teams then face off in a quiz bowl to determine the team that will advance to the national finals.
The event also includes a professional development seminar for teachers to further build skills to foster students' financial literacy. While students are preparing their presentations, teachers gather in a separate room for the class.
Once again, the 2019 winner of the state finals was Chelsea High School. They were awarded a $2,000 scholarship from MCUF (to be split among team members for an MESP investment) and will go on to represent Michigan in the national finals at the University of Nebraska on May 10.
Go to main navigation