In Brief, April 5
Credit Union Consortium's May Meeting
The Credit Union Collection Consortium will present attorneys Chuck Holzman and Tami White of Holzman Law on April 10 to discuss the most recent Consumer Financial Protection Bureau (CFPB) issues and to give an update on bankruptcy. The CFPB has expressed its intention to focus on debt collections this year. This presentation was originally scheduled for Feb. 13 but was cancelled due to snow.
The meeting is from 2-4 p.m. at Vibe Credit Union's location at 1375 N. Oakland Blvd. in Waterford. This location was formerly Oakland County Credit Union. This is the final regular meeting of the year. No reservations are necessary and attendance is free. This educational event is open to any interested credit union professionals. Registration information for the Consortium's annual Collector Training School on May 7 can be found here.

MCUL's 2019 Lending & Marketing Conference
Last call to register for the MCUL & Affiliates 2019 Lending & Marketing Conference http://www.cvent.com/d/fbqczh?RefID=19LM_Mon. Attendees from across the state will be gathering at a new destination — Traverse City.

The event is April 10-11 at the Park Place Hotel's Conference Center. To register or get assistance with reserving accommodations at nearby hotels (with complimentary shuttle service) contact Emily Thelen.
MCUL's 2019 Contact Center Conference
Mark those calendars for MCUL's popular Call Center Conference, returning in 2019 as the Contact Center Conference. The event is slated for Oct. 29-30 at the Delta Hotels by Marriott Kalamazoo Conference Center.

This year's networking event is the evening of Oct. 29 at Consumers Credit Union, and will includes a tour of their contact center. Registration is $339 or $189 for one day, with the first day being geared toward frontline topics and the second day for managers and executives. More information and details on how to secure rooms and register will be available soon.
Paul Bunyan Chapter Challenge Winner Announced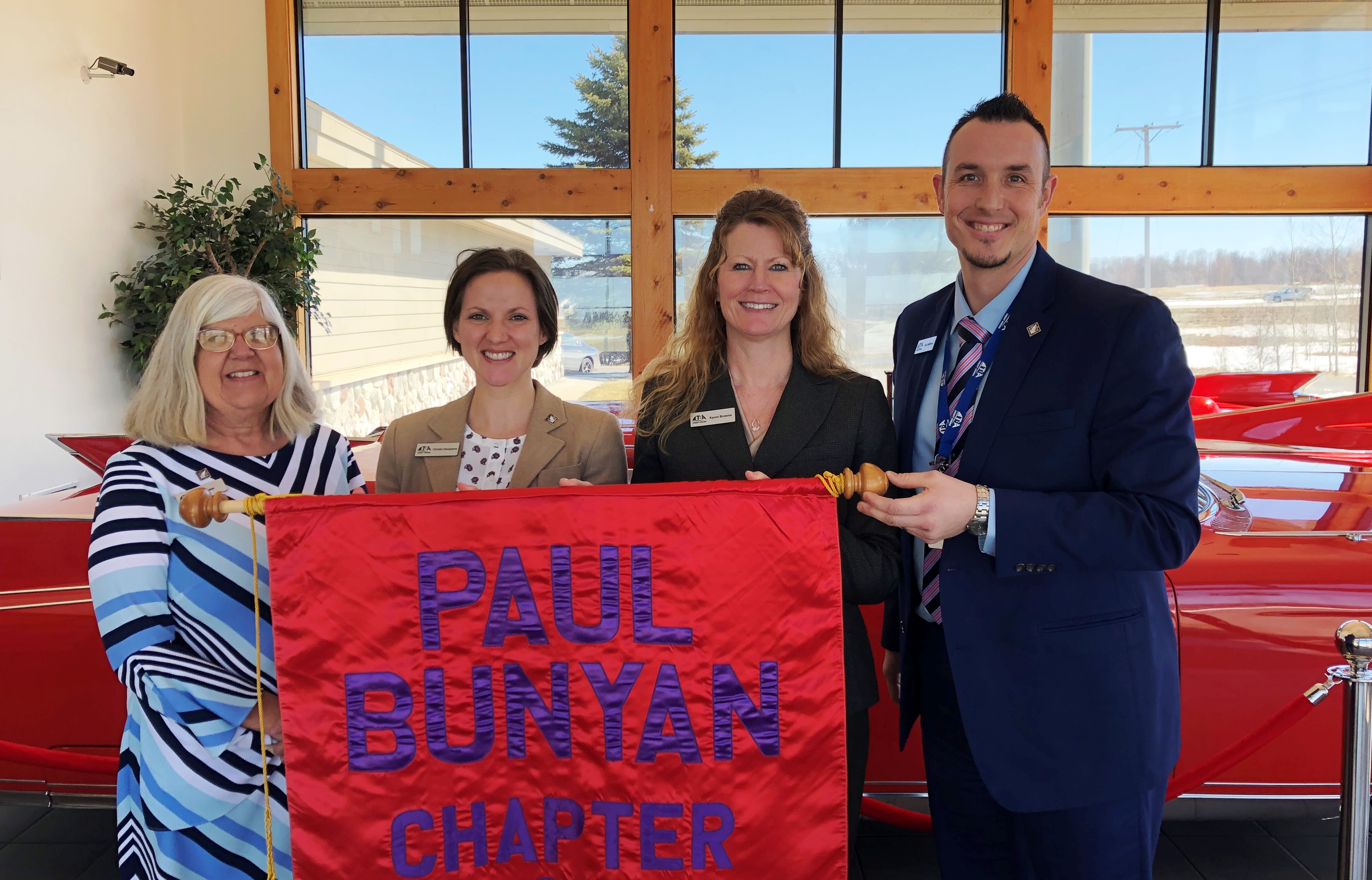 On March 25, 2019, TBA Credit Union was announced as the 2018 Paul Bunyan Chapter Challenge Winner at the Annual Meeting, held at the Cadillac Grille located on the Eldorado Golf Course. 4Front Credit Union, Filer Credit Union, Forest Area Federal Credit Union and Safe Harbor Credit Union also participated in the 3rd Annual Paul Bunyan Chapter Challenge to see who could volunteer the most hours, per team and board member, in 2018.
"Our chapter of credit unions collectively provided over 4,600 hours of volunteer service in their communities during 2018," said Forest Area Federal Credit Union CEO and Chapter President Greg Gurka. "Credit unions were founded on the principle of people helping people and volunteerism is often at the core of many credit unions today."
Additional details are available here, along with the current rankings for the 2019 Paul Bunyan Chapter Challenge. The Paul Bunyan Chapter consists of credit unions from Ludington to Petoskey. Proudly serving the residents of Michigan, the Paul Bunyan Chapter is a community of cooperative-minded credit unions.
New Chairman, Board of Director Positions Selected at Consumers Credit Union Annual Meeting
Consumers Credit Union held its 68th Annual Meeting on March 25, at which time eight-year director Brent Bassett was elected as the new chairman of the board of directors.
Bassett is the director of Phillips Service Industries, Inc. and president and founder of BDN Industrial Hygiene Consultants, Inc., which focuses on safety, health and environmental consulting.

He takes over the position from longtime board chairman Brad Lawton, who retired at the end of 2018.

"Brent is an incredible leader and a successful businessman, who I know will guide Consumers with wisdom and member service foremost in mind," said Kit Snyder, president and CEO. "What's more, he's an even kinder person."
Other board members elected in the subsequent board meeting included Kim Shook (BASIC) as vice chair, Pat O'Connor (retired) as secretary and Kevin McPherson (Rose Street Advisors) as treasurer.
Saginaw Medical Federal Credit Union Celebrates Annual "Cases for Kids" Campaign
Saginaw Medical Federal Credit Union will be collecting Cases for Kids during the month of April for the CAN Council Great Lakes Bay Region in recognition of Child Abuse Prevention Month. Suitcases are given to children being removed from their homes in the Saginaw and Bay County court system due to abuse and neglect.

"Partnering with the CAN Council to collect Cases for Kids supports our credit union philosophy of people helping people," said Laura Crase, SMFCU CEO. "Being able to provide these children with their very own suitcase is heartwarming. I'm so pleased with the outpouring of donations the credit union has received each year."
Go to main navigation