MSGCU's Shannon McIntosh Named Outstanding Business Partner of the Year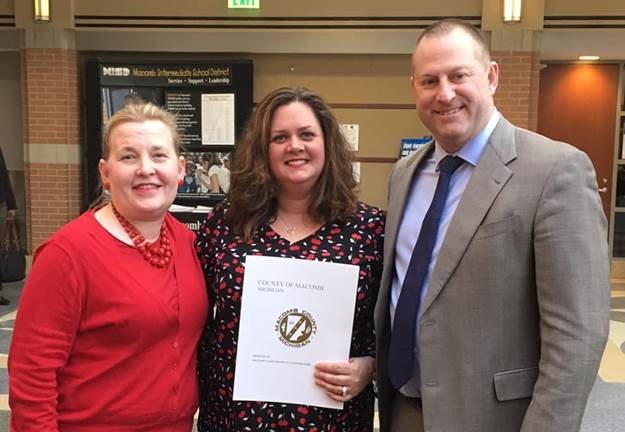 At the Macomb Career Technical Education Administrators Association Annual Awards Celebration last week, Shannon McIntosh, a consumer education specialist with Michigan Schools and Government Credit Union, (MSGCU) was named Outstanding Business Partner for Anchor Bay High School. McIntosh accepted the award for her work in teaching financial literacy to more than 200 high school students.
"Shannon's dedication to educating our young adults in financial education is essential at Anchor Bay High School," said Sherry Kenward, director of student services at Anchor Bay Schools, who nominated McIntosh for the award. "With her support, we've run financial reality fairs for the past two years, giving 200 high school seniors the opportunity to experience budgeting and decision making in a real-world scenario. She also steps up to support numerous other initiatives like our career fairs and parent nights. She truly is an outstanding partner to us."
The award-winning MSGCU consumer education team works on the road, facilitating workshops and coordinating events, bringing financial education to their members in the communities where they live and work. A wide range of workshop topics include home buying, the principles of checking account management and important steps to enhancing social security benefits during retirement planning.
In all, the consumer education team conducts more than 200 workshops each year while impacting more than 6,000 students and adults in the community. MSGCU financial education workshops are taught year-round at local schools, businesses, community group events, and organizations free of charge.
Educational workshops are just one of the many ways MSGCU lives the "people helping people" philosophy while contributing to members' financial success and wellbeing.
Go to main navigation