Michigan Credit Union Community Mourns the Loss of Patrick Ruecker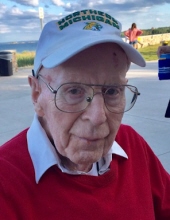 On Nov. 30, Patrick "Pat" Ruecker, longtime servant of U.P. Catholic Credit Union, passed away at the age of 92. Ruecker was born on March 28, 1926 to the late Otto and Josephine (O'Leary) Ruecker. In 1951, he married Joan M. Griffin at St. Peter Cathedral in Marquette.
Ruecker served U.P. Catholic Credit Union for 47 years, as manager from 1933-1989 and board director from 1989-2010. Additionally, he was a member of the Michigan Credit Union League's (MCUL) board of directors for 20 years. His leadership played a large part in helping U.P. Catholic Credit Union become strong and successful, and his passion for the industry was unparallelled.
"Pat Ruecker lived a long and full life that included a half decade of credit union service. He was one of the pioneers of the credit union movement in the U.P. and in Michigan," said MCUL's President/CEO, Dave Adams. "He shared his passion for credit unions with great character, integrity and wit, had a huge heart and loved to make people laugh."
Ruecker received many awards over his years of service to the credit union movement, including MCUL U.P. Chapter Person of the Year (1988 and 2002), MCUL Distinguished Service Award (1993) and induction in to the MCUL Hall of Fame (1993).
"Pat served his credit union, the Upper Peninsula chapter and the Michigan Credit Union League first as a paid executive of the credit union for 26 years, then as a consummate volunteer board member for another 21 years," said Adams. "He received the MCUL's highest recognition when he received the Distinguished Service Award in 1993. Our hearts go out to the many friends and family who now mourn his passing with fond remembrances and gratitude for his many years of service."
In addition to his service to the credit union industry, Ruecker was involved with St. Peter's Cathedral, the Elks Lodge and the Knights of Columbus. He also enjoyed woodworking and honed his skills through classes at Northern Michigan University.
Ruecker is survived by his daughters, Lynn Wilson of Shoreview, MN and Cindy (Roger) Gruenberg of Green Bay, WI; grandchildren Alyssa (Tyler) Lowry, Perrin & Sylena Wilson, Jocelyn (Ben) Ehlert and Jonathan Gruenberg; and great-grandchildren Dean Lowry, Claire and Devin Ehlert. He was preceded in death by his parents, wife Joan and siblings Rober Ruecker and Lucille Asp.
Memorial gifts can be made to St. Jude Children's Research Hospital, PO Box 1893, Memphis, TN 38101-9950.
Go to main navigation