Michigan Credit Unions Recognized as National Leaders in Financial Education by NYIB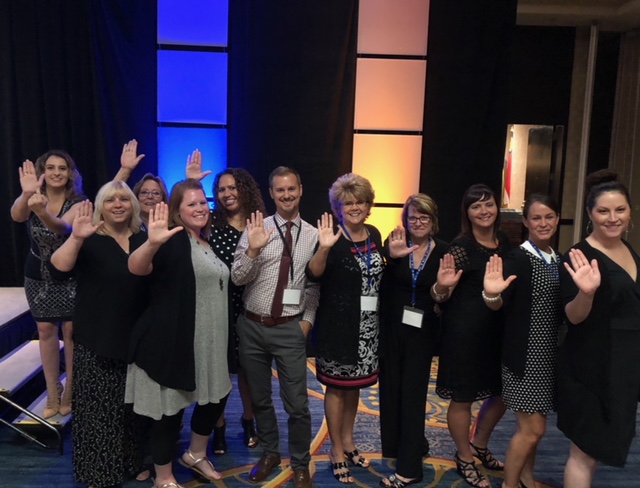 Michigan credit unions had much to be proud of at this year's National Youth Involvement Board (NYIB) annual conference in Charlotte, North Carolina. Fourteen teams from eight different Michigan credit unions were honored for their financial education efforts at the awards dinner at the Omni Charlotte hotel. In addition to these awards, two Michigan educators were also recognized for individual accomplishments. Ashley Fordyce of Extra Credit Union received the NYIB's Volunteer of the Year Award, and Jeremy Cybulski of Community Financial Credit Union was elected Chairman of the NYIB.
Nationwide, credit unions reported educating an impressive 629,741 students; Michigan was, once again, a top state in the number of youth financial education sessions. Michigan credit unions logged 3,707 presentations, which reached 90,036 students. As a state, Michigan ranked first overall in the number of presentations given and second to Texas in the number of students reached.
NYIB Top Financial Educators
For individual students reached:
2nd overall ($500 - $999 million) Erin Ilg – Community Financial
3rd overall ($500 - $999 million) Suzanne Sundberg – Community Financial
5th overall ($500 - $999 million) Jeremy Cybulski – Community Financial
1st overall ($150 - $499 million) Donna Farnsworth – CP Federal CU
2nd overall ($150 - $499 million) Brenda Huyck – Sagelink CU
5th overall ($150 - $499 million) Lisa Mudge – CP Federal CU
4th overall (less than $150 million) Sheryl Hogle – HarborLight CU

For students reached by a team:
3rd overall ($1billion and above) MSU Federal Credit Union
3rd overall ($150 - $499 million) TLC Community Credit Union

For individual presentations given:
3rd overall ($500 - $999 million) Erin Ilg – Community Financial
4th overall ($500 - $999 million) Kristen La Forest – Community Financial
1st overall ($150 - $499 million) Lisa Mudge – CP Federal CU
2nd overall ($150 - $499 million) Donna Farnsworth – CP Federal CU
3rd overall ($150 - $499 million) Sarah Mead – CP Federal CU
4th overall ($150 - $499 million) Brenda Huyck – Sagelink CU
5th overall ($150 - $499 million) Lori Dettloff – CP Federal CU
3rd overall (less than $150 million) Sheryl Hogle – HarborLight CU

For presentations given by a team:
2nd overall ($1billion and above) MSU Federal Credit Union
2nd overall ($500 - $999 million) ZEAL Credit Union
Go to main navigation