In Brief...
Mark Your Calendars for 2018 Day at Auction
CU Direct invites you to join us for an exclusive Day at the Auction on June 28 from 8:30 a.m.–12:30 p.m. The event will take place at Manheim Detroit, 600 Will Carleton Rd., Carleton, MI 48117.
Be part of the excitement and see the life of an auto at the Manheim facility; tour the auction floor, auto check-in, paint and body, details and Paintless Dent Repair. Lunch will be provided.
RSVP to Jill Malczewski by email.
MCCU Donates to Miles for Memories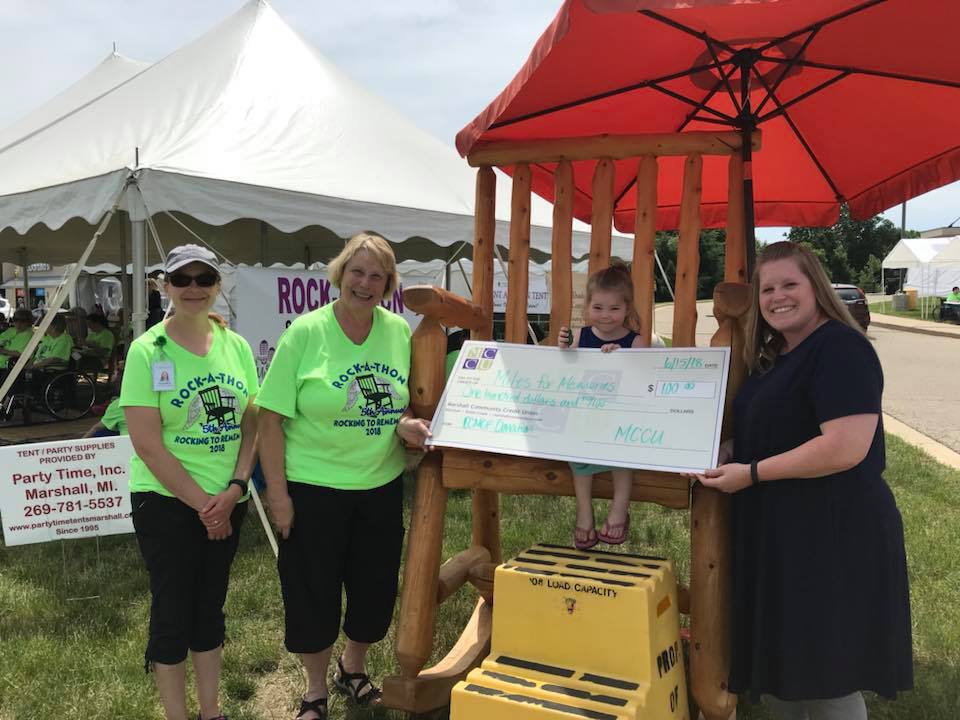 Marshall Community Credit Union recently made a donation of $100 to Miles for Memories, a grassroots effort to change the face of Alzheimer's disease and other dementias in Calhoun County, through movement, programming and research.
"Our branch is located directly across the street from Calhoun County Medical Care Facility, where the event took place, so it only made sense for us to donate in some way," said Andrea Tucker, MCCU's financial education coordinator. "Our office has worked on several events with the CCMCF staff and we are honored to be able to support their cause."
Miles for Memories volunteers rocked in rocking chairs for 27 straight hours from Friday, June 15, until Saturday, June 16 at the medical care facility: one hour for each town, city and village in Calhoun County.
FreeStar Financial Credit Union named Macomb Daily's Best of the Best for Seven Years
The Macomb Daily recently announced that FreeStar Financial Credit Union is the winner of its Readers Choice Award for Best of the Best in the credit union category for the seventh consecutive year.
"We appreciate the dedication of our members who faithfully voted to ensure FreeStar Financial would be recognized as the Best of the Best for the seventh year in a row," said Drema Isaac, FreeStar Financial's president and CEO. "Our credit union prides itself on giving members the exceptional service they deserve. The staff also enjoys giving back to the community by supporting our members and several charities throughout the year. I am grateful for everyone who is a part of the FreeStar Financial family."
Go to main navigation