AC&E 2018: Friday's Special Guests
MCUL & Affiliates CEO Dave Adams opened Friday's Center Stage! with a recap of the CMN Fun Run/Walk. He followed that up by pledging, on behalf of CUSG, a matching donation to CMN up to $500 from Michigan credit unions during the 2018 AC&E.
Adams then recognized John Buckley, whose tenure as chairman of the board ended Thursday. Buckley thanked the MCUL and CUSG boards, before announcing the new chairperson, ELGA Credit Union CEO Karen Church.
Jim Nussle, CUNA CEO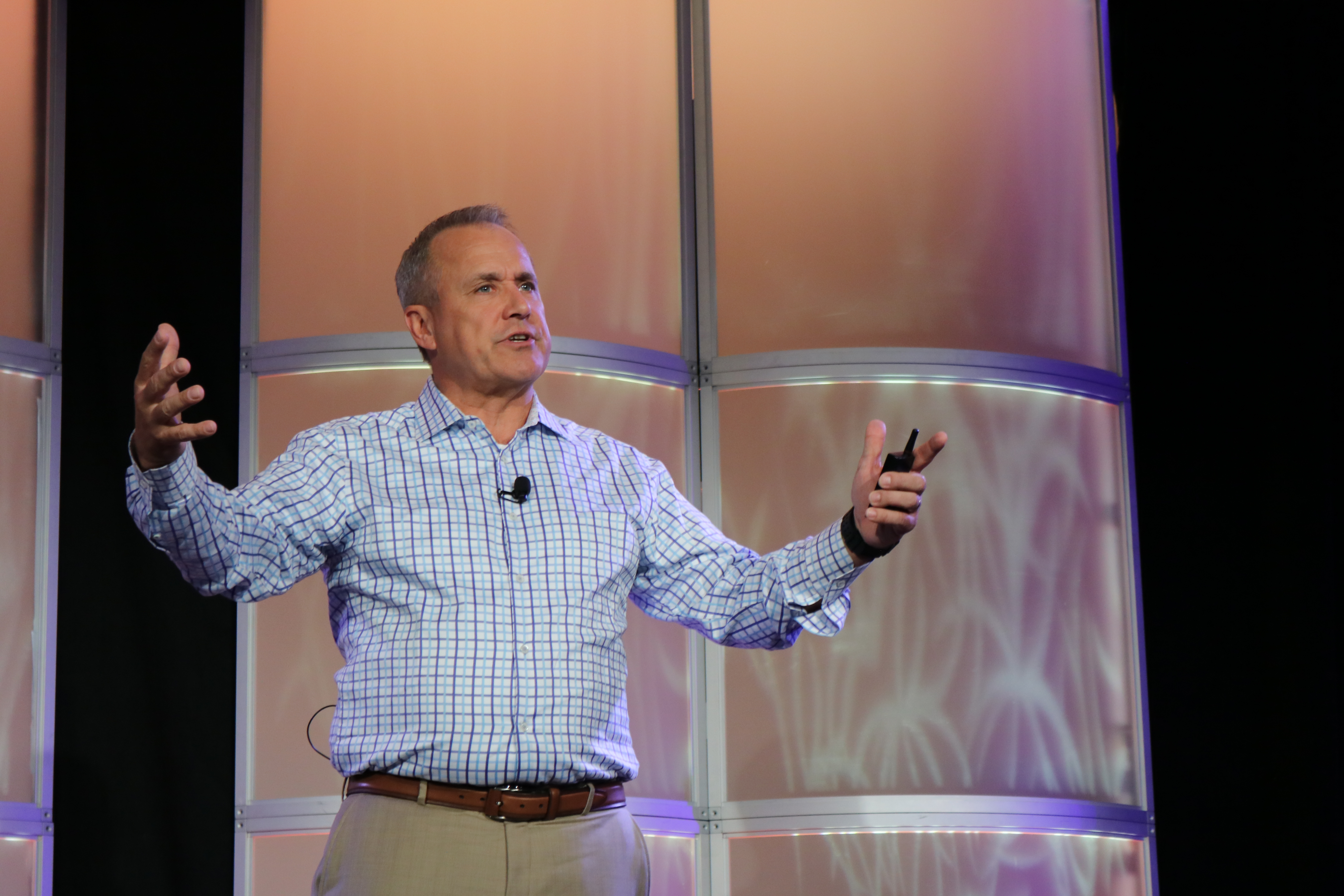 Following Buckley was CUNA CEO Jim Nussle, who opened by saying that he's heard a lot about the uncertain future of credit union leadership regarding the millennial generation, but he doesn't feel the same way.
"I spent this morning with the Crashers," said Nussle, "and I have to say, our future is very bright. They're already contributing."
Quickly touching on relevancy, he said some people don't even know what a credit union is, "Most likely more people are going to talk to Alexa about what a credit union is than maybe any of us, and we need to be thinking about that."
On advocacy, he said, "We're not in this alone. We've got superpowers beyond our knowledge," he said speaking about the statistics of our credit union movement. Now, we just need to make sure we are coming together on a regular basis to push our priorities forward. "We are so much stronger when we meet up together [to educate our lawmakers]."
Finally, Nussle spoke about CUNA's 360 degree advocacy and their current Credit Union Awareness Initiative, an extensive research-based brand platform. Based on national consumer research, the brand platform enables the credit union category, working together, to establish a clear national identity that will complement the unique brands of individual credit unions and leagues, informing consumers about what credit unions are and what they do.
Lee Chatfield, Speaker Pro Tempore of the Michigan House of Representatives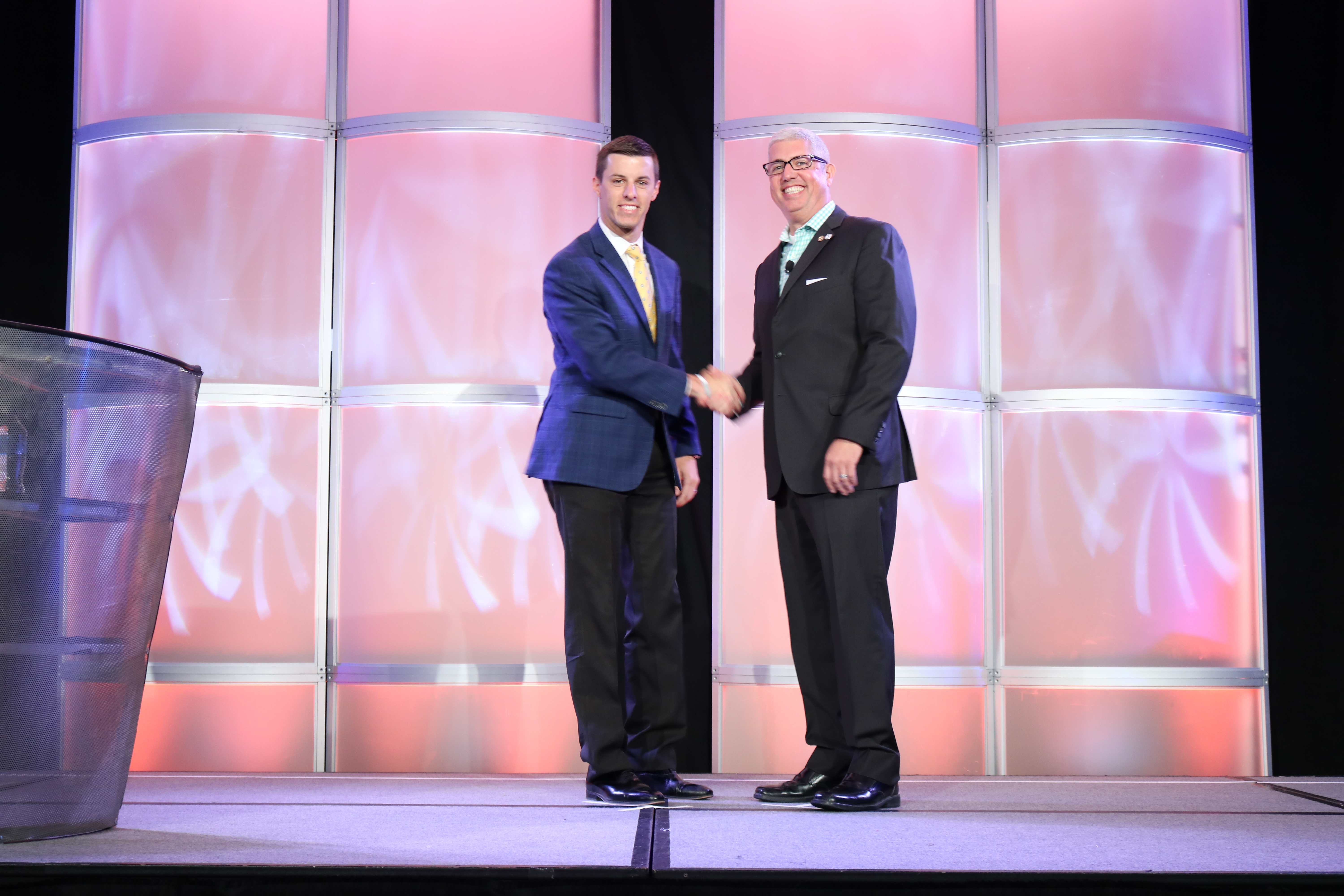 Lee Chatfield, currently serving his fourth year in the Michigan House of Representatives, also made an appearance on Center Stage! Friday morning to talk about the state of Michigan and credit union advocacy.
"For us to do our jobs, we need certain information, knowledge and data. You have tireless advocates in Lansing. When I have a question, they are in my office. Even when I don't have a question, they're in my office," joked Chatfield.
He talked about how everyone acknowledges Michigan's recovery, saying our growing economy is great for all of Michigan, and in the last ten years, Michigan leads the nation in growth in manufacturing jobs.
Chatfield then mentioned his first experience with a credit union. He said he was looking for a home loan, and was struggling to get it taken care of at a bank, but was frustrated with how long the bank was taking. After a single call to a credit union employee, who treated him like a friend instead of a customer, he was able to get in his new home within 30 days.
Shifting focus, Chatfield said the single largest issue in our state right now is the high cost of car insurance.
"We spend in Michigan on average a thousand more per household, per year, on car insurance. Think about what the economic activity could be if that money was back in your pockets," he said.
A native of northern Michigan, Chatfield placed specific importance on the state being able to position itself as a place that people outside of Michigan can and should move to. Connected to this idea is the state's road structure, and how he sees it affecting Michigan's image to outsiders.
A Message from Senator Debbie Stabenow
MCUL President/COO Ken Ross then introduced a video message from Senator Debbie Stabenow.
She thanked the leadership of MCUL as well as credit unions in general for the work they do for families, every day. Stabenow pledged to continue supporting the credit union not-for-profit tax status, because she recognizes the significance that status plays in allowing credit unions to benefit the entire state.
Anders Sorman-Nilsson, Founder of Thinque
Anders Sorman-Nilsson opened his keynote speech, "Seamless!", by describing himself as a "Swedish-Australian futurist." His presentation focused on what the future might hold, and what that might mean for credit unions.
While many leaders are increasingly trusting of technological advancements, they might be leaving behind the brains of their colleagues, he said. Today, all of our business models are getting digitally hacked, and we will all be in deep trouble when we don't trust the ingenuity of our fellow entrepreneurs.
Ultimately, for credit unions, the question becomes this: How do we connect with a future generation that is distrustful of banks and absorbed by technology?
Sorman-Nilsson talked about the resistance of digital and analog attitudes. "We need to be able to seamlessly combine these worlds together," he said. "They each have their weaknesses, but together they can offset some of each's weaknesses."
The presentation went through many examples of how technology is currently being coded for humanity. In other words, apps are being built that aren't just slaves to their algorithms, but are built around the needs and wants of humans. These are apps that aren't telling humans to act the way they want, but are meeting consumers where their desires and comforts are.
Sorman-Nilsson's main message, something he illustrated in his books Digilogue and Seamless, was that businesses need to adapt to the changing technological landscape, but that doesn't need to mean you have to leave behind your "analog babies" — or the in-person services you don't think you can abandon. Credit unions need to identify the technological partners and applications that have been built to serve the same needs that your analog babies satisfy for your members. Doing this will allow credit unions to stay relevant among a changing technological landscape.
Go to main navigation