AC&E 2018: Dave Adams Takes Center Stage!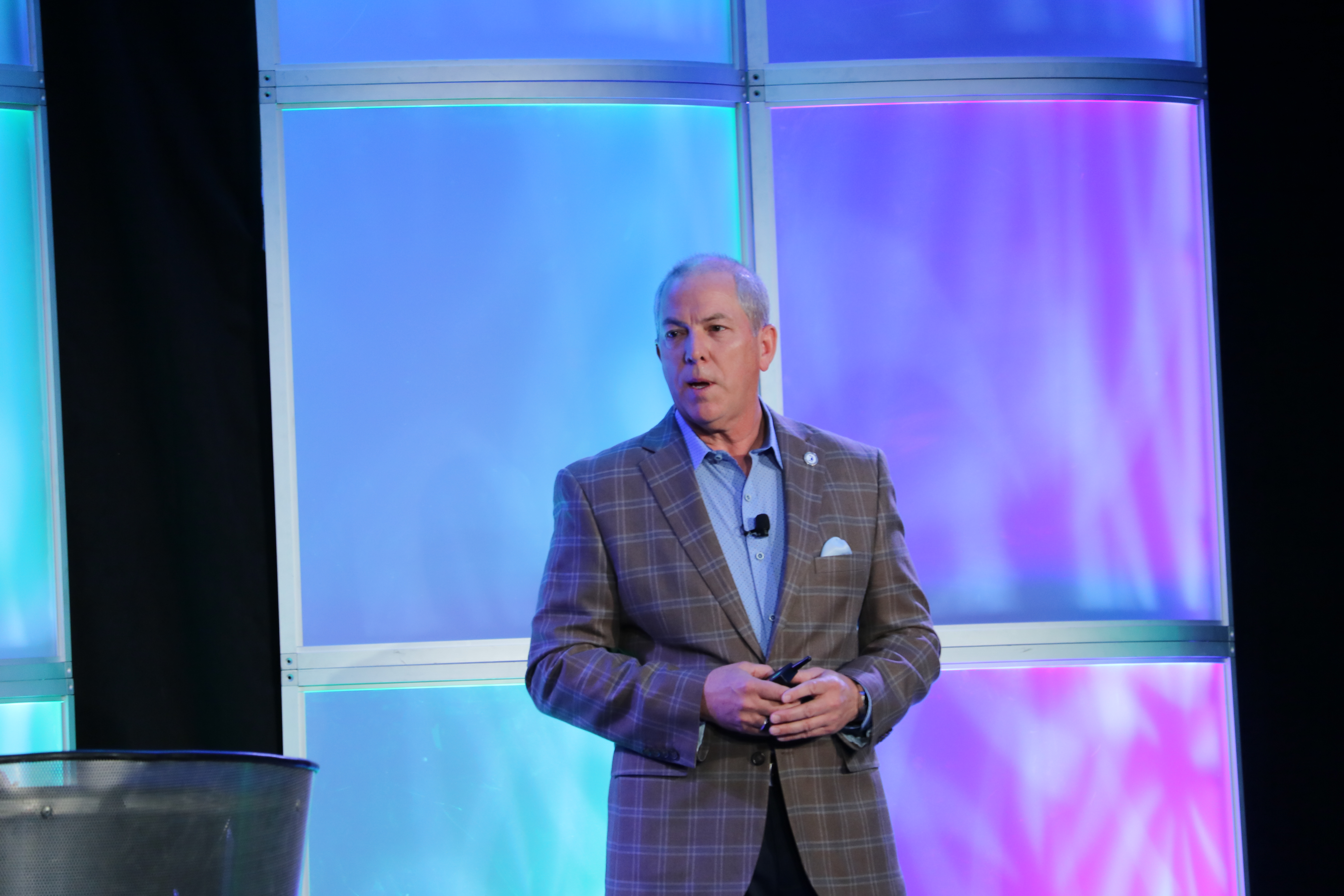 Day two of the 84th Annual Convention & Exposition started with a keynote speech from Dave Adams, CEO of the Michigan Credit Union League and CU Solutions Group. The presentation, titled "The Leadership imperative: Balancing Change in a Digital World," was focused on one key message.
"I want you to accept that we are small, and there are advantages to being small, but we need to think big!" said Adams before introducing a useful acronym: VUCA. VUCA stands for Volatility, Uncertainty, Complexity and Ambiguity.
"In these times, more than ever, we need executives and board members who are okay with volatility and uncertainty, recognizing the complexity of running an organization like a credit union. Ambiguity is inherent in leadership of any kind."
He followed with supporting statistics that highlight the challenge inherent in credit union leadership, such as the following:
66 percent of Americans can't come up with $1K for an emergency
24 percent of millennials have basic financial literacy
66 percent of adult couples commit financial infidelity
35 percent of adults with credit have debt collections
"However, Michigan credit unions shine. We're all committed to growing our assets and making affordable financial services and products to Michigan member," said Adams before talking about some of the milestones Michigan credit union hit last year, as well as highlighting some of the fastest growing small- and large-asset credit unions in Michigan.
"Credit unions large and small are finding ways to be relevant. Size should not matter if you think big. There's a feeling that only the large credit unions are growing and not the smaller ones, but small credit unions are showing that they are just as capable of growth," he continued.
What to Keep?
When approaching how to grow, Adams said one of the most important challenges for any leader is determining what to keep and what to change. "Our future is equally threatened by those that want to change everything as those that want to change nothing. We need to find the balance."
Finding this balance, he said, will be easier when small organizations adopt the principles of large organizations. To do so, Adams provided a roadmap using seven "Think Big Questions."
Do you have a well-defined member experience program?
Are you engaged in legislative and regulatory advocacy and compliance with your associations?
Are you committed enough to mobile solutions?
Do you have an enterprise risk management plan that includes cyber risk?
Are you looking to partner with Fintech and Bigtech companies?
Are you investing enough in leadership development and the workforce of the future?
Are you focused on your social mission, including serving the underbanked?
Adams went into detail with each of these questions. For a more comprehensive view, you can view Adams' presentation here.
New in 2018 from CUSG
LifeSteps Wallet Roadmap
JGB Marketing Content
Strategic Advisory Services
Kevin Brown
Following Adams, author of The Hero Effect, Kevin Brown, gave they keynote speech "The Hero Effect: Being Your Best When It Matters Most."
Brown opened his presentation with a simple message: "Squeeze every minute you can out of this event because the difference you might need to grow your credit union might be here."
We've been told we're ordinary, Brown said, but heroes are ordinary people who decide to be extraordinary. They show up and do what they do at the level they aspire to, he continued.
Referring to the credit union motto of "people helping people," Brown said, "Everyone believes in helping people, and everyone's websites say that. But it's conditional — as long as there is a return on investment. We need to be willing to help people without any strings attached — that's what heroes do. They don't work on the idea of conditions."
Brown also told a touching story about his family's multiple trips to Disney World as an example of how a company can make their customers feel like they're the only ones in the room. Nobody notices normal, he said regarding satisfaction, quoting a friend. People will pay a premium when they feel like the only one.
One of Brown's key messages to being a hero was not using your past failures as an excuse for being complacent now, "You can't blame your past to get out of not being a hero today." He placed an importance on showing up for every moment, no matter what happened yesterday.
"You have to own this space better than anyone else. People need leaders, people who can move them from where they are to where they need to be. And the people you change, they will take that lesson and help change other people from there, teaching the lessons they learned from you."
Go to main navigation