S. 2155, the Economic Growth, Regulatory Relief, and Consumer Protection Act, Signed Into Law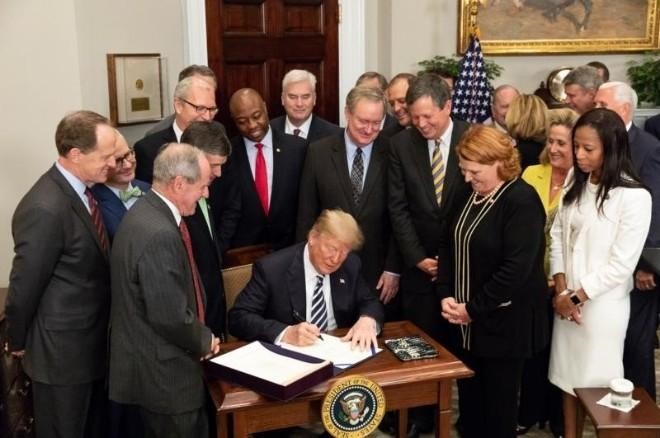 Michigan credit unions were elated with the passage of S. 2155, the Economic Growth, Regulatory Relief and Consumer Protection Act, which was voted out of the U.S. House of Representatives on May 22 by a vote of 258-159. The bill was signed into law by President Trump on May 24.
Michigan delegation members who voted in support of the bill include:
Rep. Justin Amash (3rd District)
Rep. Jack Bergman (1st District)
Rep. Mike Bishop (8th District)
Rep. Bill Huizenga (2nd District)
Rep. Paul Mitchell (10th District)
Rep. John Moolenaar (4th District)
Rep. David Trott (11th District)
Rep. Fred Upton (6th District)
Rep. Tim Walberg (7th District)
"On behalf of Michigan credit unions, we offer our sincere thanks to the delegation members who voted in favor of this much-needed regulatory relief," said MCUL President/COO Ken Ross.

Passage of the bill has been years in the making and was only possible because of the persistence of credit union advocates in Michigan and across the country. MCUL is especially pleased with the bill's bipartisan support, especially in the Senate, where both Senators Debbie Stabenow and Gary Peters joined their Republican colleagues in moving the bill out of that chamber. Sen. Peters was a cosponsor of the bill and Senator Stabenow was a key player behind the scenes as the bill worked its way out of the Senate.

S. 2155 includes several beneficial provisions for credit unions, including treatment of non-QM mortgages held in portfolio as QM loans, changes to HMDA reporting requirements and residential classification for one-to-four unit, non-owner occupied real estate properties. For a full list of provisions that benefit credit unions, click here.
"Credit unions advocates from across Michigan focused on achieving this goal and they should be proud of the results—together, credit unions, working with MCUL and CUNA, can do amazing things."
MCUL encourages you to reach out to the members of our delegation listed above to thank them for helping the credit union community with this victory, either by calling their offices or through social media.
Go to main navigation