Michigan Credit Union Community Mourns the Loss of Ron Hale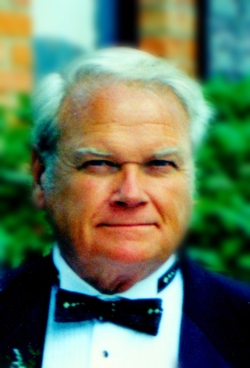 Ron Hale, a significant leader in the Michigan credit union industry, passed away on May 10 at 83 years old.
Hale retired in 1998, just short of 40 years of service with the Michigan Credit Union League (MCUL). He joined the MCUL staff in 1958 with the primary responsibility of piloting the League's private plane, but soon took on a variety of other duties.
Over his tenure in the industry, he was recognized with many credit union awards including the Herb Wagner Award from the National Credit Union Foundation (NCUF) and the Distinguished Service Award from MCUL. In 2005, he was inducted into the Michigan Credit Union Hall of Fame.
Hale made significant contributions to shared branching, ACH organizations and the development of electronic funds transfer (EFT) technology. One of Hale's most notable contributions was to the Magic Line ATM network, which was a key reason MCUL became one of the best capitalized credit union leagues in the country.
His expertise in EFT was recognized outside the credit union movement as well. Hale was the first credit union professional to serve on the National Automated Clearing House Association Board and Executive Committee, and was the first to serve as an officer.
"He had an engaging personality and left behind many credit union friends who remember his skillful and dedicated service and his warm personality," said Dave Adams, MCUL's CEO. "Ron left a legacy of passion for credit union ideals, family values and commitment and compassion and decency towards all."
Hale is survived by his beloved wife of 60 years, Alice; his children Kevin (Margaret) Hale, Craig (Theresa) Hale, Kenneth (Jennifer) Hale, Catherine (Michael) King, Kurtis (Margareta) Hale and Carrie (Michael) Carbone; grandchildren Brian Hale, Kristen Hale, Adam Hale, Alex Hale, Ava Hale, Sarah King, Elizabeth Hale, Ann-Marie Hale and Matthew Carbone. Ron was preceded in death by his brother, Roger.
The Hale family will receive guests at the funeral home on May 15 from 2–8 p.m. with a 7 p.m. Rosary.
A funeral Mass is scheduled for May 16 at 10 a.m. (9:30 a.m. in-state) at Our Lady of Sorrows Catholic Church in Farmington. He will be laid to rest at St. Patrick Calvary Cemetery in Brighton.
Memorial contributions in Hale's memory may be made to the Alzheimer's Association—Greater Michigan Chapter.
Go to main navigation