Meet the 2018 Crashers: Sarah Gyetvay and Jordyn Walicki
Sarah Gyetvay, Assistant Branch Manager, Catholic Vantage Financial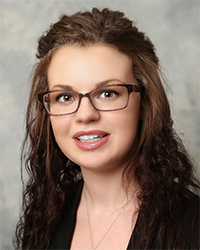 Sarah is the Assistant Branch Manager of Catholic Vantage Financial. She assists in overseeing and managing all aspects of branch operations including team building, coaching, daily operations, problem resolution, service enhancements and decision-making. Sarah holds a bachelor's degree in Psychology and Behavioral Sciences from the University of Michigan–Dearborn.
Sarah's professional relationship with the credit union industry began as a part-time teller almost eight years ago. Over that time, she continued to grow within the credit union, becoming a Member Service Representative and finally an Assistant Branch Manager. However, her passion for credit unions started long before that career opportunity. Her parents set up accounts for Sarah and her three siblings when they were born and encouraged them to participate in programs like the student-run credit union. All the way back to 1st grade, Sarah remembers taking her savings deposit book to school to make deposits to her account at her lunch hour. Sarah enjoyed trips to the credit union because she knew when she went through those doors, there were people who knew her whole family and always had a warm, welcoming greeting. As time went on, she realized the impact the credit union had in helping her family through difficult financial times. The credit union was there in good times and in bad; her family was not just another number.
Sarah demonstrates passionate support for the credit union movement. She is inspired by her credit union work family. Being a part of such a remarkable group of individuals helps to remind her of what credit unions are all about in the community.
Outside of work, Sarah enjoys running, antiquing, reading and spending time with her husband, family and friends. She is enthusiastic about her faith and enjoys being involved with her parish and community.
Jordyn Walicki, Consumer Loan Clerk, Safe Harbor Credit Union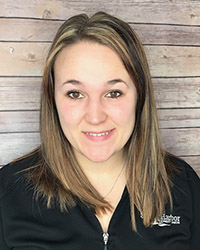 Jordyn Walicki has been with Safe Harbor Credit Union for three and a half years. She began her journey at the credit union in September of 2014 as Membership Representative and was recently promoted to a Consumer Loan Clerk. In the time Jordyn has been with Safe Harbor Credit Union, she has earned the Silver Award for "Favorite Teller" in the 2016 Readers Choice Awards in Mason County.
Jordyn is currently pursuing her bachelor's degree in Accounting at Davenport University with a concentration in auditing, and will be graduating in the fall of 2018. She is very determined, works full time and attends school full time, yet still manages to find time to spend with her family and friends. She also enjoys playing softball, kayaking, vacationing and cross-country skiing in the winter months. Jordyn and her boyfriend recently bought a house and live with their two dogs, Kelvin and Myah.
Go to main navigation