MCUL GAC: 2017 PAC Awards, CUNA Advocacy Updates and Wrap-Up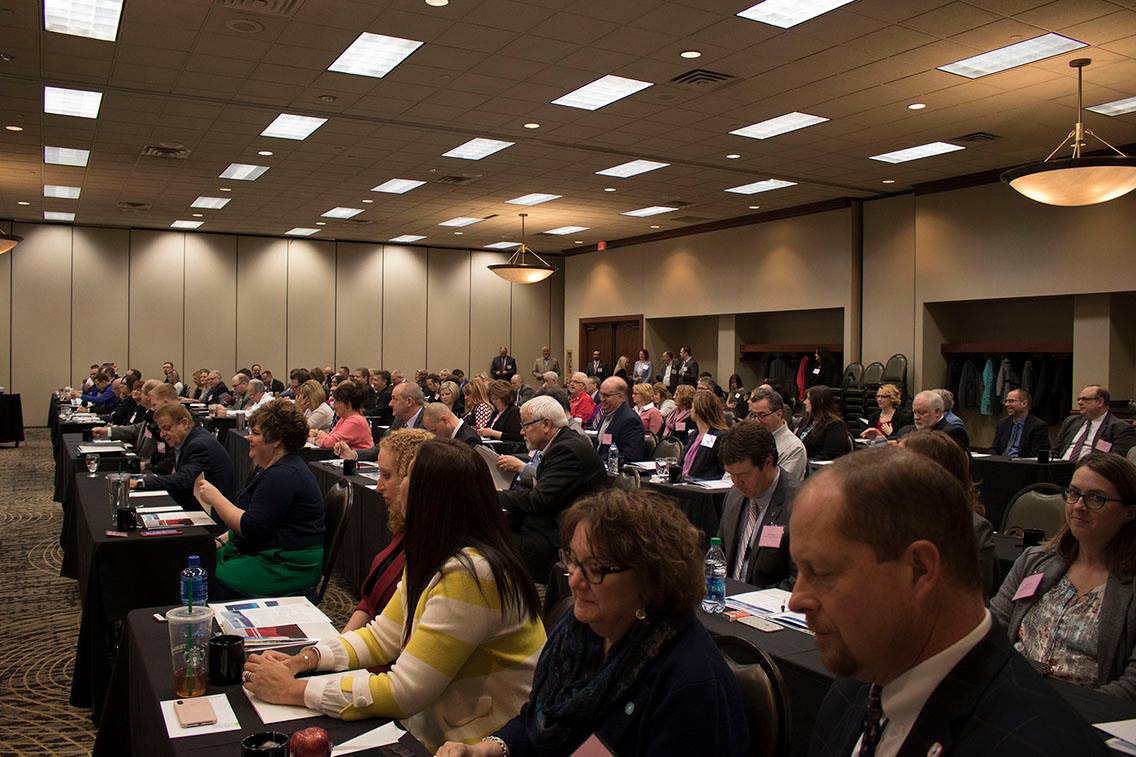 This week, nearly 120 Michigan credit union professionals and volunteers gathered in the state's capital for the Michigan Credit Union League's (MCUL) 2018 Government Affairs Conference (GAC). Over two days, attendees were updated on advocacy and regulatory agendas from the League, CUNA and state and federal regulators, as well as being able to speak face-to-face with state lawmaker about credit union priorities.
Additionally, MCUL recognized advocacy and fundraising trailblazers during the PAC Fundraising Awards and Breakfast event. "The heart of PAC fundraising comes from individual credit unions and chapters across the state of Michigan. In 2017, Michigan credit unions raised more than $595,000 to support our advocacy efforts," said MCUL President/COO Ken Ross before announcing eight PAC, A Stronger Financial Michigan and Grassroots awards.
Aside from those eight awards, Ross also honored two Credit Union House Hall of Leaders: Mike Newman and Jerry Erickson, both of whom passed within the last year. The Credit Union House Hall of Leaders permanently recognizes credit union leaders who have made a significant impact on the credit union movement at the local, state or national level. Mike Newman and Jerry Erickson's names will be prominently displayed on the second floor of the Credit Union House and viewed by all who visit the facility including Members of Congress, credit union leaders and thousands of annual visitors.
Last year, MCUL created two new awards to honor exceptional grassroots activism: the Lon Bone Grassroots Professional Activist Award and the Howard Spencer Grassroots Volunteer Activist Award.
This year, the recipient of the Lon Bone Grassroots Professional Activist Award is Bridget (Looby) Staffileno, vice president of community affairs at Catholic Federal Credit Union.
"Her relationships with lawmakers such as Jim Stamas, John Moolenaar, Ken Horn and Judy Emmons have allowed her to become a strong and reliable local advocate for credit unions in Saginaw and across Michigan," said Ross. "Bridget is the creator of the AC&E CMN Fun Run — a run that she put together by herself to benefit CMN Hospitals that coincides with MCUL's AC&E.
"She is also a consistent voice on the issues that payday lenders and payday lending causes in Michigan. At this year's MCUL Lending and Marketing Conference, she, along with Lisa Gray, helped facilitate a session of payday loan alternatives and helped educate attendees on the harms the payday lending industry causes members.
"She consistently participates in numerous legislative events with the mid-Michigan chapter.
Bridget exemplifies the commitment and traits that embody the Lone Bone Grassroots Professional Activist Award," concluded Ross.
Staffileno said Lon Bone's "all in" commitment and passion for grassroots advocacy is contagious, and that he "has clearly set the bar high for all of us."
"I am humbled to be included in the same sentence let alone have been selected to recieve an award named after him," continued Staffileno. "The Michigan Credit Union League is filled with so many rock stars. Watching and listening to Dave Adams and his team, Vickie Schmitzer (Frankenmuth Credit Union), Karen Church (Elga Credit Union), Jerry Hutto (Team One), Lisa Gray (Dow Employees) and Jenny Hoyle (Isabella Community); basically, everyone in the Mid Michigan Chapter, has not only inspired me, it has made me want to do more to ensure that credit unions remain and grow. Also, I cannot thank my CEO, Alan Watson enough for supporting and allowing me to be so active in credit union industry."
The 2018 recipient of the Howard Spencer Grassroots Volunteer Activist Award is Mike Palumbo.
"In his time as a board member of Northland Area FCU, Mike has embodied the activism honored by an award named after his Northland Area peer, Howard Spencer," said Ross.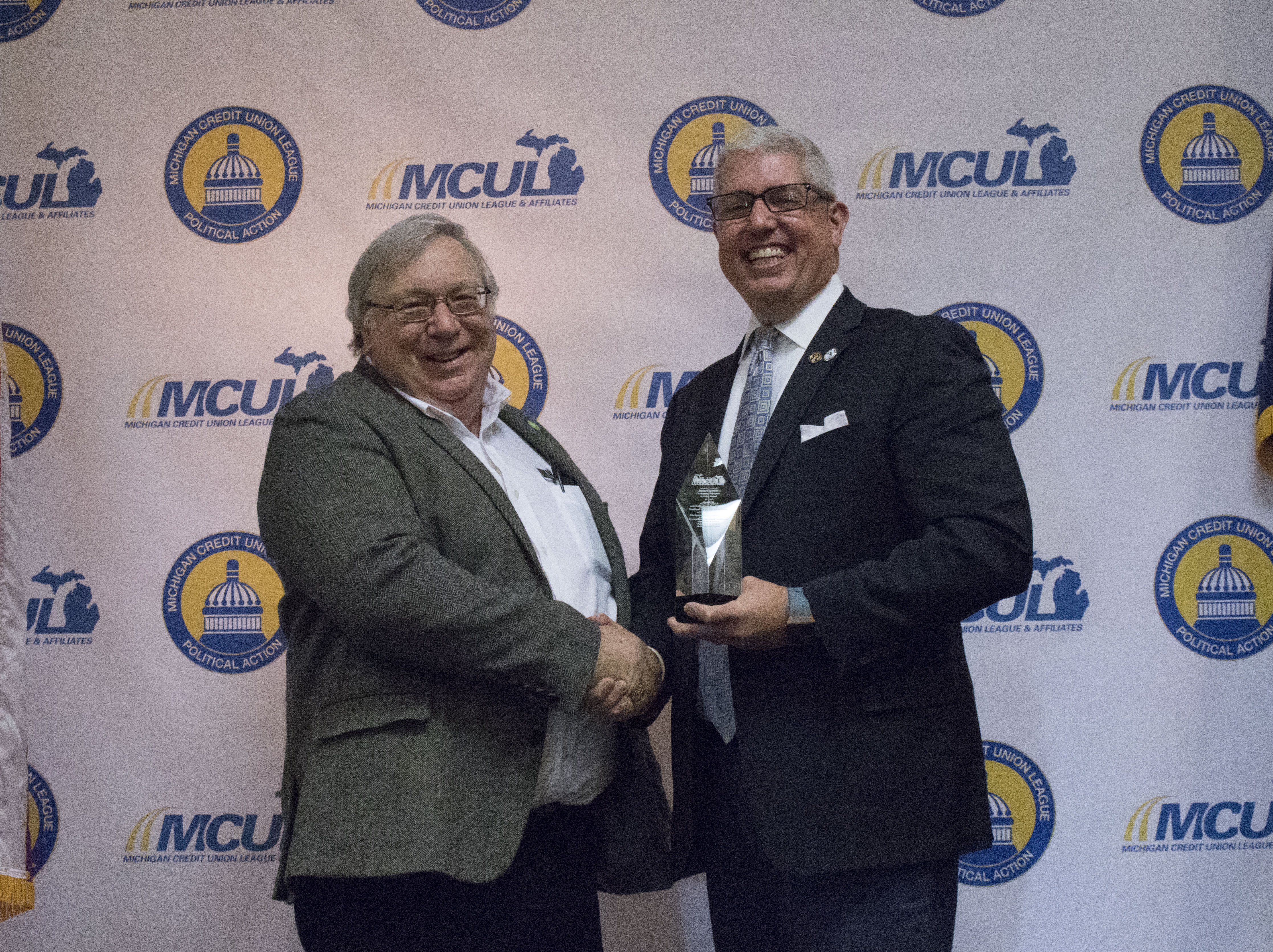 "He's always willing to support MCUL's political and legislative efforts in any capacity. Mike is the co-chair of MCUL's State and Federal Issues Committee. This committee is the sounding board for new legislative and regulatory ideas. In addition to this, he frequently participates in MCUL education events and conferences.
"When it comes to supporting the league's state and federal PACs, Mike's credit union is a consistently high performer. As a chairman of the board, his leadership and support of the league's advocacy efforts has paid dividends for the credit union movement.
"He's managed to create a lasting impression on his peers in the chapter and local lawmakers and his passion for credit unions and commitment to the credit union movement make him the perfect recipient of this award," added Ross.
MCUL spoke with Palumbo about receiving the award. When asked what this means to him, he said, "It means a lot. I've worked for this, but I didn't expect to get it so soon. This is something I would've expected towards the end of my career, but this just blew me away. To get the award that's named after my best friend and mentor, who I've known since I started volunteering for the credit union is amazing."
Palumbo said Spencer taught him "all about grassroots involvement, credit union issues and how important they are and also trying to get the message out to the members so they can help us work with our legislators."
He said he will use this award as an opportunity to show newer board members that this is what can happen when you prioritize what's best for the members.
This was Palumbo's tenth year at the GAC. Speaking more generally about the event, he said, "It's great to be able to get the lawmakers to come because you can never have enough time with them. They're so busy with other people and other industries, so the more chances we can get in front of them, the better, and this is a great venue for that, being right down the street from the capital."
Find a complete list of winners here.
CUNA Advocacy Agenda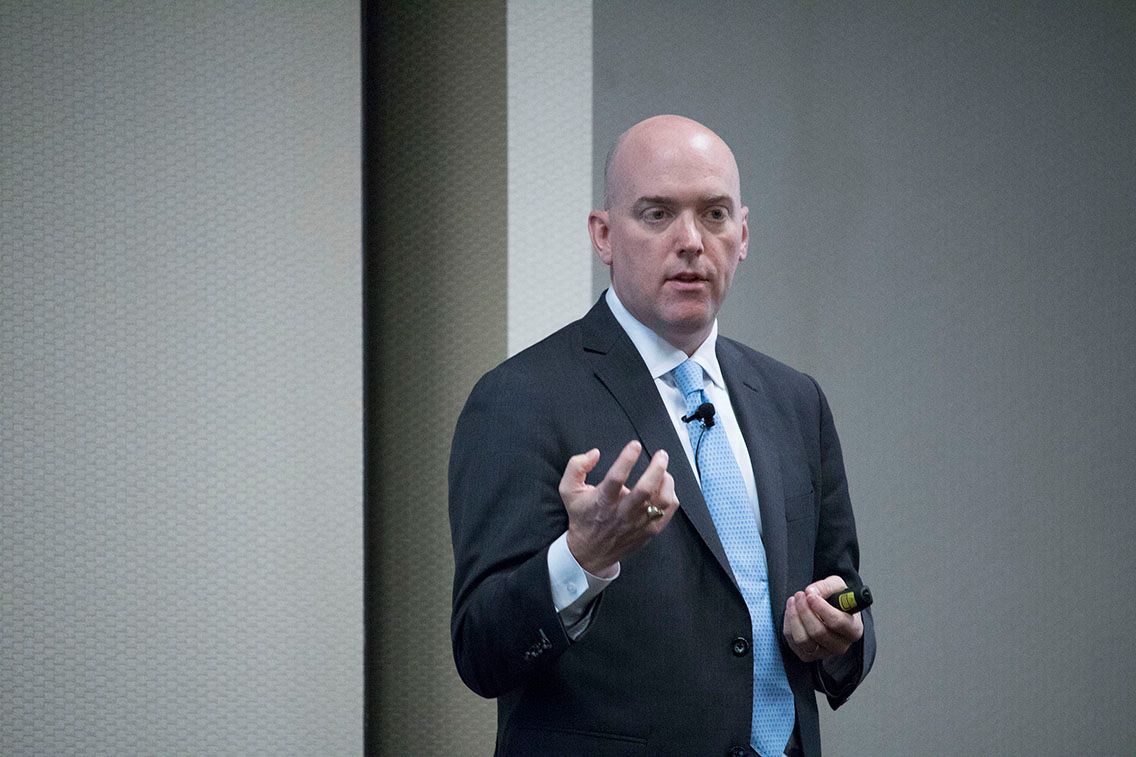 Following the awards ceremony, CUNA Chief Advocacy Officer Ryan Donovan talked to attendees about advocacy on a national level. Donovan's key message was the effect we can have on legislation when we work together.
"We can't do it without the Leagues and we certainly can't do it without you," he said, addressing the credit union professionals in the room directly. Reducing regulatory burden and expanding credit union powers is CUNA's priority in 2018, and Donovan segmented that agenda into four pillars: Reduce Regulatory Burden, Enhance Payments Security, Preserve the Credit Union Tax Status and Expand Credit Union Powers.
"CUNA approaches this agenda with a 360 degree perspective, attacking our priorities from all perspectives," said Donovan, who continued to talk about the need to saturate policy makers with our message in Washington and in the states.
"You absolutely need representation in Washington but you can't expect them to do it alone. CUNA and the leagues need to work together to advance our agenda," he said, speaking to the need to inform policy makers in meetings, conferences and the press. "When we attack from all angles, we're unstoppable."
Donovan talked about how working together in 2017 paid off on the following successes:

Repelled state bank attacks
Enhanced state CU charters
Successfully defended the MBL rule
Increased CDFI funding
Held data compromisers accountable
Got CUs rebates from NCUA instead of premiums
Defeated the CFBPs arbitration rule
Convinced the CFPB to tailor its payday rule
Successfully defended NCUA's independence
Preserved the federal tax status
Donovan also mentioned SB 2155, "which helps Main Street, not Wall Street." He continued to say the 67 vote in the Senate to pass the bill took out the "partisan sting" of the issue. "The bill proves that we've found the path to pass regulatory reform through this Congress."
Go to main navigation