MCUL GAC: A Message from the President, Legislative Updates and Regulator Concerns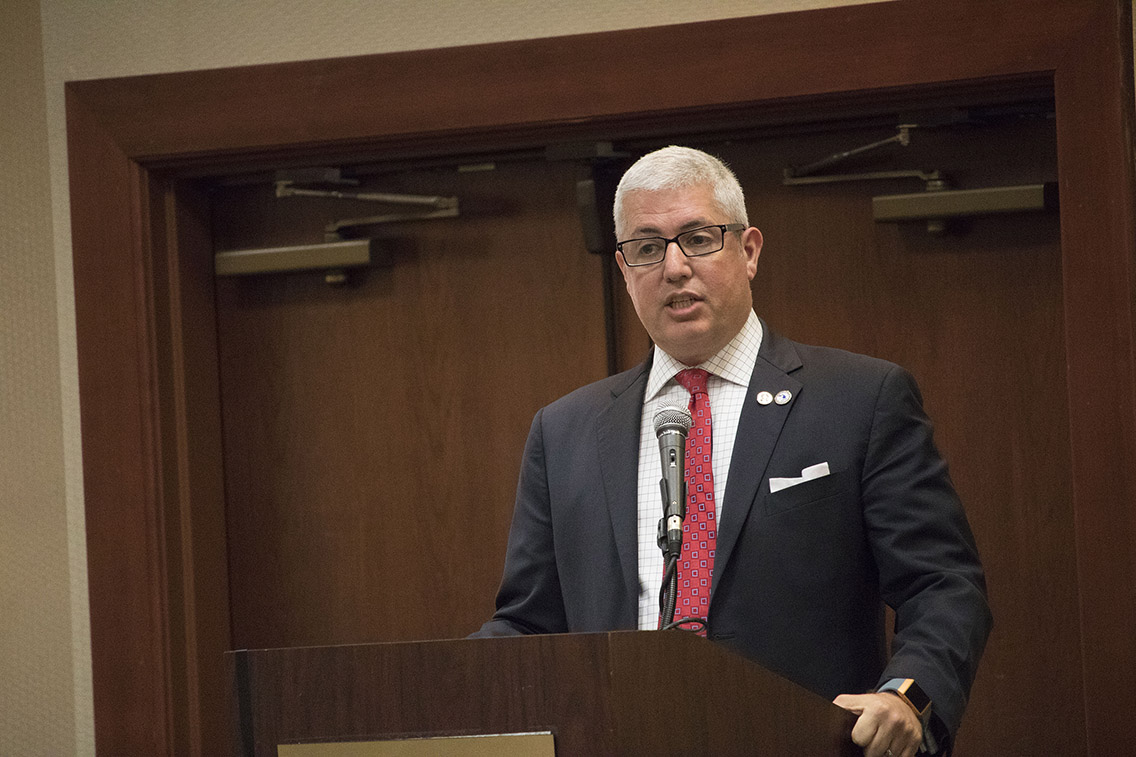 Michigan Credit Union League (MCUL) President/COO Ken Ross opened the 2018 MCUL Government Affairs Conference (GAC) by saying, "An event like today doesn't happen on its own." While Ross said this to recognize the event's sponsors and MCUL staff, this idea speaks to the larger idea behind having an annual state GAC.
Credit union professionals and volunteers gather at the MCUL GAC to get informed on credit union priorities and to enact collective action, speaking face-to-face with state lawmakers about our industry's most pressing issues and how they affect us.
"We have an aggressive agenda both here in Michigan and at the federal level in D.C.," said Ross, speaking to the necessity of donating to the state PAC fund, which helps support credit unions making advancements on our agenda items.
Federal Agenda
Before going over the agenda items at the state level, Ross gave a brief overview of federal issues, leading with the importance of repetition, "We need to talk about the same issues with our lawmakers, time and time again. To keep reinforcing the importance of these issues, it helps lawmakers know where we stand when those issues come across their desk."
He then thanked everyone who reached out to our congressional delegation to voice support for SB 2155, the Economic Growth, Regulatory Relief and Consumer Protection Act, and highlighted how our two Michigan Senators, Debbie Stabenow and Gary Peters, were part of the 67 Senate members who voted to pass the bill.
"Now that the issue is in the House, credit unions need to voice the importance of that issue to elected House members. While there are a wide variety of viewpoints, we did come away with a firm belief that this is going to move forward," Ross said, speaking about his recent visit to D.C. to speak with members of the House.
"We cannot lose 2155 under any circumstances. That is the message that we're putting forward," he said. "We need you to activate, to talk to your member of Congress about regulatory relief."
State Agenda
Switching to the state level, Ross said there is also repetition on the local agenda. "We have to keep educating legislators about policy issues, in case some of these issues try to make movement. We want to make sure our lawmakers know where credit unions stand."
He touched on four items: payday lending expansion, data breach, lienholder notification and notary reform. The main takeaway from Ross' introduction to the GAC was this: "If you have stories about these pieces of legislation, make sure to tell our lawmakers today. Reinforce the importance of these issues and give them personal stories that help them realize how they affect credit unions."
Before MCUL Director of Government Affairs Jordan Kingdon expanded on these four priorities, Ross spoke to the importance of grassroots advocacy to our industry, "That's what differentiates us."
Data Breach Reform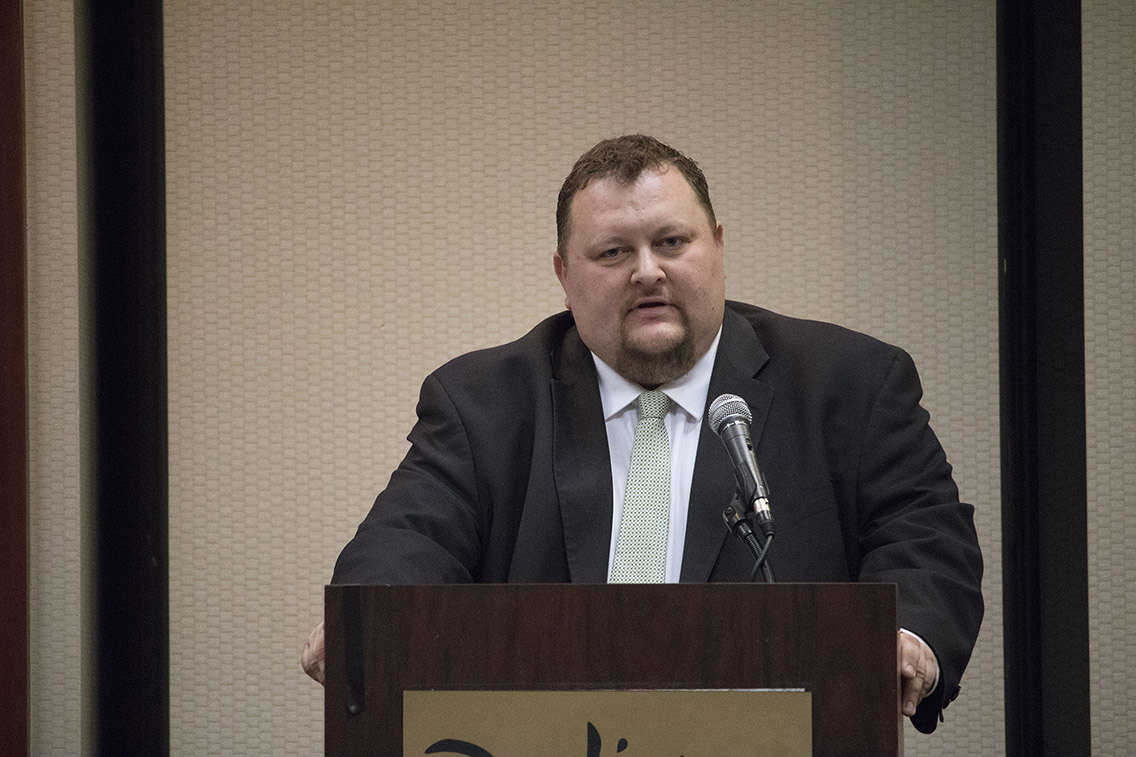 "This will probably be the biggest issue we take on this year," said Kingdon. "We talked with Senator Darwin Booher recently, and was surprised at how well attended it was with other financial institution representatives who have a stake in this issue." Kingdon said the League's bill proposal is ambitious, but he is optimistic it will lead to change.
He mentioned the Wendy's data breach of 2015 and how it affected so many credit unions. Kingdon's message was that our industry can't have a repeat of the Wendy's data breach, where a retailer responded to a breach neglectfully, causing credit unions to incur thousands of dollars.
"What lawmakers need to hear today is that the notification process following a breach needs to change. It needs to happen within three days, not three months, Kingdon said.
Payday Lending
Michigan credit unions know all too well the negative impact that payday lenders have on consumers. While credit unions offer loans of all sizes, they're required through federal regulation to calculate a borrower's ability to repay. Payday lenders are not subject to the same state and federal lending requirements that are imposed on traditional lenders.
While payday lenders say their product provides a short-term lending solution for consumers, it has been found that 91 percent of Michigan consumers reborrow within 60 days of a previous loan being repaid.
"Our ask is simple: there's no need to expand payday lending in Michigan. They're everywhere," said Kingdon. "Share stories about members that you've had to work with, to bury them out of cycles of debt. Expanding payday lending will almost ensure these consumers will not be able to crawl their way out of debt cycles."
Electronic Notarization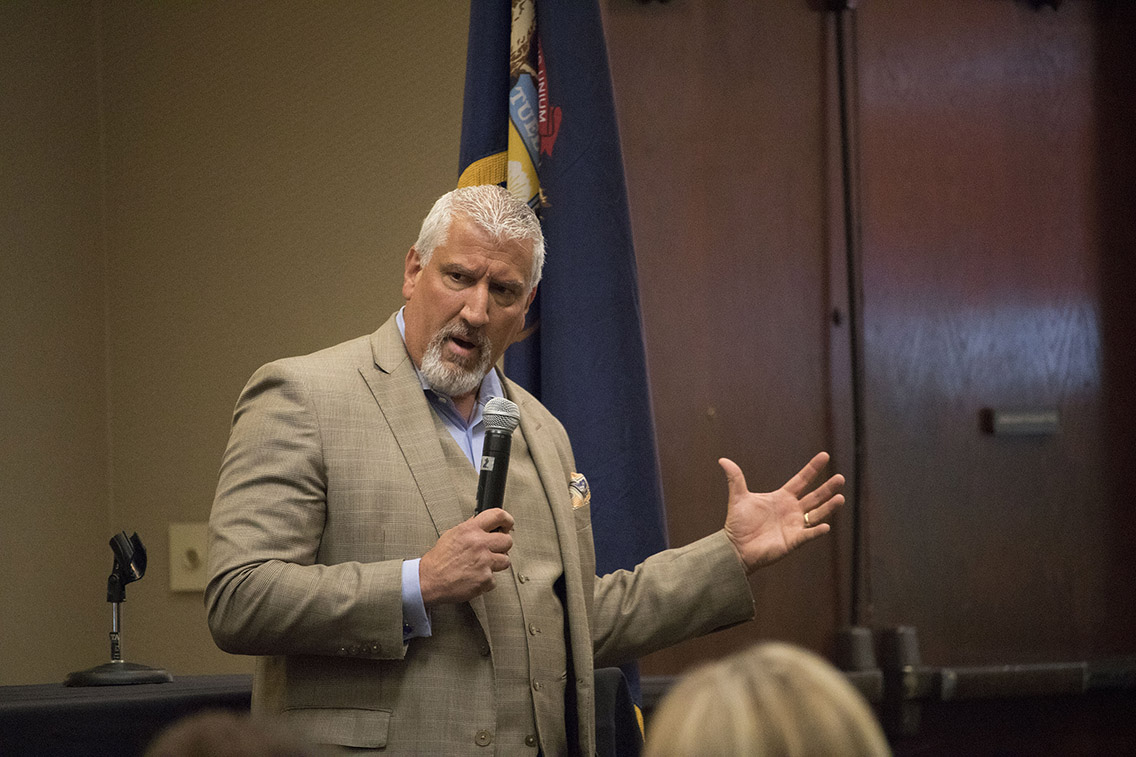 Two bills have been introduced on notary reform — SB 664 by Senator Peter MacGregor, which provides a framework for notary publics to provide electronic notarial acts on a voluntary basis, and legislation sponsored by Representative Diana Farrington, which would provide a platform for remote online notarization.
Kingdon said both of these pieces of legislation would allow credit unions to more efficiently serve their members, and thus, attendees should encourage legislators in both the House and Senate to support them.
Bill Wortz, Political Affairs Associate, also made an appearance at the event to give attendees a rundown of the current political landscape, more broadly than just the credit union legislation topics that Ross and Kingdon previously discussed. It being an election year, Wortz presented candidates that are running for public office, with commentary on their backgrounds, stances and chances of winning.
During the second half of the day, attendees heard from John Kohloff, deputy commissioner of the Michigan Department of Insurance & Financial Services (DIFS), and Andrew Healey, the director of the division of special actions at the National Credit Union Administration (NCUA), in the session titled, "Inside Perspectives with Your Regulators."
The session was moderated by Ross, who asked both about concerns they have from the regulatory side.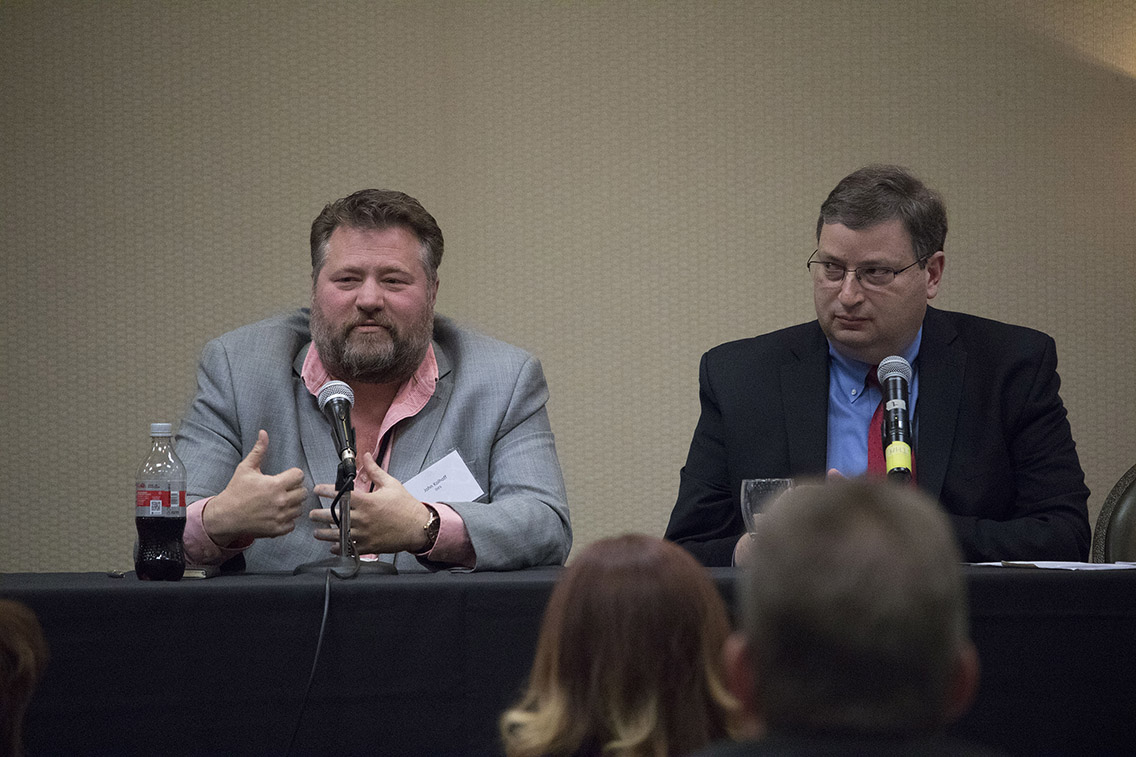 Kohloff said that DIFS is noticing that institutions will get involved in a new product, such as indirect lending or specifically banking with marijuana-related businesses (MRBs), without realizing the risk that they're taking on, thus not putting the proper procedures in place to safely offer those products or services.
Kohloff asked that the professionals who choose to bank with MRBs do their due diligence because they are placing their credit union's reputation on the line. Considering risk is of the utmost importance, he said. Even if you do everything right, this could be very risky for an institution.
He continued, saying that federal agencies may want to make an example out of your credit union. "It's a wait and see game," he said, implying that the safer route for banking with MRBs is waiting to see how things work out, either at the legislative level or for the institutions that do choose to bank MRBs. Precedents for this haven't been set yet.
Additionally, if you are choosing to do risky behavior like this, Kohloff said you can expect DIFS to be paying attention, not for any other reason than to monitor a situation that they believe to be risky.
Healey responded to Ross' original question about recent concerns with a similar response: "When earnings are down, credit unions are more likely to get into products and services with a high risk. You need to think, if this program fails, no matter how good I think it is today, what will it do to us if the program fails? We want to avoid that, and see a slower, safer process to implement new programs."
Go to main navigation