UMCU Wins Two CUNA Diamond Awards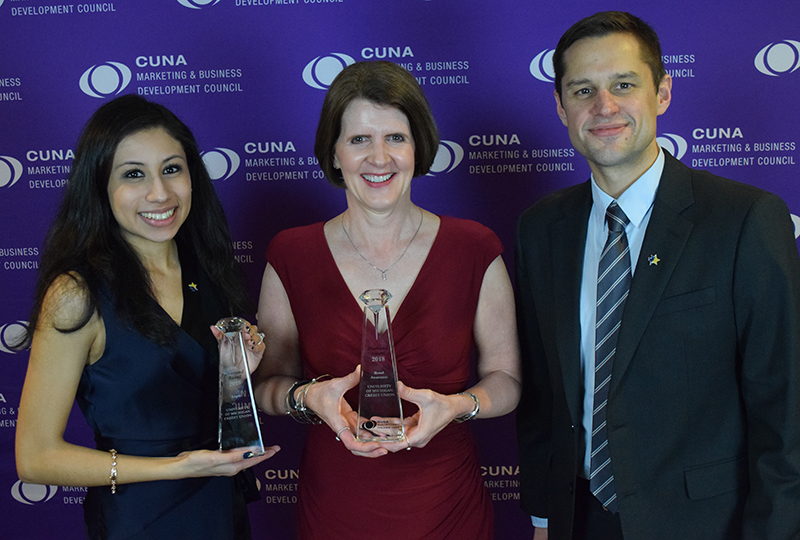 University of Michigan Credit Union (UMCU) was recently honored with two Diamond Awards by the Credit Union National Association (CUNA), which recognize outstanding marketing and business development success in the credit union industry.
CUNA's Marketing & Business Development Council, a network of more than 1,300 credit union marketing and business development professionals, presented the awards at the council's 25th annual conference in San Francisco on March 11–14. Awards are given in 35 categories ranging from advertising to community events.
For more information about the Diamond Awards or to view a complete list of winners, click here.
UMCU received awards in the Logo and Brand Awareness categories. The winning logo entry exhibited a revived branding initiative, reflecting the credit union's forward-thinking culture. The award for brand awareness celebrated UMCU's Bicentennial Story campaign, which honored the University of Michigan's bicentennial and UMCU members who are helping to shape the next 200 years through leadership in the community.
"We are incredibly excited for the UMCU Brand Team and this outstanding achievement.They continue to develop and execute brand strategies that echo the high energy and service we strive to provide our members every day," said Tiffany Ford, UMCU's president and CEO. "Launching our new logo and creating an awareness campaign to reflect UMCU's maize and blue foundation are just two examples of their diligent work and enhancement of the UMCU brand."
Go to main navigation