KALSEE Credit Union Awards Paul Matayas Award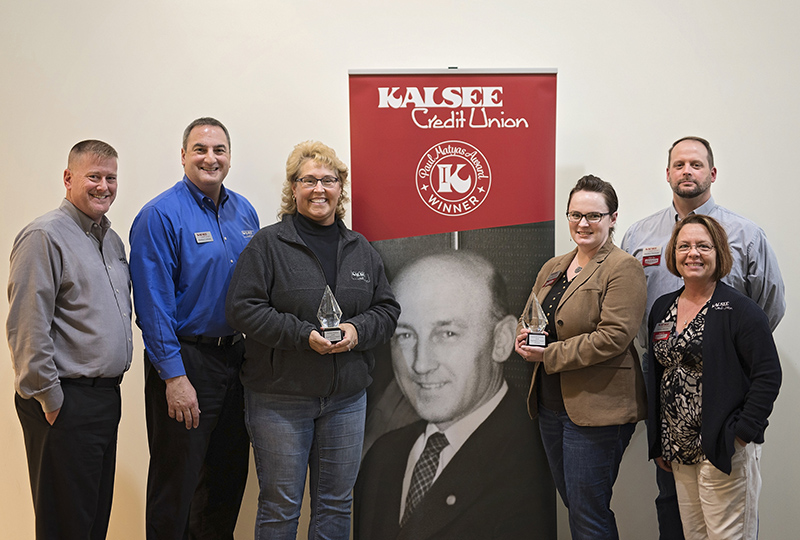 On Feb. 19, at the Kalamazoo Southeast Employees Credit Union's (KALSEE) annual staff development day, certified financial counselor Melissa Mullins and marketing manager Carrie Susemihl were awarded the KALSEE Paul Matyas Award, the highest honor a KALSEE team member can receive.
Mullins serves KALSEE's members via Aspire Financial Counseling. She works with them to repair or build credit and improve overall financial health, often supporting members during the most difficult challenges of their lives. Mullins also volunteers with the Vicksburg Boosters.
In addition to her role as marketing manager, Susemihl champions new or improved products and electronic services to make members' lives easier. Since joining the credit union's team in 2015, her vision has led a reimagining of the KALSEE brand. Susemihl is also a member of the Tillers International board of directors.
Each year, the Paul Matayas Award is presented to an individual or individuals whose contributions to the credit union embody the spirit of founder and account #1 holder Paul Matyas, moving the organization closer to fulfilling its mission and vision. Awardees must demonstrate a sense of community, an entrepreneurial spirit, perseverance, adaptability and personal responsibility.
Go to main navigation