In Brief...
Credit Union Collection Consortium Next Meeting March 14
The Credit Union Collection Consortium meets next on March 14 from 2–4 p.m. The meeting will be at Michigan Schools and Government Credit Union in Troy. The Consortium is pleased to present "super attorney" Karen Rowse-Oberle of the law firm Butler Rowse-Oberle, PLLC to discuss bankruptcy updates. Attendees will also hear from an up-and-coming star of the firm, Elizabeth Butler, on post judgment collections and from "retired" skip tracing analyst Julie Hoff. This is a great opportunity to stay current on two areas of great importance for free. The meeting is open to any interested persons and no reservations are necessary. Call Julie Hoff with any questions at 586-777-0770, ext. 38.
Gerber FCU Employees Set Another Record with United Way Donation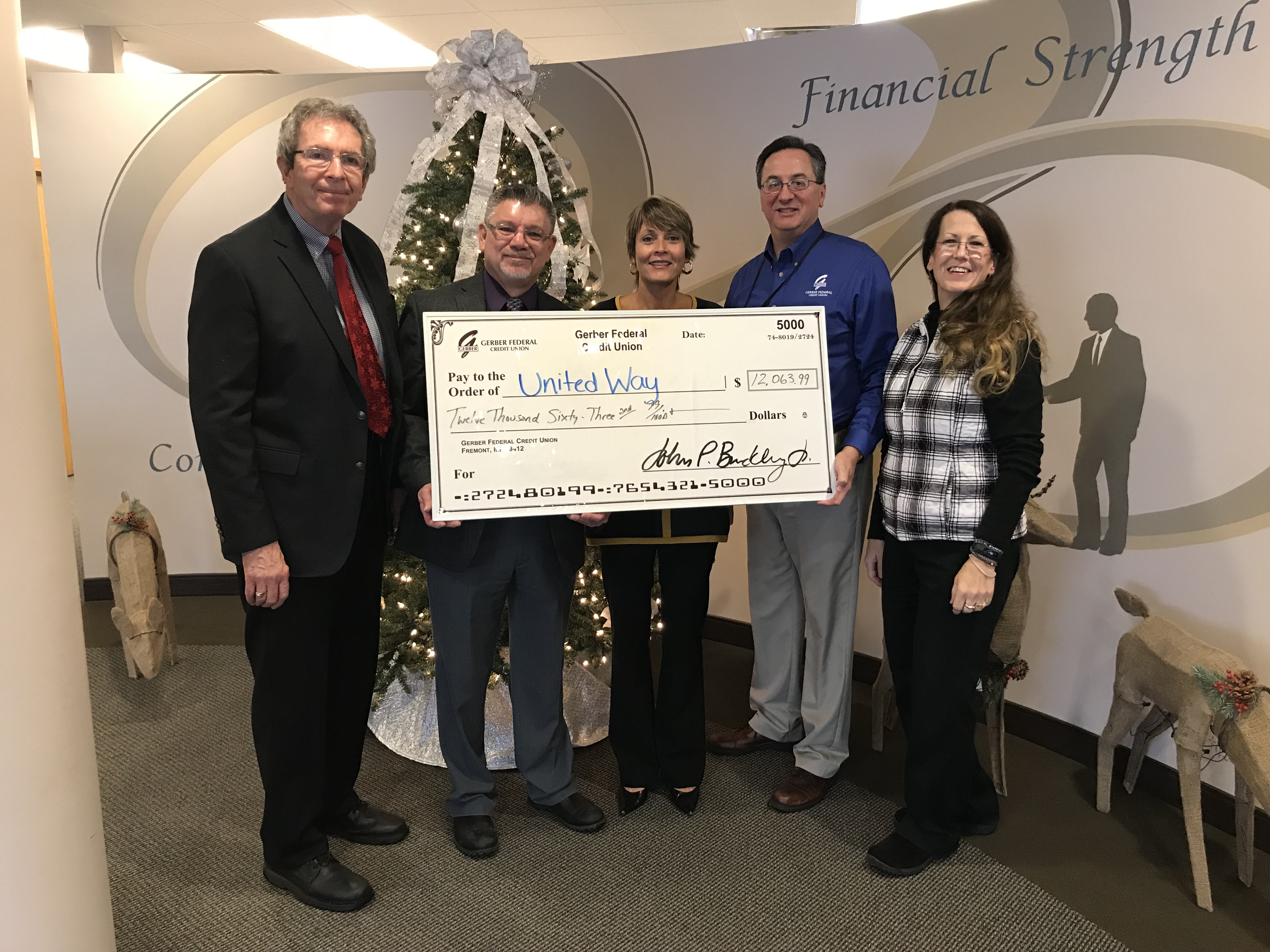 In 2017, Gerber Federal Credit Union made a record-breaking donation to United Way of the Lakeshore. Gerber Vice President of Human Resources Ellen Davis, President/CEO John Buckley and Vice President of Operations Lori Little presented the $12,063.99 check to Lakeshore Newaygo County Director James Rynberg and 2017 United Way Campaign Chair Robert Ross.
"Our generous employees raised $8,042.66 for the United Way," said Buckley. "Gerber FCU donated a 50% match, bringing our total contribution to $12,063.99!"
Saginaw Medical Federal Credit Union Collects Books and Art Supplies for Covenant Kids
Saginaw Medical Federal Credit Union is collecting new or gently used books and art supplies during the month of March for Covenant Kids, Covenant patients ages 17 and under.
"Covenant Kids supports so many of our children and their families in the Great Lakes Bay Region," said Laura Crase, SMFCU's president and CEO. "We are happy to help ease the time spent in the hospital by giving these children a book to read or a craft to make and hopefully they'll miss home a little less."
Covenant Kids is a fund managed by the Covenant HealthCare Foundation dedicated to enhancing the care for all Covenant patients under the age of 18 and their families. All books and art supplies donated during the month of March will be given to Covenant Kids. To donate, bring new or gently used books or art supplies to one of Saginaw Medical Federal Credit Union's branches.
MCUL HR Network's Second Newsletter of 2018 Now Available
The MCUL HR Network's second newsletter of 2018 is now available for human resource professionals in the credit union world. In this edition, you will find information on upcoming education and networking opportunities, hot topics in compliance, time saving tips and more.
"Our priority continues to be providing resources to all network members," said Lara Keathley, Christian Financial Credit Union's vice president of human resources. "We hope you'll take advantage of the feedback form and contact information provided."
Read the latest newsletter here.
Join MCUL at the 2018 Michigan Credit Union Open Charity Golf Outing
As you prepare for the Michigan Credit Union League (MCUL) and CU Solutions Group (CUSG) Annual Convention and Exposition (AC&E), don't forget to sign up for the 2018 Michigan Credit Union Open Charity Golf Outing. The outing takes place the day before AC&E begins and is $200 per golfer. This includes 18 holes of golf on either the Spruce Run or Wolverine course, drink tickets, lunch, an award ceremony, dinner and more. $5 per golfer will go to the Michigan Credit Union Foundation and the remaining $195 will be donated to the Children's Miracle Network. Register today for AC&E and the golf outing here.
Go to main navigation