2018 CUNA GAC Day 3: Federal Lawmaker and Staffer of the Year Reception
Tuesday evening, during the 2018 CUNA GAC, the Michigan Credit Union League (MCUL) held the MCUL Federal Lawmaker and Staffer of the Year Reception to honor the 2017 winners: Congressman Mike Bishop and Staffer Alison Share.
Mike Bishop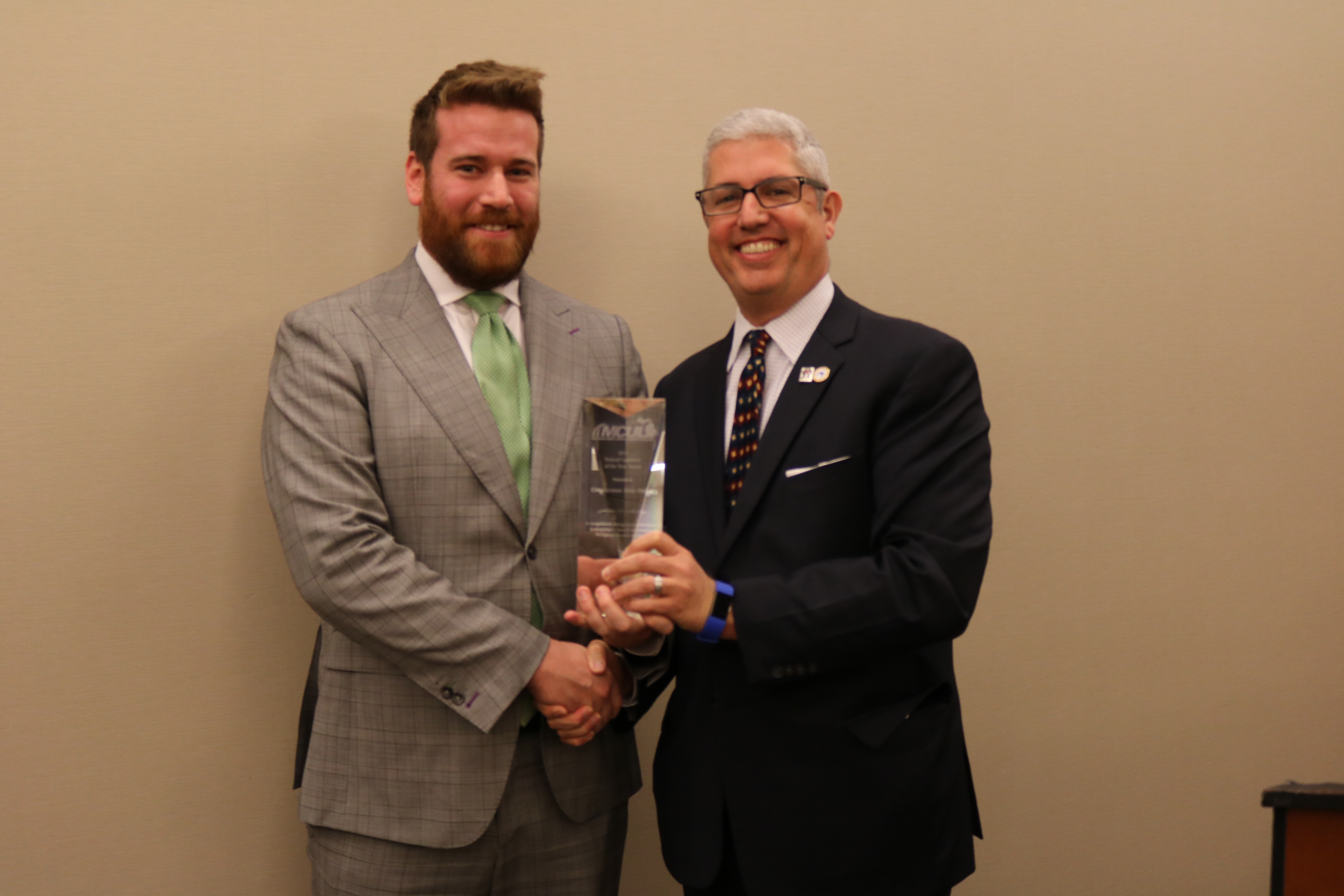 Dan Harder, legislative director of the U.S. House of Representatives, accepted the award on behalf of Congressman Bishop. He spoke about how Bishop has taken his advocacy from his time on the Senate Banking and Financial Institutions Committee to Congress.
"It has been with your help that we have been able to make so much progress since Dodd-Frank was enacted," Harder said before thanking MCUL for the award.
Bishop's career in public service began when he was elected to the Michigan House of Representatives, where he served from 1999–2002, and was then elected to the Michigan State Senate from 2003–2010, where he served as majority leader. During his time in the state legislature, he helped with the first update of the Michigan Credit Union Act.
In 2014, Bishop was elected to U.S. House of Representatives, serving Michigan's 8th District. He was selected by House leadership to serve on the House Ways and Means Committee in February of 2017 – the start of his second term in office. On the committee, he's a member of Oversight and Human Resources subcommittees.
Bishop voted for the Financial Choice Act of 2017, a bill supported by MCUL and CUNA. He also voted in support of H.J. Resolution 111, which was signed by the President and repealed the CFPB's arbitration rule, co-sponsored H.R. 1264, the Community Financial Institution Exemption Act, and provided his support for maintaining the credit union not-for-profit tax status.
In October, he joined other members of the House and signed on to a letter to Attorney General Jeff Sessions urging the Department of Justice to restart the rulemaking process regarding recent ADA website compliance issues.
Since his time in the state legislature he has been a strong and steadfast supporter of credit unions, he recognizes the importance of the credit union not-for-profit tax status and has consistently made time to personally meet with credit union leaders in Washington, D.C. and in Michigan.
Alison Share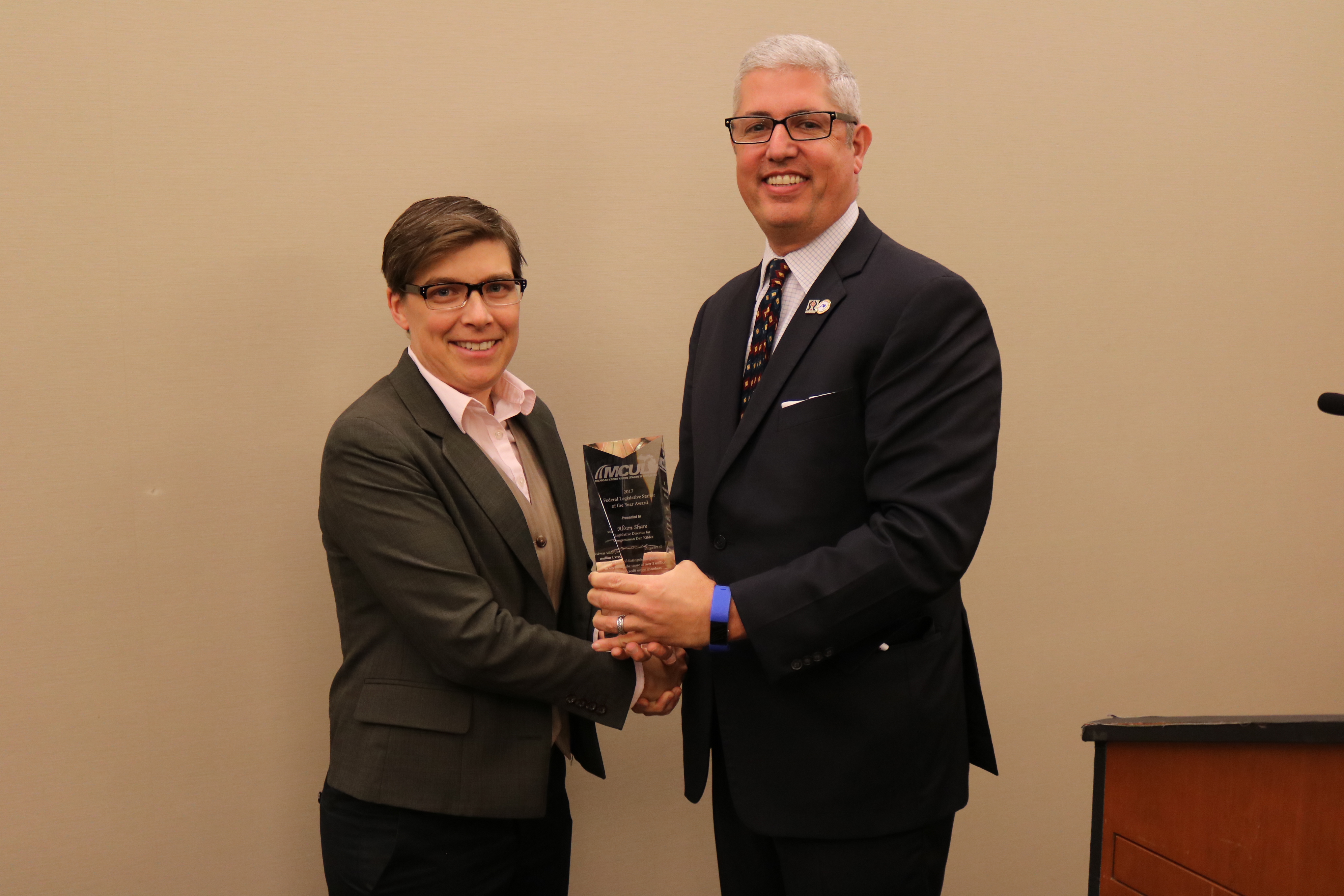 "Even though we don't always agree on everything, I will always listen. Even if I can't say 'yes,' I will give you a solid reason why I'm saying 'no,' which, I've learned as a staff member, is something that goes a long way," Share said, accepting the award. "People appreciate being told, one way or another, where a congressman is going to be. Even if it's not on their side, people really do appreciate knowing their voice is heard."
"It's been an honor to serve Michigan and the 5th District and the value that you all bring to your communities can't be overstated, especially when we see a lot of lack of investment in communities from the federal government. The work and outreach you do is really important to the areas you serve. That's why my boss, and in turn myself, really appreciate the work that you do every day."
Share currently works for Congressman Dan Kildee, Michigan's 5th District representative. Rep. Kildee was elected Vice Ranking Member of the House Financial Services Committee in 2017. As legislative director, Share provides research and policy support on a variety of topics, including financial services.
She is an exceptional study, keeping track of the policy and political implications of activities within the committee. Share is a staffer who hears all sides of issues before making recommendations to Rep. Kildee. She consistently makes time for in-district meetings or conference calls with MCUL staff to discuss issues important to Michigan credit unions.
Go to main navigation