2018 CUNA GAC Day 2: Bush, Nussle and Excitement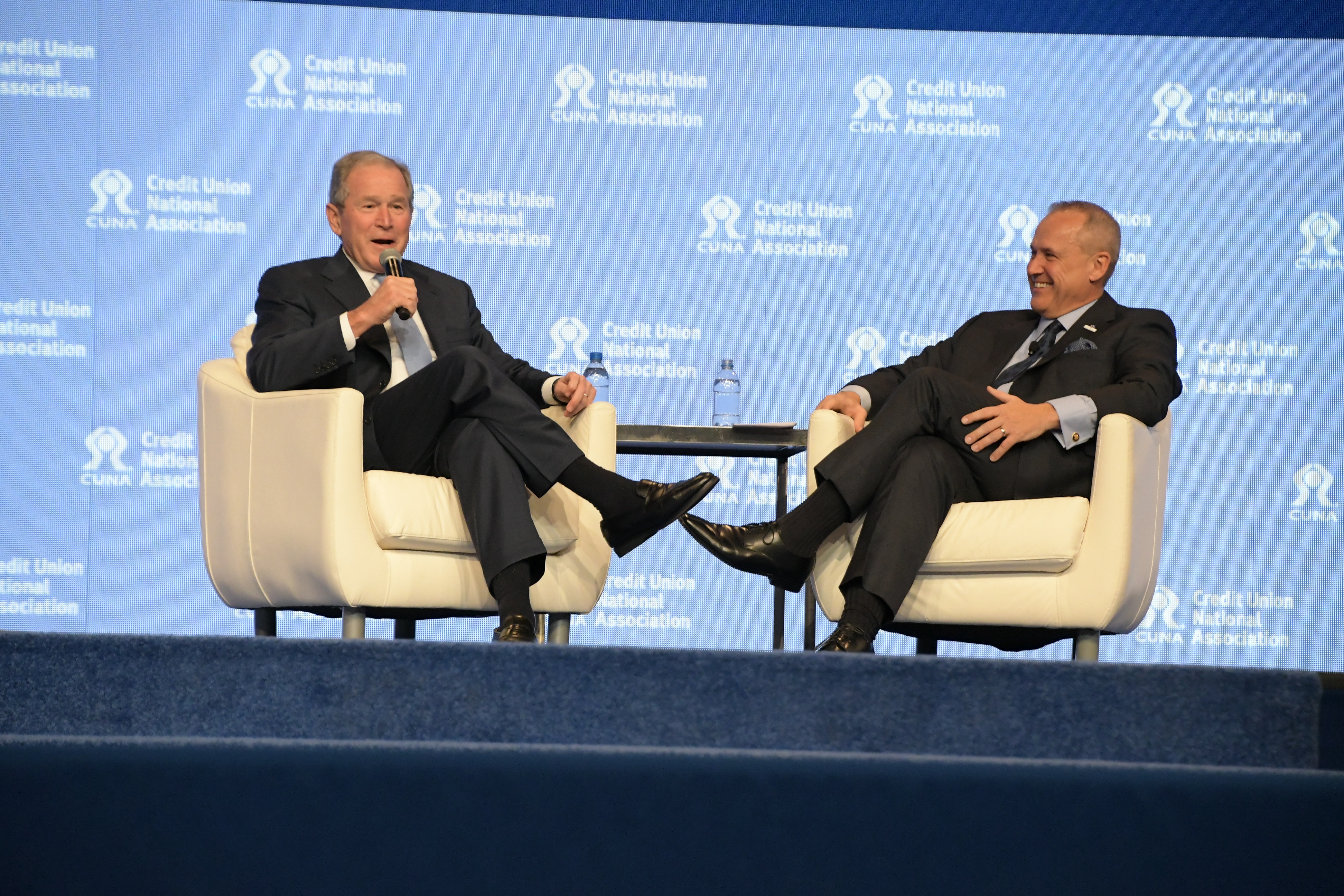 The second day of the CUNA GAC opened with a speech from George W. Bush, 43rd President of the United States, who spoke to more than 5,000 credit union professionals about the current political, cultural and financial climate with CUNA President/CEO Jim Nussle.
Nussle, who served as Bush's Director of the Office of Management and Budget from 2007 to 2009, interviewed the former president on a variety of topics including current relationships with China, Mexico and North Korea, lessons learned during his presidency, qualities needed to be an effective leader, the importance of public service and meeting the needs of everyday Americans.
"Gaining insight from our past can help guide us moving forward," said Nussle. "It was truly my pleasure to discuss the current state of the nation and the power of collaboration and public service with President Bush, as these principles are the core of the credit union philosophy. This has been a record-setting GAC and CUNA is honored to host a high caliber speaker such as President Bush."
John P. Buckley, Gerber Federal Credit Union CEO and MCUL & Affiliates Board Chairman, called Bush's speech amazing and refreshing, saying he is a "class individual who really understands what America's role is and should be in the world and articulates in a very down-home, easy-to-understand style. It exceeded my expectations."
Andy Kempf, 4Front Credit Union President, said he was impressed that Bush was able to let his guard down, and that he called for less divisiveness in current and future political conversations.
When asked what, from Bush's speech, he will be able to take back to the credit union, Kempf said, "Owning your decision and knowing that you're making the right decision for the masses is a tough thing to do … his story of owning decisions and doing what you think is right for everybody, that's something that we should all take back."
Jeffrey Rabanus, Metro North Federal Credit Union CEO, called the speech phenomenal, down-to-earth and passionate, specifically touched by the 43rd President's thoughts on service.
"You can serve people in many ways, not just as a politician or in the armed forces, but as we do here in the credit unions," he said, mentioning a story told during the conference about a credit union in California that helped thousands of people who lost their homes.
He said it inspired him to do what he can to "get out there and help in various ways." In fact, Rabanus said that will start with this week's Hill visits. "I want to speak up this year. I want to be a voice" he said, referencing previous years in which he has sat back in the crowd. He said speaking up is particularly important as a part of a small asset size credit union.
This is Rabanus' third time at the CUNA GAC. He said year over year, the event's excitement is tangible. "As always, as soon as the doors open on Monday morning, and everyone officially comes in, you just feel it."
Also featured Monday morning was Nussle's keynote speech, which can be viewed here.
"Nussle did a fantastic job summarizes where CUNA stands and what their successes and struggles are going to be over the next year," said Kempf. "They've done a fantastic job of representing us and representing not just the leagues, but the credit unions as a whole."
Go to main navigation