Hurley Children's Hospital Awarded 2017's Vote for Miracles Top Prize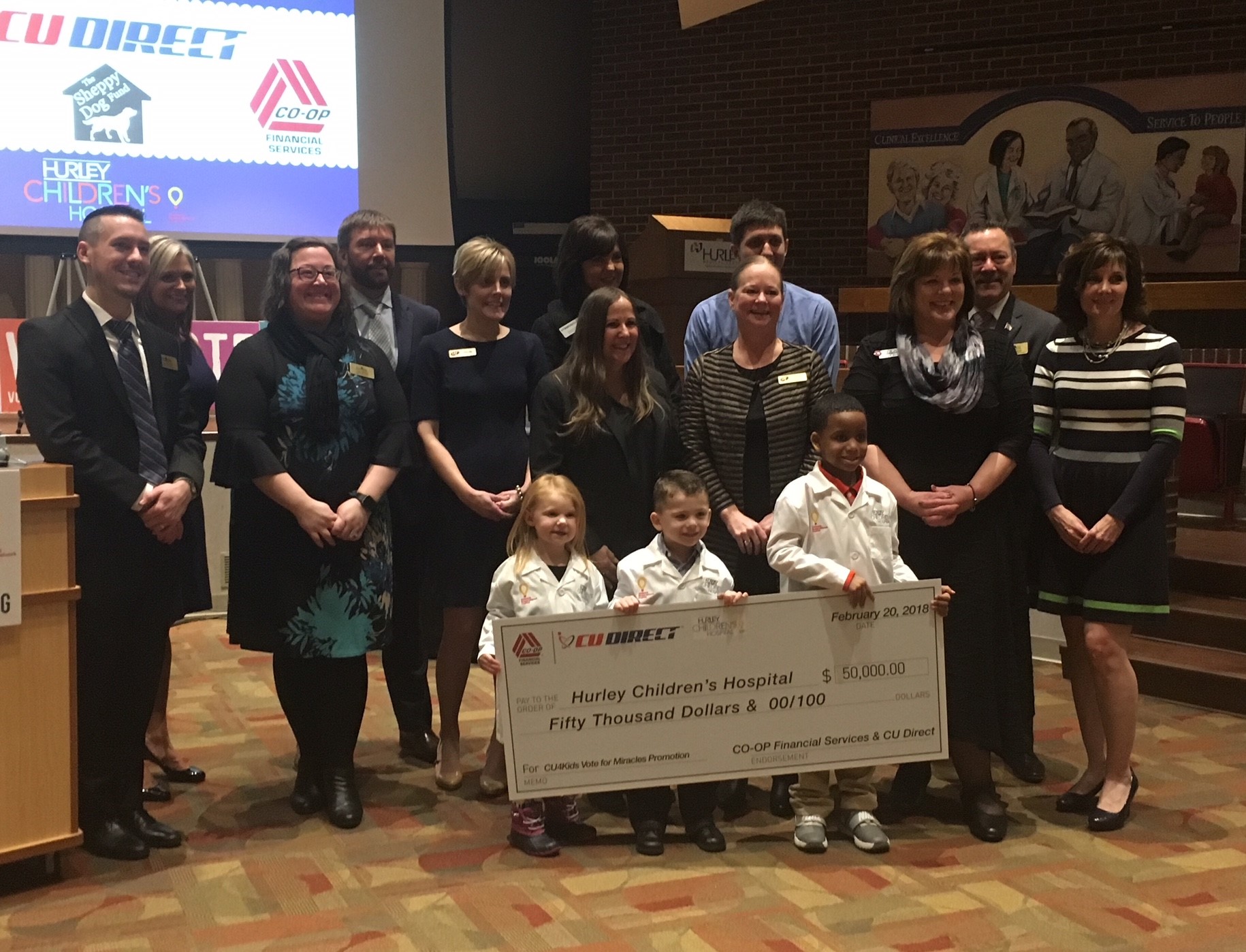 Late in 2017, Credit Unions for Kids — a collaboration of credit unions, chapters, associations and business partners from across the nation that raise funds for Children's Miracle Network (CMN) Hospitals — held the second annual Vote for Miracles campaign.
Vote for Miracles is a contest wherein credit unions and the general public vote to support their favorite CMN Hospital. The top five winners are awarded checks that allow the hospitals to better serve abused and injured children in their communities. The three-week promotion (Nov. 28-Dec.19) was overwhelmingly successful, bringing in 600,000 votes from nearly 6,000 credit unions in the country — more than double the votes from the 2016 campaign.
Hurley Children's Hospital in Flint was the 2017 winner, and they were presented their $50,000 check at this morning's celebratory ceremony, held at the winning hospital.
Melany Gavulic, Hurley Medical Center's president/CEO, opened the ceremony with some words of thanks. First, she thanked the Hurley's marketing department for getting the word out, calling the community to vote. Gavulic also thanked the Michigan Credit Union League's (MCUL) Renee Werth, vice president of education and events, as well as all of the celebrity support the campaign garnered on social media (Lady Antebellum, Marie Osmond, Chelsea Clinton, Mark Ruffalo, Miss America 2018 Cara Mund, Bill Engvall, Alli Simpson and Mark Wills).
Hurley's victory is a testament to the enthusiasm and generosity of Flint's community. Many leaders in the community, including Gavulic and the area's credit unions tirelessly campaigned for participation in the 2017 Vote for Miracles promotion, calling in personal favors from friends, local media and fellow community leaders.
"This was a campaign to unite all walks of life for one purpose — to help kids," Tracy-Stephens said before introducing some of the children in attendance. "Thank you for catching the spirit and wanting to help kids in our community."
ELGA contributed an additional $5,000 to Hurley. The hospital also got an additional donation on behalf of Alan Klein, a pediatric dentist at Hurley, who donated $20,000. Three children under the age of seven, two of which are cancer survivors, accepted the checks donated to Hurley.
Hurley is using the Vote for Miracles winnings to create a treatment room for the use of victims of child sexual abuse. The room will create a safe and private space for children to tell their story of abuse one time, during this treatment, which will then be used in any further proceedings. Without the funding for the room, children affected by sexual abuse would be brought into the emergency room and examined next to other patients.
"I'm so thankful and appreciative of the credit unions for helping us get all these votes. This money is giving us the opportunity to let those affected children tell that story one time," said Mattie Pearson, administrator of Hurley Women & Children's Services, who went on to tell an emotional room that this project will alleviate victims of child sexual abuse from having to retell their story many times over. "This is going to help the community so much."
This is the second year in a row that Hurley Children's Hospital has won Vote for Miracles' top prize. MCUL spoke with Cheryl Sclater, business and community development officer for ELGA Credit Union, following the ceremony. When asked how ELGA is able to rally such strong support for the second consecutive year, she said, "Passion. Absolute passion."
"When it comes down to it," Sclater said, holding back tears, "this community, whether we're collecting Dimes for Diapers or we're asking votes for a very important project at Hurley, this community rallies. We're resilient and we see the importance of our Children's Miracle Network Hospital and Hurley Hospital and what they do for the children of our community."
Speaking to how this initiative fits in the broader credit union mission of "people helping people," Sclater said that the young people that are falling victim to abuse in every community are the people that most need our help. "These children are our future, and if we can give these children their childhood back, to be able to grow up, that's people helping people."
"The community recognizes the importance of this room," said Sclater, referring to the treatment room that Hurley will be developing.
MCUL began its involvement with CMN in 1998, 20 years ago. At the 2018 Annual Convention & Exposition, attendees will be able to support CMN through a golf outing, fun run/walk and live and silent auction. We encourage you to participant in these AC&E offerings in order to help CMN continue to provide treatment for children in need.
Go to main navigation