LAFCU Advertising Campaign Wins Awards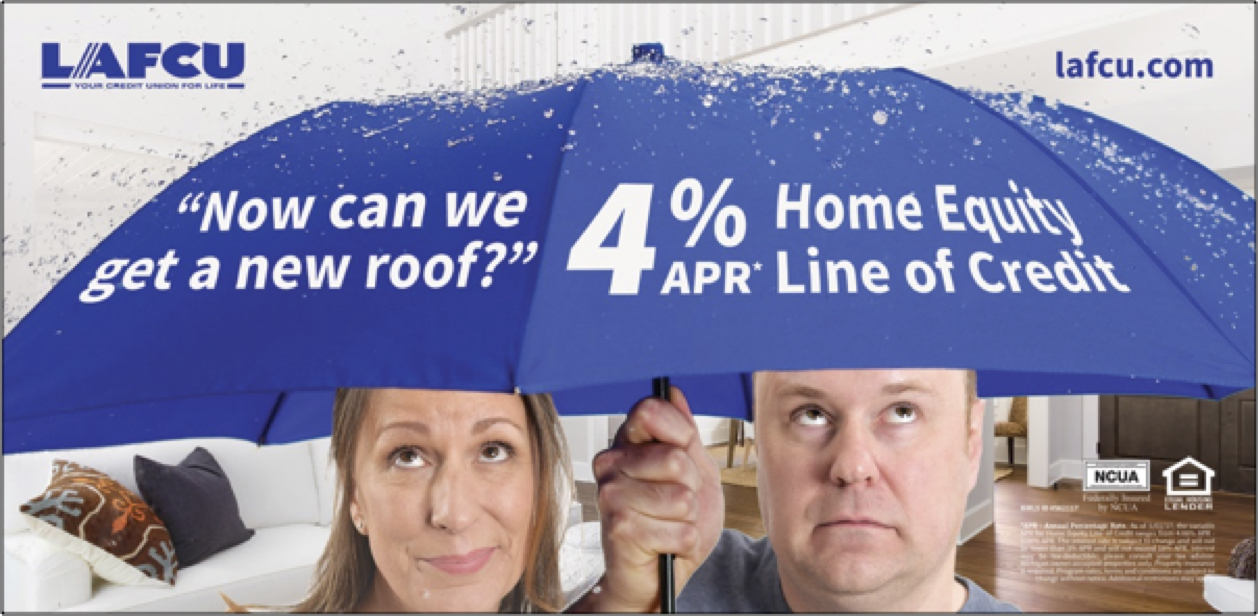 LAFCU won two marketing awards in the 15th Annual Service Industry Advertising Awards competition. The winning entries were for comprehensive advertising campaigns promoting LAFCU's home loan programs via television, radio, print, outdoor and digital advertising, as well as internal marketing to communicate with members. The work was produced in partnership with Harvest Creative Services in Lansing.
"As a local, member-owned financial institution, it's important that LAFCU continually offers quality financial products to members and ensures that they and others in the community are aware of the benefits of these products," said Kelli Ellsworth Etchison, LAFCU's senior vice president of marketing. "We aimed for attention-grabbing creative that would deliver results and these campaigns achieved that goal. Being recognized among the best in the service industry is an added plus."
The New Roof campaign promotes LAFCU's home equity line of credit program (HELOC); the Outgrown Your Home campaign promotes LAFCU mortgages. The creative concepts for both campaigns use humor to establish a problem for which LAFCU offers a resolution. Humor also supports the credit union's welcoming brand. Award-winning TV commercials can be found on LAFCU's Youtube channel.
In this year's contest, judges evaluated the advertising excellence of more than 1,600 entries from service industry providers around the world and recognized the top 282, or about 18 percent.
Go to main navigation