MSGCU Named Business Partner of the Year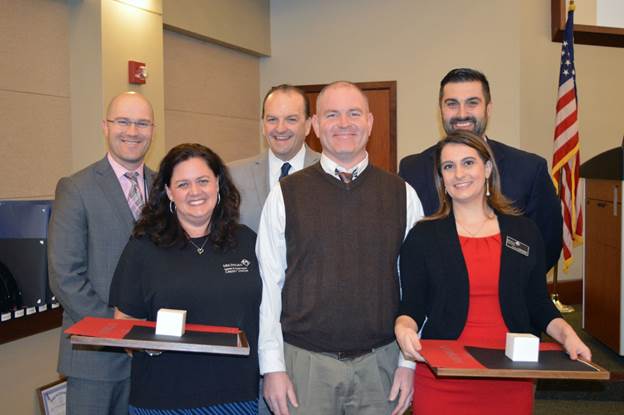 The Michigan Schools and Government Credit Union (MSGCU) Consumer Education team was named Business Partner of the Year for the Warren Consolidated School District by the Macomb Career Technical Education Administrators Association. MSGCU Consumer Education Specialists Colleen Godfrey and Shannon McIntosh accepted the award for their work teaching financial literacy to students at Sterling Heights High School through a Financial Reality Fair in November of 2017. Tony Wright, a Marketing and Business teacher at Sterling Heights High School, nominated the team for the award.
"The MSGCU Financial Reality Fair is the perfect educational tool," said Wright. "Students have a great time with the hands-on and real-world approach, while educators love the critical thinking method to teach basic economics, money management and banking,"
MCGCU's Consumer Education team facilitates workshops and coordinates events, bringing financial education to its members and communities. A wide range of workshop topics include home buying, checking account management and enhancing social security benefits during retirement planning. The team conducts more than 200 workshops each year, impacting more than 6,000 students and adults in the community. MSGCU financial education workshops are taught year-round and free of charge at local schools, businesses, community group events and organizations.
"The MSGCU Consumer Education team does not sell products or services," said Jeanette Driver, MSGCU's community relations manager. "The sole mission is to improve financial literacy for all ages within the communities we serve. With relevant financial education, we help guide people to make better decisions on a daily basis. Our workshops range from classroom presentations to financial checkups — and all can lead to positive action."
Educational workshops are just one of the many ways MSGCU lives the "people helping people" credit union philosophy while contributing to members' financial success and wellbeing.
Go to main navigation