CU Lending and Marketing Professionals Gather in Grand Rapids this March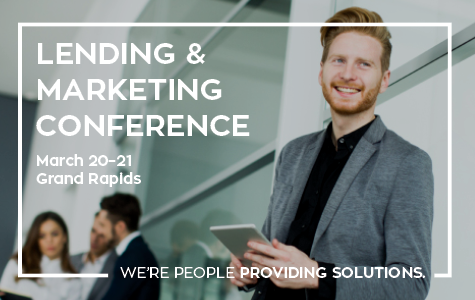 Online registration will be opening soon for the MCUL & Affiliates 2018 Lending and Marketing Conference, being planned for March 20-21 at the Amway Grand Plaza Hotel in downtown Grand Rapids. Kicking-off with a networking activity to open dialogue between peers throughout the two-day event, the agenda is infused with resources and insights, including a look at the recently launched Life Steps Wallet app by CU Solutions Group.
The agenda will showcase topics such as "Growing Auto Loans 10% a Year Without Indirect," "Get Real: Managing Communication in a Crisis and Protecting the Credit Union Brand," "Paperless Lending Under the Uniform Electronic Transaction Act" and "Mobile Marketing 101 For Membership and Loan Growth," providing nuts and bolts for staffers to be more effective in the roles they fulfill.
On the first day of the conference, optional extended learning sessions will be offered for large- and small-asset size credit unions on lending and marketing topics, which will be facilitated by credit union peers who will be showcasing projects their credit unions have supported.
A fun social event is being planned for the evening of March 20 at the Grand Rapids Brewery, providing more time for attendees to make valued contacts and exchange ideas.
Look for more information about registering for the MCUL & Affiliates Lending and Marketing Conference at MCUL.org this coming week.
Go to main navigation