Online Registration Now Open for 2018 Compliance Conference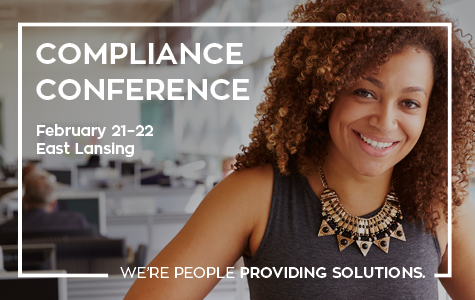 Bigger is better, especially when it comes to having access to the most important information to keep credit unions compliant. That is why the agenda for the MCUL & Affiliates 2018 Compliance Conference has been expanded to a new larger format, with breakout sessions to offer broader topics.
Now is the time to plan and register for this popular event. It not only provides the most insightful compliance information available to credit union professionals in Michigan, but also features an impressive line-up of industry experts. The conference provides an opportunity for staffers to discover best practices, get tips from the pros, meet knowledgeable business vendors and network with colleagues from across the state.
Being held Feb. 21-22 at the East Lansing Marriott at University Place, attendees are encouraged to act fast and be sure to book hotel accommodations by Feb. 2.
The first-day agenda includes topics such as "Destination Compliance: THE Credit Union All-in-One Resource," "Third Party Contracts: Words Matter!" "What is Happening with Overdrafts?" "E-sign for Everybody," "The Odd Couple: Marketing and Compliance, Lessons Learned" and "When Bad Things Happen to Good Institutions: Critical Case Studies Ripped from the Headlines."
On the second day participants will find sessions on federal and state regulatory updates, along with the following:
Cyber Crimes: The Dark Side
Lending Compliance Update: Indirect, Mortgage Servicing, Identifying Successors in Interest
Bank Secrecy Act Hot Topics
Human Trafficking: What to Know and Watch For
New! Open Space: Attendee Chosen Conversations
A fun networking reception is planned at Hopcat East Lansing on Feb. 21 and is followed by an optional general knowledge trivia event where attendees may form teams and hangout for the evening.
Go to main navigation