Employee & Building Updates
Credit Union ONE Opens Relocated Shelby Township Branch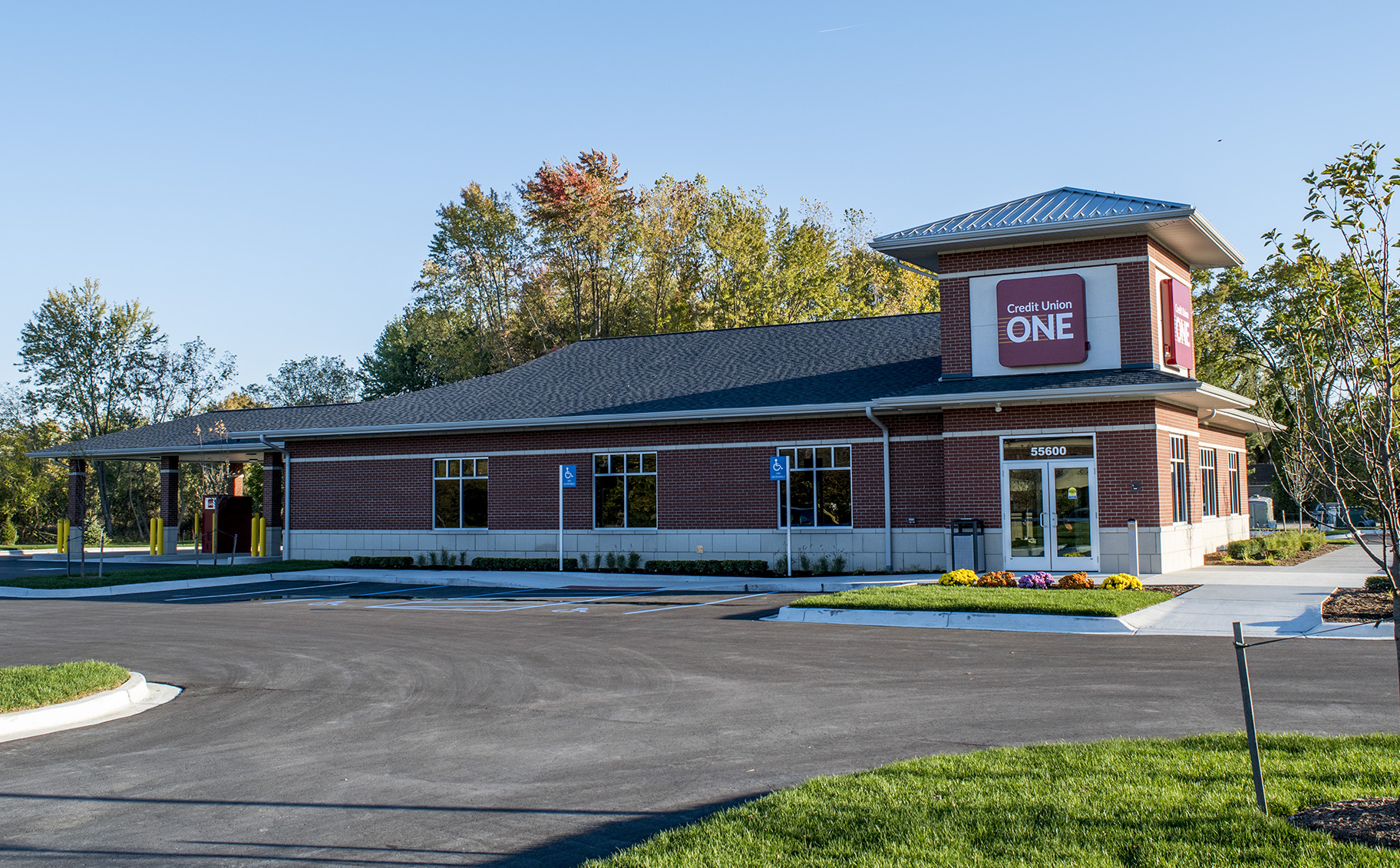 On Monday, November 6, Credit Union ONE opened its relocated, full-service Shelby Township Branch. Located at 55600 Van Dyke Avenue (just north of 25 Mile Rd.), the new branch features added conveniences designed to enhance the member experience, including extended drive-up hours and Interactive Teller Machines (ITMs).
In celebration of this grand opening, Credit Union ONE is offering promotions worth up to $800 and a special rate on 30-month CDs.
"Consumer preferences for branch banking continue to evolve," says Credit Union ONE President and CEO Gary Moody. "This new branch combines the right mix of technology with very personalized service to deliver a great experience regardless of the reason for your visit. It is exciting to provide a full range of services with expanded hours to better fit our members' lives and exceed their expectations."
The particular combination of technology and personalized service at the Shelby Township Branch represents a new model for Credit Union ONE. Instead of staff being utilized for specific transactions (for example, one as "teller," another for loan services), each branch representative at the Shelby Township Branch is able to help members access Credit Union ONE's full range of services on the spot. The ITMs at the new Shelby Township Branch represent the latest advancements in branch banking and video chat capabilities and provide members with one more way to get personal, one-on-one service. In addition to permitting members to make typical cash withdrawals and balance inquiries, the interactive units can complete advanced transactions such as scanning, sorting and validating checks and counting cash deposits.
ITMs at the Shelby Township Branch are available in-lobby during regular hours (9 a.m.–6 p.m. Monday through Friday and 9 a.m.–2 p.m. on Saturday) and via drive-up during extended hours (7 a.m.–7 p.m. Monday through Friday and 9 a.m.–2 p.m. on Saturday). This new technology helps Credit Union ONE accommodate members' busy schedules, while continuing to offer the high level of service they have come to know and trust.
Credit Union ONE encourages the community to visit the new branch to meet on-site staff, try the ITMs, and take advantage of the exciting grand opening offers available only at the Shelby Township Branch through Jan. 31, 2018. Members will get $300 when they use their debit card after opening a Cash Back Checking Account; up to $250 when they close on eligible direct auto, boat, RV, motorcycle and Freedom ONE Loans; and $250 when they close on a first mortgage, equity advantage, home equity or home equity line of credit loan. Members who deposit a minimum of $2,500 will also receive 1.4 percent APY on 30-month CDs.
Credit Union ONE plans an official ribbon cutting ceremony for the new branch in early December.

MCCCU Announces Stephen P. Grech as New CEO

The Board of Directors for Monroe County Community Credit Union (MCCCU) has officially selected Stephen P. Grech to be their new president/CEO. Grech will succeed Mike Newman, who had been MCCCU's president/CEO since 2011 before passing away in March of this year.

"We at MCCCU are excited to bring someone of Steve's caliber on board to lead the credit union," said Barry Kinsey, MCCCU's board chairman. "Steve has more than 30 years of experience in credit unions and community banking. We believe his experience and outstanding leadership will serve our credit union and the Community of Monroe well for many years to come. I look forward to getting to know him and am eager for the community to get to know him as well."

The selection of Grech concludes a search process facilitated by Angott Search Group, an executive search firm which specializes in placing executives at financial institutions. A large initial pool of applicants was narrowed down to a group who interviewed with the board's search committee, and then to a final few candidates that met with the entire board.

Mark Radwanski, who will leave the interim president/CEO post on Nov. 6, expressed strong support in his board's choice, "The search process was very extensive and I am confident in the board's decision. We are all looking forward to working with Stephen and are excited to implement his ideas to ensure MCCCU continues to serve our membership in the best way possible."
"MCCCU is a shining example of what being a community-focused financial institution is all about. Beyond offering a wide array of financial products and services, MCCCU is passionate about being a great corporate citizen and investing its resources into the communities it serves," said Grech. "I am excited to become a part of the communities served by MCCCU. I am honored to have been asked to lead the organization into the future and build on the successes and efforts of the many hard-working people who have served the credit union and its members over the years."
Before joining MCCCU, Stephen Grech served as an executive vice president for Credit Union ONE. He held that role for the past ten years and previously served for five years as the credit union's senior vice president - chief lending officer. He has thirty-three years of multi-faceted experience in the financial services industry, including approximately fifteen years as a chief lending officer. Prior to joining Credit Union ONE in 2002, Grech was the chief lending officer at Dearborn Federal Savings Bank, where he served for fifteen years. In addition to his duties with Credit Union ONE, Grech served on the Executive Committee of the Member First Mortgage (MFM) Board of Directors, most recently serving as its chairman. MFM is a multi-state, credit union-owned mortgage origination and servicing company. He is a graduate of Wayne State University and has also completed course studies at the University of Missouri at Columbia, University of North Carolina, Wharton School – University of Pennsylvania, Johnson Graduate School of Management – Cornell University and Darden School of Business – University of Virginia. Grech has served on the Trans-Union National Advisory Board, and has previously held leadership positions with multiple community and civic organizations including President - Dearborn Heights Chamber of Commerce, Board Member for the Dearborn Chamber of Commerce and School Board Member – Cabrini High School in Allen Park.
Go to main navigation