In Brief...
Alliance Catholic Credit Union to Help a Pair of Southwest Detroit Schools Prepare for the New School Year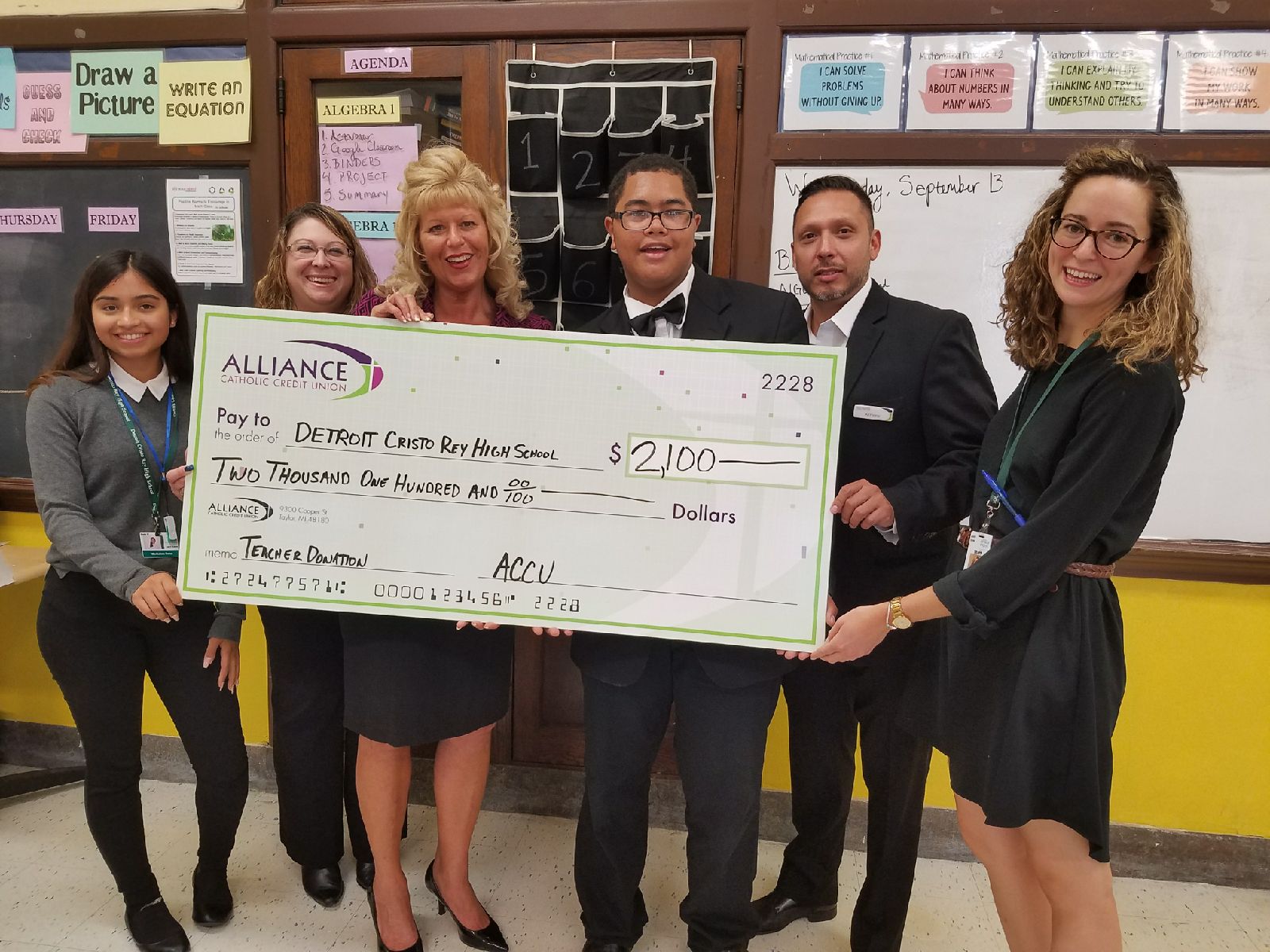 Teachers at Detroit Cristo Rey High School and Holy Redeemer Grade School don't let roadblocks like school supply expenses stop them from helping their students achieve their academic goals. They seek out community support, and fortunately for them, Alliance Catholic Credit Union (ACCU) picked up the tab for their specialty school supply items this year.
"We are very grateful for the support from Alliance Catholic Credit Union," said Detroit Cristo Rey High School president, Michael Khoury. "Their generosity is making a real difference for our students and the school at large. These supplies provide our students with opportunities that all children deserve."
The wish list included such items as chemistry beakers, books, files boxes, printer ink and paper supplies.
As part of ACCU's award-winning Heart for the Holidays campaign, the credit union staff members hand-delivered a check for $3,500 to school officials in order to purchase the sundries. The credit union raised the $3,500 to fund the initiative through employees, members and business partners/affiliates.
"With technology being such a big part of education today, it is hard to keep ink in our printers and paper available for all of our research projects and activities," said Holy Redeemer Grade School principal, Mary Beth Kiley. "It is so wonderful to know there are people like those at Alliance Catholic willing to help us."

BlueOx Helps the Elementary Enrichment Community Project to Support Area Children
It takes caring individuals to see a need and figure out how to fill it. Jean Krohn did that, and gathered other individuals and organizations to step up for area children.
Many years ago, Jean, a retired teacher, was assisting in a kindergarten class when she learned there was a child who did not have crayons at home to finish a project. At the surprise of learning this, and also realizing this was not only one child's reality, she organized the Elementary Enrichment Community Project to create and distribute kids to kindergarten classes at this particular school, which soon grew to all the kindergarten classrooms in the Battle Creek Public Schools, as well as Prairieview Elementary in the Lakeview School District and Beadle Lake Elementary in the Harper Creek School District, to provide ten kits to each child for use during the summer.
The kits are provided to every child, not just those in need, and feature items that provide fun learning activities for the children at home. The kits include a variety of items from crayons to outdoor activities like playing frisbee and drawing with sidewalk chalk.
BlueOx has stepped up to provide a $1,000 contribution to the project, as well as 500 frisbees for inclusion in the outdoor activities kit. BlueOx President and CEO Fran Godfrey said, "We are glad the group approached us to lend a hand. We recognize that some in our community may have their basic needs covered, but are lacking in materials that will supplement their education, growth, and just fun activities. Being part of a community involves much more than just doing business. It is also important to be involved with the community in other ways, too."
Go to main navigation