Marquette and Frankenmuth Locations Offered for IRA Training
New and seasoned credit union professionals can gain new knowledge during the MCUL & Affiliates IRA Essentials and Beyond Essentials workshops taking place this fall.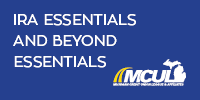 Being facilitated by Deb Shipman, CIS, CIP, CISP, a senior IRA training consultant with Ascensus, the workshop first heads to the Hampton Inn Marquette/Waterfront Sept. 27-28. The event then repeats again on Oct. 11-12 at the Bavarian Inn Lodge in Frankenmuth.
Being offered as a two-day event, participants may choose to attend either of the one-day sessions, or both days. The first day covers IRA Essentials, including "Introduction & Establishing IRAs," "IRA Funding," "IRA Distributions" and "Portability." The second day of training makes a great continuation or a fine refresher and goes Beyond Essentials to discuss "IRA Updates & Required Minimum Distributions," "Beneficiary Options," "Advanced Portability & Roth IRA Conversion Contributions" and "IRA Owner Tax Forms." Registration is $199 per person, per day.
Go to main navigation