In Brief...
Credit Union Collection Consortium Celebrates 25th Year
Entering their 25th year, the Credit Union Collection Consortium will soon be issuing their 2017-2018 season agenda of speakers. The Consortium, founded in 1992 by Al Bileti, was a small group of credit union collection managers and was aptly named the Southeastern Michigan Collection Managers Consortium. As the group grew over the years, the name was soon changed to the Credit Union Collection Consortium. The group now has more than 300 members. All meetings are free except the final meeting of the season which is the all-day Collectors Training School in May organized by MCUL's Education Dept.
With an endless parade of distinguished speakers such as Stephen Rhodes, David Ruskin, Karin Brown and Harry Strausser, the consortium meets seven months of the year and provides speakers on topics related to the fields of collections, lending, fraud, litigation, bankruptcy, economics, new products and trending hot-button topics.
The Consortium has been fortunate to present legal updates from subject experts such as Butler, Butler and Rowse-Oberle as well as Holzman Corkery PLLC, who also help in sponsoring the final meeting. Each season includes a wide variety of speakers and this year will be no exception.
Consortium president Peggy Dombrowski of Genisys Credit Union said, "We're hoping this year will be our best ever, we have some really interesting, dynamic speakers lined up. I'm fortunate to work with committee members James St. Aubin (Community Alliance CU), Julie Hoff (BBRO) and Mark Milligan (Dort FCU); we look for topic suggestions from consortium members with a goal of getting guidance from the experts and to answer questions we may all have, regarding hot topics or issues affecting credit unions. As an example, the CFPB/Navy Federal Credit Union issue was a topic we addressed immediately, last year." Meetings are usually the second Wednesday of the month from 2-4 p.m. at a different location each month and require no reservations. The topics are varied sufficiently to attract loss prevention, risk management, accounting, lending, mortgage and of course, collection professionals.
The networking benefits are invaluable as different credit unions often share their knowledge and experience at these meetings. Dombrowski said, "If you want to stay knowledgeable in the industry, these meetings are designed for you and questions are always welcome."
To get onto the Consortium's listserv and email for meeting notifications, simply send a request to weetandem@yahoo.com.

MSUFCU Releases Mobile App Updates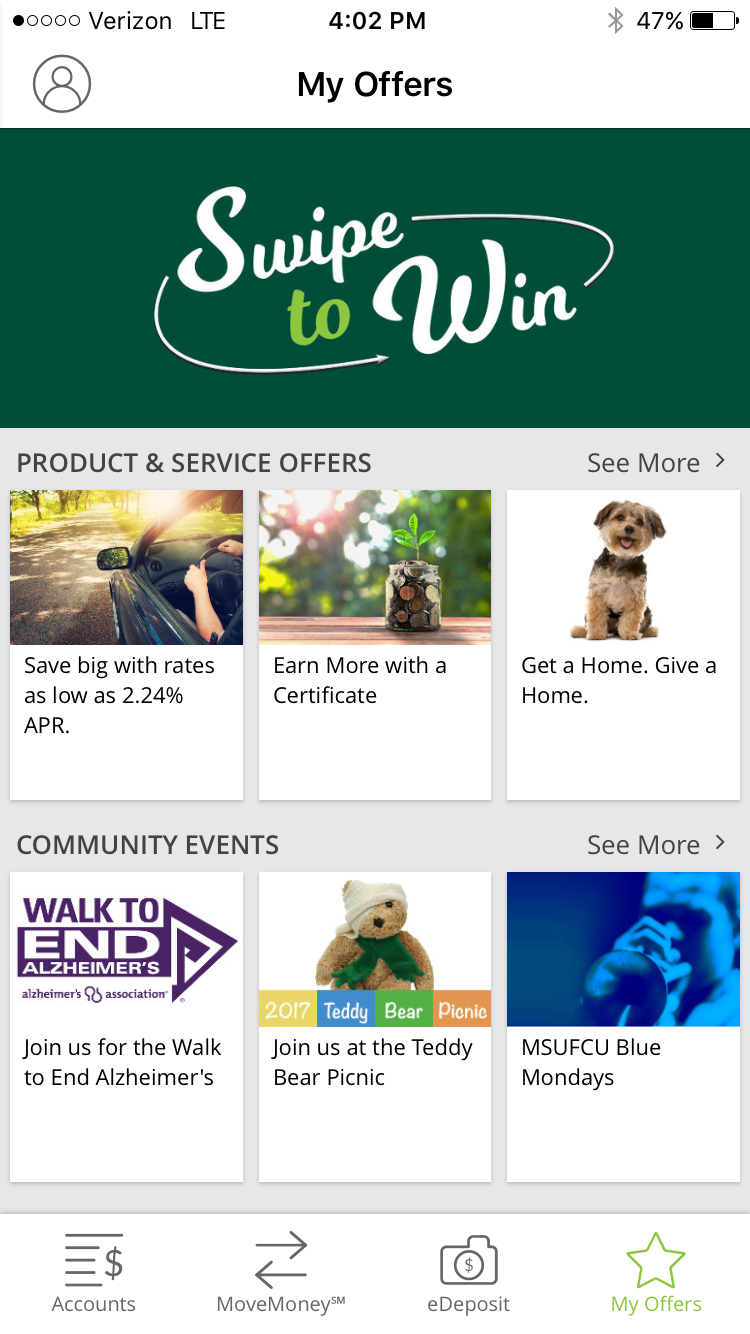 Michigan State University Federal Credit Union (MSUFCU) is pleased to announce the recent release of updates to the MSUFCU Mobile app. The updates are designed to increase account accessibility and management. Mobile app users will now have access to three notable features: My Offers notifications, Total Balance Snapshot and Transaction Details.
Through My Offers notifications, users are directly connected to relevant offers, community events and member benefits. The Total Balance Snapshot enables members to effortlessly review their accounts, with a single click, expanding to display the member's individual shares and loans, along with their respective balances. Additionally, Transaction Details is now accessible by tapping directly on card images or share/loan icons. This updated feature also allows users to rate and review credit union products.
"We're excited about our latest MSUFCU Mobile app release, as it demonstrates our dedication to enhancing the services we provide to our members and the community," said Deidre Davis, MSUFCU's chief marketing officer. "The updates in the latest release provide members with a seamless experience in personalizing and managing their finances on the go; as well as opportunities to learn about the major benefits available to them as members."

FreeStar Financial Partners with Setter Family McDonald's to Aid Veterans
FreeStar Financial Credit Union is helping veterans "one lick at a time" this week by partnering with the Setter Family McDonald's to offer members a free ice cream cone* when a donation is made to Pets for Vets.
"The credit union began in 1957 at what is now Selfridge Air National Guard Base and we are proud to continue our support for the military," said Jennifer Martines, executive vice president. "In 2013, we selected Pets for Vets as the credit union's military charity because of their commitment to heal the emotional wounds of military veterans by pairing them with a shelter dog. Our goal is to provide at least one veteran with a pet that can help the veteran regain their health and happiness."
The companion animals are provided at no cost to the veteran. However, the cost to properly train the animal and provide the necessary supplies is $1,500.
Donations are being accepted at all four branches in Chesterfield, Clinton Township and Sterling Heights as well as the office at Selfridge ANGB. *The free ice cream cone coupons are redeemable at eight locations in Macomb County owned by the Setter Family.
For more information on Pets for Vets, visit their website or contact Paula Rose, vice president of marketing, at 586-466-7806.
Go to main navigation