Visionary, Current Trend, Board Insight and Hot Topics at Fall Conference
Credit union CEOs and volunteers will be headed to the MCUL & Affiliates Fall Leadership Development Conference soon, where a broad agenda offers a myriad of insights and professional development opportunities.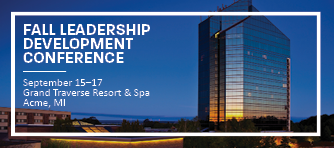 Taking place Sept. 15-17 at the Grand Traverse Resort and Spa near Traverse City, attendees are being drawn to hot topic sessions such as "The Future of Credit Unions: Becoming Relevant" where they will explore proven innovative strategies and programs credit unions can use to remain relevant and increase loan growth, profitability and member loyalty/retention. Other popular topics include "The Board's Role in Membership Growth: Rethink, Renew and Revive," "Board-Driven Holistic Leadership: Leading for Growth and Profitability" and "Protecting the Credit Union: The Board and ACH Risk Management."
Registration is $399 for the first four attendees and $349 for the fifth registrant or more from the same credit union. Guests are welcome to join participants, purchase meal tickets and attend the optional Saturday afternoon outing to Mission Point Lighthouse & Chateau Chantal Winery.
Go to main navigation