Intentional CU Leadership: Book Frankenmuth Accommodations Now
Frankenmuth is a popular destination for family fun, shopping and of course, chicken dinners, but this October it is the destination of the MCUL & Affiliates Intentional CU Leadership session.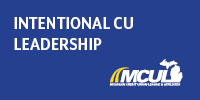 Mark the calendar for the evening of Oct. 17 and a full day on Oct. 18, then register today to begin building a network of credit union contacts and further developing a professional leadership style. Being held at the Frankenmuth Brewery, the unique event features Holly Duckworth and Pete Honsberger who will join attendees for dinner and activities and then keep them active throughout the following day.
The event is ideal for managers, supervisors, team leaders and up-and-coming leaders. Participants are encouraged to book accommodations at one of any area hotels, several of which are walking distance to the brewery. Registration is $399 per person.
Go to main navigation