Supervisory Committee Topics Presented at Fall Leadership Development Conference
This September, credit union directors, committee members and top management have the opportunity to gather and focus on strategic issues, compliance topics, cybersecurity and more during the MCUL & Affiliates 2017 Fall Leadership Development Conference.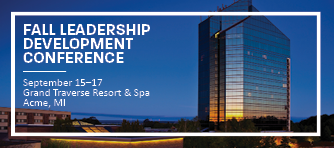 Taking place Sept. 15-17 at the Grand Traverse Resort and Spa near Traverse City, the broad agenda will include topics ideal for supervisory committee members, including the CUNA Volunteer Achievement Program session titled "The Supervisory Committee's Role in Finding Fraud (V304)." Other sessions related to safety and soundness being offered will be "Protecting the Credit Union: The Board and ACH Risk Management," "Overseeing the Annual Audit by Outside Parties (V429)" and "What Boards Need to Know About Cybersecurity."
With more and more credit unions moving towards a deferred compensation arrangement for their top executives, legal and regulatory insights on this topic are also slated on the agenda as important information for both directors and the supervisory committee to understand.
Accommodations at the Grand Traverse Resort and Spa are limited and participants are encouraged to have the hotel add them to the wait list and to secure rooms at any of the other many nearby hotels.
Go to main navigation