Employee & Building Updates
MSGCU Hosts Ribbon Cutting Ceremony at Shores Branch
Michigan Schools and Government Credit Union (MSGCU) celebrated the Grand Re-Opening of their St. Clair Shores office located on Little Mack Avenue, south of 10 Mile Road, on July 19 with a ribbon cutting ceremony. The Mayor of St. Clair Shores, several City Council Officials, Chamber representatives and local school dignitaries joined MSGCU to share in the excitement of the new design and layout of the branch and to hear of the gratitude MSGCU has for its neighborhood partners that made the renovations possible.
"We've been in this location for over 25 years and because of our growing member community, we had outgrown our space. Through teamwork with the city and the continuous support of our members and the Chamber, we are grateful to now offer an expanded and enhanced facility," said Peter Gates, MSGCU president/CEO. "Thanks to our credit union family and the Shores community for their patience as we worked to make this beautiful new space a reality. We hope that once you've experienced the upgrades, you will agree that it was worth the wait."
MSGCU was also pleased to welcome several special guests to their renovated branch to share in the celebration and festivities. Miss St. Clair Shores, Vanessa Chambe, The Ohanas, a female ensemble from South Lake High School brought their ukuleles, guitar and melodic voices and Rising Stars Academy students who catered and served their own homemade dishes, shared their time and talents and contributed to a memorable event.

American 1 Credit Union Announces Internal Promotions
American 1 Credit Union announced a series of internal promotions following American 1's president and CEO of 35 years, David C. Puckett's, retirement announcement this past May.
After a nationwide search, the American 1 Board of Directors selected current American 1 executive vice president Martha Fuerstenau to succeed Puckett upon his December retirement. Fuerstenau has been with American 1 for 33 years and will begin serving as president and CEO on January 1, 2018.
Replacing Fuerstenau in the role of executive vice president will be Kristi Edgar, who served most recently as American 1's vice president of marketing & communications. Edgar has been with American 1 since 2002.
Returning to American 1 after a 19 year absence, Laura Pryor has rejoined the credit union as the vice president of marketing & communications. Pryor served American 1 as vice president of marketing & communications from 1988–1998 and then later for one term on the American 1 Board of Directors.
American 1 also added two new positions to its executive team. Abigail Smith has been named assistant vice president of branch operations. Smith, most recently branch manager of American 1's home office, began her career at American 1 in 2010 as an account specialist.
Also joining the executive team as assistant vice president of branch operations is Janelle Merritt. Merritt has been with American 1 for the past 17 years in a variety of roles, most recently serving as the director of risk management.

Honor CU Adds to Leadership Team with Internal Promotions
Honor Credit Union is excited to announce the expansion of its leadership team with the internal promotion of Megan Hendrix, VP of operations, Kaylee Ganus, VP of community & brand, Frank Witucki, VP of risk management, and Scott DeFries, VP of commercial & consumer lending.
Megan Hendrix fills the role of vice president of operations bringing her 13 years of experience with Honor to the organization's' operations, facilities and project management teams. Originally from Decatur, MI, Megan lives in St. Joseph with her husband and son. She enjoys the warmer months of Michigan that allow her and her family to hike and kayak.
Kaylee Ganus has been named vice president of community and brand leading Honor's marketing, communications, community and brand teams. While born and raised a Hoosier, Kaylee has lived in St. Joseph with her husband for the past seven years. A Boilermaker to her core, Kaylee continues to root for Purdue's football team and is an avid runner currently training for the Chicago full marathon.
Frank Witucki is Honor's vice president of risk management bringing his expertise in the compliance and regulation arena to Honor's compliance, collections and processing teams. Growing up in Stevensville, Frank has spent time volunteering as a baseball coach for Lakeshore. He and his wife are adding a baby boy to their family of two dogs this fall and are huge Notre Dame and Chicago Cubs fans.
Scott DeFries brings over 25 years of financial industry experience to his role of vice president of commercial and consumer lending managing all lending operations for business, consumer and indirect lending portfolios. Born in Stevensville, Scott has lived in Colorado and Texas before returning to his hometown with his wife and three kids. His oldest daughter is a senior at Northern Michigan, his middle daughter a junior at Grand Valley and his youngest son will be a freshman at Michigan State University putting new meaning to a "house divided" when it comes to college sports.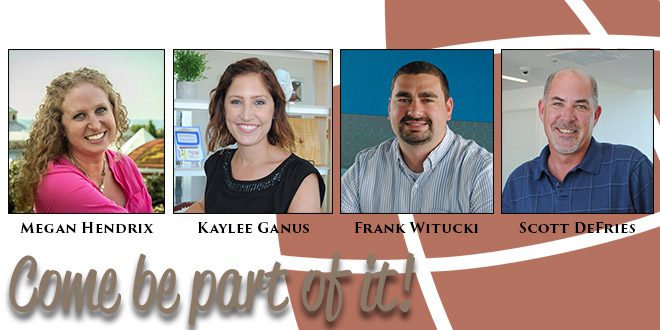 Go to main navigation