Hockeytown Heads North During Same Dates as Fall Leadership Development Conference
The Detroit Red Wings will be hosting their 2017 Training Camp in Traverse City over the same dates as this year's MCUL & Affiliates Fall Leadership Development Conference, Sept. 15–17, and hotel rooms are expected to become limited at the Grand Traverse Resort & Spa.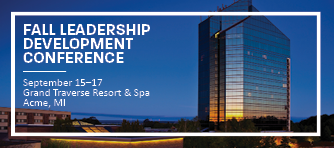 Developed for directors and committee members, the popular event and fun destination provides an ideal retreat experience for CEOs to join credit union volunteers to network and focus on strategic issues. This year's keynote presentation, "The Future of Credit Unions: Becoming Relevant," will spotlight the need for credit unions to become more calculated in their efforts to remain relevant in a disruptive environment that is highly competitive.
Guests are welcome to join attendees and purchase tickets for meals and an optional off-site winery tour on Saturday afternoon. Separate from the League's event, the Red Wings will be practicing at Centre Ice Arena in Traverse City; those who are interested in arriving early or using free time to watch Red Wing practice scrimmages may learn more about times and tickets here.
Go to main navigation