Employee & Building Updates
Motor City Co-op Credit Union Gets Back to Their Roots with a New Branch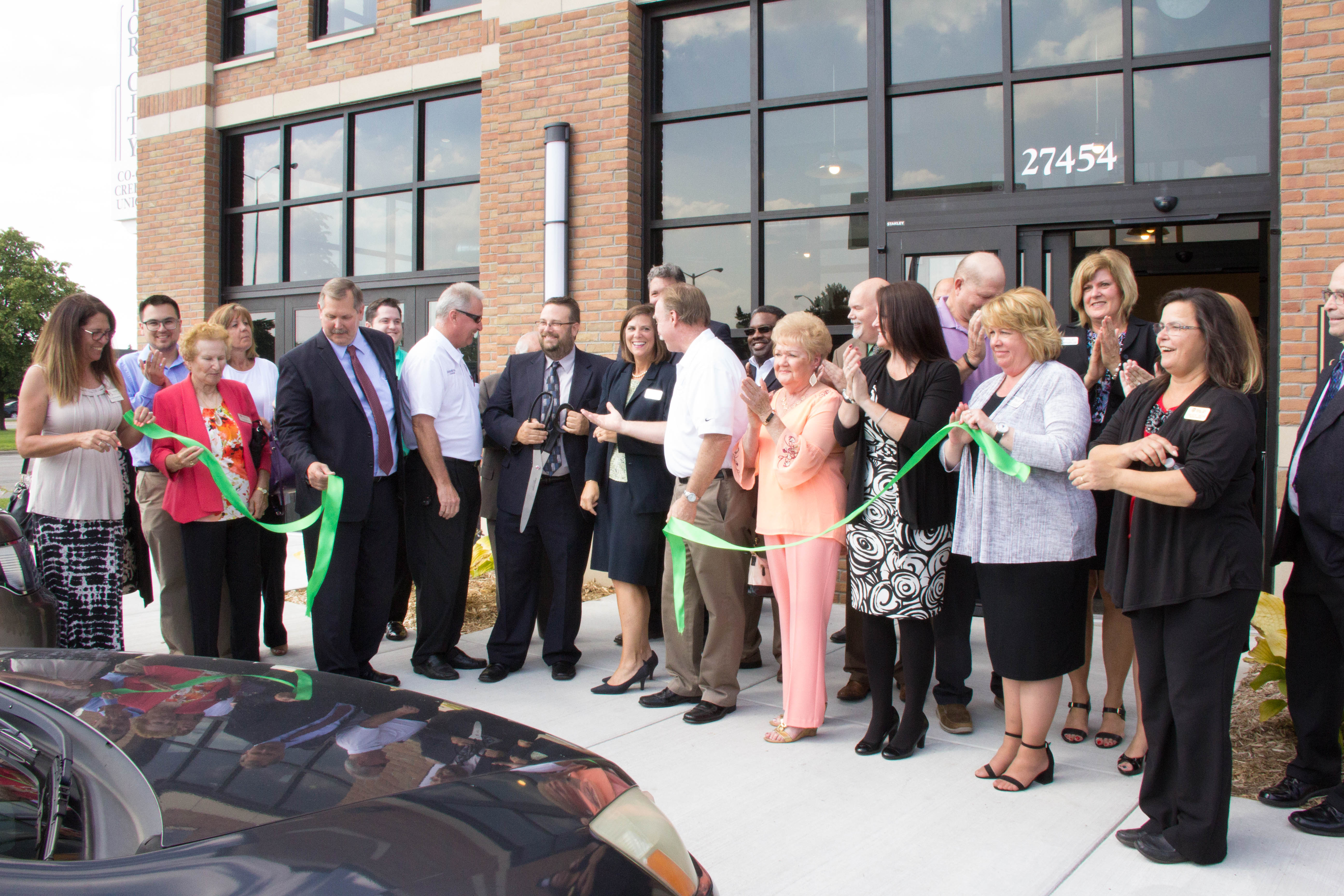 On July 18, Steven P. Andrews, president/CEO of Motor City Co-op Credit Union, cut the ribbon for the grand opening of their newest branch in Roseville. The branch, strategically located on Gratiot, just north of I-696, has a vintage industrial look. This look is paying homage to the credit union's heritage as a credit union founded in the motor city. The building, designed by Thompson-Phelan Group, prominently displays a vehicle in the lobby which can be seen from the street. Motor City Co-op bought the building in 2016. Prior to this it was "Big Jake's BBQ". They kept one wall and the floor to maintain the vintage look.
Motor City Co-op added several employees to their roster by opening this branch which will now house their call center as well as 5 other employees. "We're excited about the opportunity to be further entrenched in the Roseville community and we look forward to supporting many local events," commented Steven P. Andrews, president/CEO, Motor City Co-op. The branch location is front and center for historical automotive cruises and shows throughout the year.
To give some background, the credit union was founded in 1948 by Ralph Bathanti in his home on Parker Street in Detroit. The first-year financials showed assets of $7,100 and 175 members. In 1955, the credit union's first official office was established on Van Dyke in Detroit. Bathanti managed the office with two employees. By 1961, assets had reached $1.5 million and membership had grown to 3,900. In 1991, construction began on new corporate offices at 37321 Garfield Rd, Clinton Township, MI, 48036.

New Technology Available for TBACU Members
TBA Credit Union (TBACU) is proud to announce that their main line is now text enabled and they have rolled out the SecurLOCK™ Equip's mobile app which gives their cardholders complete control of their cards right from their mobile device.
"We have a strategic goal to continue introducing new and enhanced technology to our members," said Karen Browne, TBACU CEO. "One of our top priorities is to make their banking experience as convenient as possible."
The public is now able to text TBACU's local Service Center team at 231-946-7090, Monday—Friday, 9 a.m.—5 p.m. This is a convenient way for the members and the public to get answers to their banking questions and inquiries. TBACU does ask that those utilizing the texting service keep their mobile devices locked with a passcode when not in use to ensure the protection of all their personal information.
SecurLOCK™ Equip offers TBACU members ultimate control of their credit and debit cards. TBACU cardholders will now be able to switch cards on and off, control the card by location, control preferences, instant transaction alerts and a self-serve option to see available balance and analyze transactions. SecurLOCK™ Equip gives TBACU's members more peace of mind knowing they have complete control over their credit and debit cards.
Go to main navigation