Book Frankenmuth Hotels Now for Intentional CU Leadership
Snap. Crackle. Pop. It isn't just the sound of breakfast cereal, but the look, taste and feel of the MCUL & Affiliates Intentional CU Leadership workshop, taking place in Frankenmuth this October.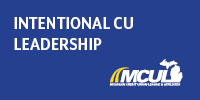 Bringing together a combination of ingredients, the event represents the recipe to advance the future of the industry by fueling leaders at all ranks of operations. Pulling away from a traditional conference template, the event takes place at the Frankenmuth Brewery, where taking a fresh-air stroll with colleagues, building an expanded powerhouse of contacts and hearing from speakers first to 'try before you buy' sets the tone.
Featuring two nationally renowned facilitators, the event kicks-off with dinner and activities the evening of Oct. 17, followed by a high-impact day on Oct. 18 focused on attendees, their personal goals and helping them define their own unique leadership style.
Two 20-minute Ted-style presentations, "How to Be a Buffalo and Charge into the Storm" and "Mindful Leadership & More" will take place in the morning, with participants deciding which speaker and topic to follow for the balance of the day.
"Everything about this event has been curated to bring fresh perspectives, energized ideas and a clear slate to work from," said Renee Werth, MCUL & Affiliates vice president of education & events. "We understand the value learners find from spending time with one another, and have baked those opportunities into the very culture of this experience."
Due to limited parking at the Frankenmuth Brewery, participants are encouraged to book accommodations at one of several nearby hotels within walking distance of the venue. With Frankenmuth being a popular tourist site and there being so much to do in the area, securing hotel rooms early is recommended.
Go to main navigation