Board-Driven Holistic Leadership at Fall Conference
Leading for growth and profitability plays a critical role in the efforts of board members to support the leaders of their credit unions, and to find ways to maximize serving members and remain strong.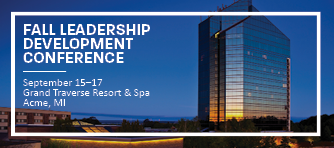 During the MCUL & Affiliates Fall Leadership Development Conference being held Sept. 15-17, directors will have an opportunity to explore a holistic approach to growth to help them navigate credit unions through change.
The breakout session, "Board-Driven Holistic Leadership: Leading for Growth and Profitability," will be led by Celeste Cook, founder and president/CEO of cuStrategies LLC. Cook will also deliver training on "The Board's Role in Membership Growth: Rethink, Renew and Revive," as well as the keynote session, "The Future of Credit Unions...Becoming Relevant."
Taking place at the Grand Traverse Resort and Spa, the board focused event features more than a dozen breakout sessions, peer-to-peer networking and social events, plus activities for guests who join attendees.
Due to other known Traverse City area events during this weekend, accommodations are expected to become limited as the Aug. 24 hotel cut-off date approaches, so those interested in attending are encouraged to register soon and immediately book rooms.
Go to main navigation