Intentional CU Leadership Heads to Frankenmuth for 2017
MCUL & Affiliates will host two outstanding speakers to work with Michigan credit union professionals at the Intentional CU Leadership workshop taking place in Frankenmuth this fall.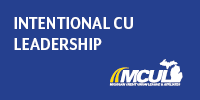 Holly Duckworth, CEO of Leadership Solutions International and Pete Honsberger, director of client services at CultureShoc will facilitate the out of the box training, providing tools for managers to develop themselves and become more purposeful in all they do.
Kicking-off the evening of Oct. 17 with casual dining and networking, participants reconvene the morning of Oct. 18 at the Frankenmuth Brewery for a day of insights and peer interaction. Attendees will listen to "The Talks of the Town," two 20-minute Ted Talk-style presentations that will set the day's pace, hearing from Honsberger on how to "Be a Buffalo Leader" and from Duckworth on "Mindful Leadership & More." From there, attendees choose the topic and presenter they want to follow for the rest of the day to take a personal journey on becoming an Intentional CU Leader.
Hotel rooms are being held until Oct. 3, 2017 at a negotiated rate at the Frankenmuth Fairfield Inn Marriott and all aspects of the workshop take place at the Frankenmuth Brewery.
Go to main navigation