In Brief...
Motor City Coop Credit Union 2017 Scholarship Recipients Are Announced
Motor City Consumers Cooperative and Motor City Co-op Credit Union are pleased to announce the 2017 Bathanti-D'Agostino Memorial Scholarship recipients. Each recipient will be awarded $2000 for college expenses.
"I am honored to announce this year's recipients. Motor City Co-op Credit Union and Motor City Consumers Cooperative are fortunate that we can provide funding to encourage our young members to further their education. Each of the recipients excels academically and is committed to helping their communities," said Jeff Malacko, board of director for Motor City Co-op Credit Union and chairman of Motor City Consumers Cooperative.
Six scholarship recipients were selected based on their scholastic ability, merit and community involvement. The recipients are:
Amber Abram - Detroit
Evan Leder - Roseville
Matthew Jacobs – Clinton Township
Sarah Maisano – Clinton Township
Spencer Kula – Howell
Tyler Newton – Shelby Township
High school seniors who are members or children of members who are attending college after high school may apply. Any Michigan resident is eligible to join the Credit Union by opening a savings account with a ten-dollar deposit and an initial three-dollar, membership fee. Verification of identity will be required with a State of Michigan license or identification card.
For additional information, you may contact Lori Hickey, Motor City Consumers Cooperative Secretary/Treasurer at lahickey@motorcitycoopcu.com or log on to motorcitycoopcu.com and click on Young Investors.

Zeal Financial Advisors Presents Social Security and Retirement Seminar
If you're preparing for retirement and seeking financial advice, Zeal Financial Advisors of Zeal Credit Union invites you to attend a "Social Security and Your Retirement" workshop. The complimentary seminar will be held on July 11 at 6:30 p.m. at the William P. Faust Public Library, located at 6123 Central City Parkway in Westland.
Presentation and discussion topics will include important "rules of the road" for receiving Social Security benefits; recent rule changes that may affect your retirement benefits; and how to evaluate options to manage your Social Security benefits.
There is no cost to attend the workshop which is packed with useful information. There will be light refreshments along with prize giveaways, and the opportunity to enter a drawing for a $50 VISA gift card provided by Zeal.
For more information and to register your attendance, call Jennifer Shelton at 734-466-6108.

Alpena Alcona Area Credit Union Employees Donate to Memorial Scholarship Fund
Alpena Alcona Area Credit Union (AAACU) employees presented Charlie Negro, AAACU board chairperson, with a donation to his son's Memorial Scholarship Fund.
The Mark Negro Memorial Scholarship Fund was established by Charlie's family and friends to award an annual scholarship to one Oscoda Graduating Senior who plans to enroll in a vocational education related program. To date, they have awarded $5,900 in scholarships.
Through the generosity of the AAACU employees, a check in the amount of $260 was presented to Charlie at AAACU's monthly board meeting. Employees were given the option to dress down in jeans for a $5 donation with all funds being donated to the memorial scholarship fund.

Consumers Credit Union's Davidson Honored as CUNA HROD Professional of the Year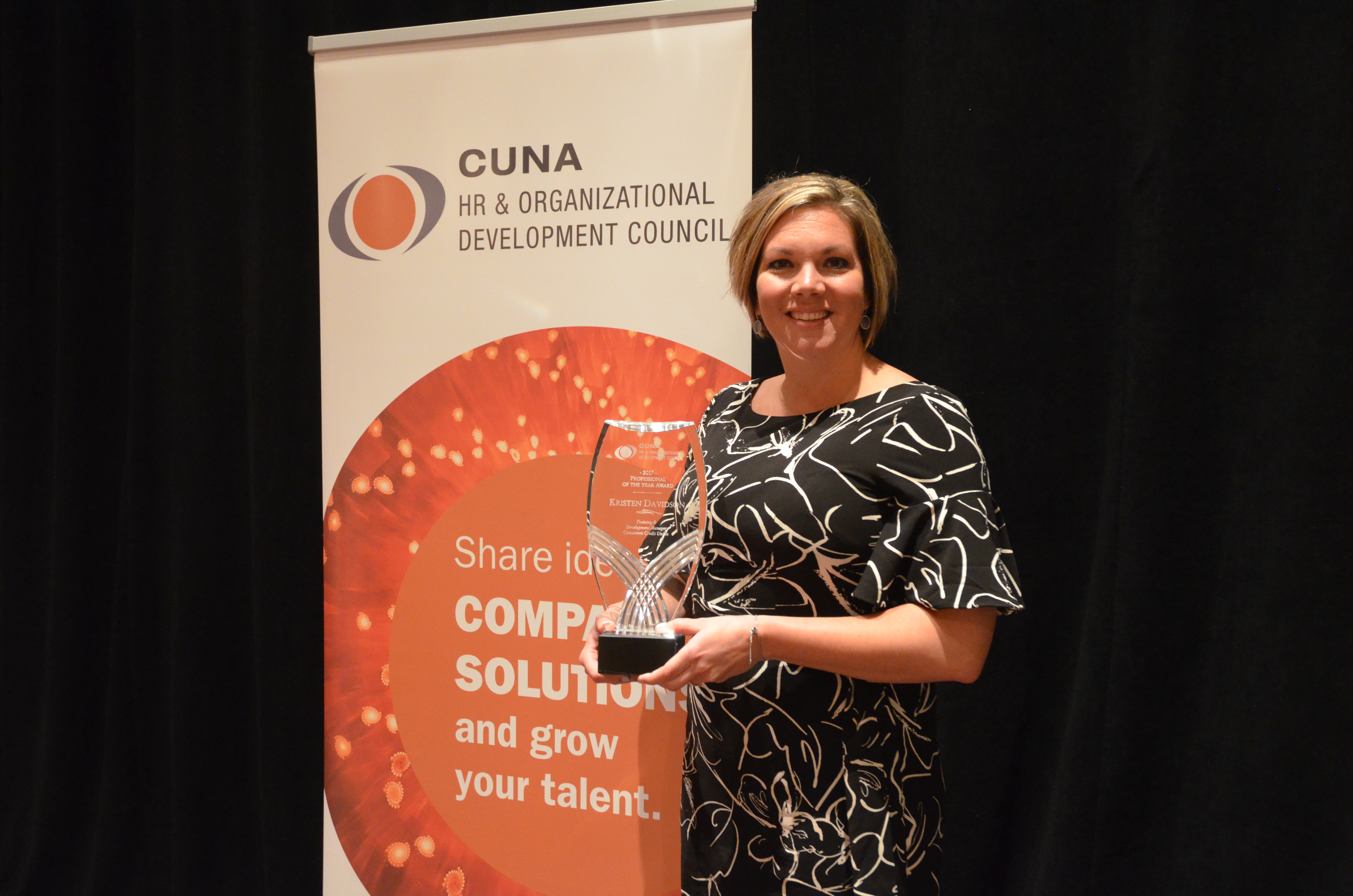 Consumers Credit Union's Kristen Davidson was recently named the Professional of the Year by the Credit Union National Association (CUNA) HR & Organizational Development Council. Davidson was recognized for her ambitious professional and organizational development initiatives that have dramatically increased employee satisfaction and engagement at Consumers.
"Kristen's greatest attribute is the fact that she has the openness to learn how to integrate marketing, membership and employee training," said Consumers' chief marketing officer Lynne Jarman-Johnson. "She is able to collaborate them, and while a lot of people want to silo what they do, she seeks to cross those boundaries."
Davidson, who has been with the credit union four years, was recently promoted to vice president of organizational development. In her time with Consumers, she has been responsible for creating a robust internal leadership program, revamping the annual review process and establishing other initiatives to create collaboration and learning among staff. Due in part to Davidson's efforts, the most recent Consumers employee satisfaction survey revealed employee engagement at an all-time high of 4.48 out of 5, which played a large factor in Consumers being named the Nation's Best Mid-Sized Company to Work for in 2016.
"Kristen challenges us to pursue initiatives that lead to the best possible work environment for our employees," said CEO Kit Snyder. "She's an integral part of our team, and we're so proud of her." In addition to investing her time and talent in CUNA's HR & Organizational Development Council, Davidson also participates in the Kalamazoo Human Resource Management Association as a way to gain new information, share best practices and develop the skills of colleagues in the financial industry and beyond.
Davidson was among three individuals and seven credit unions to be honored for their achievements at the 2017 CUNA HR & Organizational Development Council Conference, which was held April 19- 22 in Las Vegas.
Go to main navigation