Zeal Credit Union Sponsors Incredible Domino Workshops for Kids and Teens
Following in the footsteps of record winning builders of Zeal Credit Union's Incredible Science Machine is a group of local kids and teens who meet monthly at local libraries to learn the art of domino chain reaction building.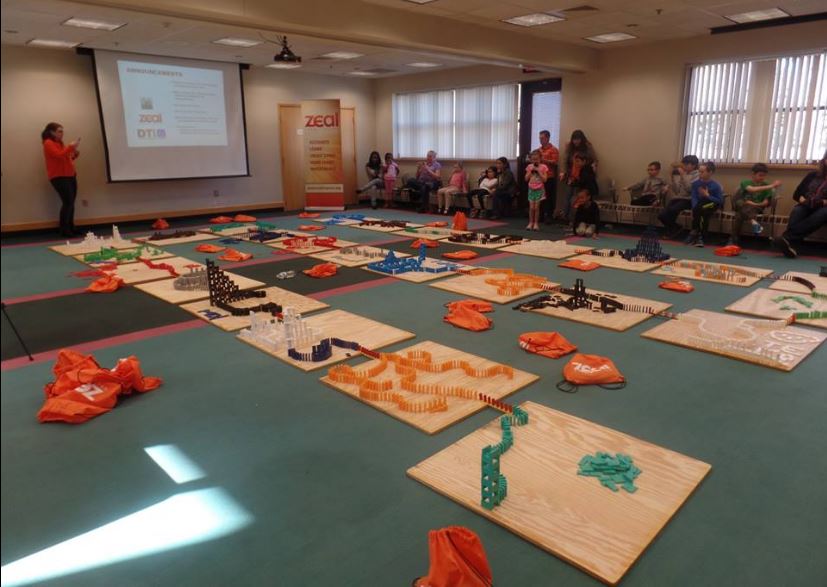 Leading the group is Harvey Krage, an engineer and father of young domino enthusiast Sebastian, also known as Domino Racer. Last year at the Michigan Science Center, they met Steve Price, lead builder of Zeal Credit Union's Incredible Science Machine (ISM). In 2016, ISM broke the Guinness World Record for the largest domino circle field.
Krage explained his family's background in domino building, "Sebastian was only three years old when I gave him an old set of dominoes and showed him how he could set up letters of the alphabet and numbers, and topple them."
Four years later, Sebastian has more than two thousand dominoes and his own YouTube channel.
Looking for a way to connect with other kids and parents interested in the art of building domino chain reactions, Krage created a parent led group called Domino Topplers in Michigan (DTIM), and approached Zeal Credit Union which agreed to sponsor the Incredible Domino Workshops. He also worked with leading educators to incorporate STEM learning opportunities into each workshop.
Since January, parents and kids, ranging in age from eight to 16, meet once a month at local libraries. Zeal provides the dominoes, and local libraries provide space to accommodate from 20 to 30 builders.
Interested builders are invited to register and attend two upcoming summer workshops. The William P. Faust Public Library of Westland will host the group from 2 to 3 p.m. on Saturday, June 24, 2017. Advance registration is requested by contacting the library, which is located at 6123 Central City Parkway in Westland.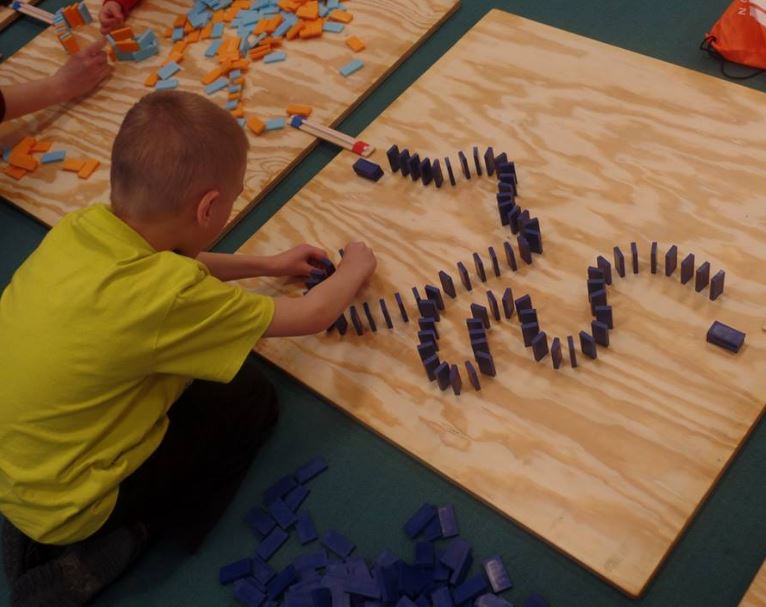 The second summer workshop will be held from 11 a.m. to 1 p.m. on July 15 at the Livonia Public Library, located at 32777 Five Mile Road in Livonia. Advance registration is required.
"Zeal welcomes the opportunity to sponsor the Incredible Domino Workshops with DTIM," said Tiffany Sweet, the credit union's youth and community development coordinator. "They're fun and strengthen students' skills in math, science and engineering."
Visit Zeal's Facebook for more information about DTIM and upcoming events.
Sweet added that the Incredible Science Machine will be coming back again this year. It is scheduled to be held on Sunday, July 30, at the Trillium Academy in Taylor. For more information and updates, please visit IncredibleScienceMachine.com.
Go to main navigation