UP Compliance Update This Week
There is still time for last-minute decision makers to attend MCUL's Compliance Update, taking place at the Hampton Inn, Marquette/Waterfront this Thursday, June 22.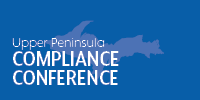 Bring along questions and join Sarah Stevenson, the League's director of regulatory affairs and Glory LeDu, director of league system relations for CU Solutions Group, who will be administering the session.
In addition to an overall regulatory update, other session topics will include resources on "How to Keep Up With the Pros," a "White Paper: Internal Fraud," the "Military Lending Act and Servicemembers' Civil Relief Act Update" and "How to Train Board Members on BSA."
Registration is $199 per person. To register, call (800) 262-6285, ext. 225.
Go to main navigation