MCUL/CUSG CEO Dave Adams Unveils New Products at AC&E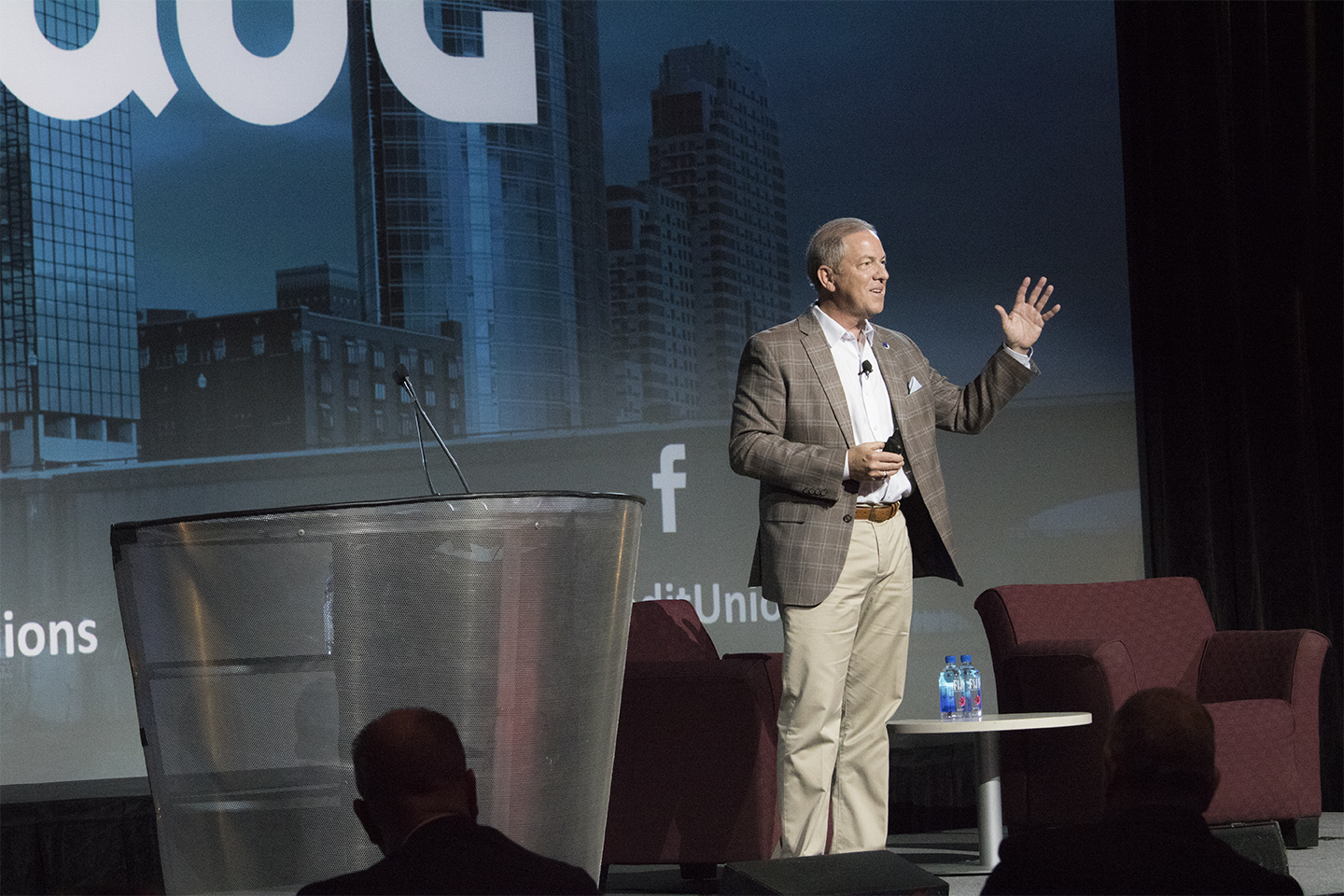 MCUL/CUSG CEO Dave Adams spoke to AC&E attendees this morning about passion. Specifically, his message was about having a passion for credit unions through three different areas: mission, message and mobile offerings. Through these three areas, the League aims to help credit unions do what they're passionate about: serving members.
Before jumping into his presentation, Adams introduced a brief video message from CUNA CEO Jim Nussle. "Attending these events strengthens the entire movement," Nussle said before touching quickly on CUNA's Campaign for Common-Sense Regulation–the organization's advocacy initiative that exemplifies the strength of the CUNA/League system.
"If we continue to work together to talk to Congress, we can achieve some important advocacy victories," said Nussle, who ended his message by relaying how the CUNA/League system ultimately empowers credit union growth.
Following Nussle's message, Adams jumped into his presentation with a bit of history, mentioning that back in 1915, the Amway Grand housed two opposing banks. This was a time in Grand Rapids before credit unions existed. After experiencing "the worst economic downturn in American history," half of the nation's banks had failed.
And out of the Great Depression, credit unions were born.
Since 1939, credit union memberships in the country have grown 48 times, Adams said. And in Michigan, they've grown 76 times. He went on to specifically highlight the growth of state chartered credit unions since the 2004 update to the Michigan Credit Union Act.
"When we're engaged in advocacy, we make it easier for credit unions to do business," Adams said.
The positive of membership growth was then contrasted with the persistence of credit union consolidation rates. The number of credit unions across the country has gone down 32 percent over the past ten years, and 35 percent here in Michigan.
"Credit unions large and small are doing well, but our consolidation rates are a reminder of our competition," commented Adams, implying that we have plenty of work to do as an industry.

CUNA estimates that Michigan credit unions provided more than $373 million dollars in direct financial benefits to Michigan credit union members, last year, said Adams. "And yet, a lot of Michigan residents still need help."
Proving such, Adams cited that 40.3 percent of Detroiters live below the poverty line, 62 percent have subprime credit, 27 percent have access to revolving credit and 48.4 percent are either "underbanked" or "fully unbanked."
"Those struggling to get by are the ones that really need CUs," Adams stressed.
The CEO of MCUL/CUSG believes that a lot of the Michiganders who go looking for help end up finding help in the wrong place: payday lenders, check cashers, wire transfer outlets, tax prep providers, etc.
"We need more credit unions to properly serve the underserved," he continued.

Just Getting By
Finding a solution for the underserved segued into Adams' introduction of Just Getting By, a feature-length documentary that illustrates the daily hardships and financial plight of Americans.
Through the profile of 19 different Americans, the documentary broaches a number of topics, including cyclical debt, limited access to credit, excessive debt, poor savings and retirement habits and a failure to plan for major life events.
"The documentary is the first component to a much larger testimonial-based, statistics-driven marketing campaign," Adams said. "The campaign uncovers the financial challenges of everyday Americans and connects them with the products, services and guidance offered by their local credit union."
Adams went on to detail the Just Getting By campaign, saying the comprehensive campaign will work through compelling and relatable stories that will make a positive emotional connection to a credit union and its driving mission to serve those who most need help.
The campaign includes:
The feature-length documentary
Five customizable, topic-centric video vignettes
Nineteen customizable, social media-styled video stories
A social media playbook and calendar
Full-scale marketing support
"Just Getting By is not a just a program for the financially challenged," Adams said, "it is a bold nod to the credit union difference and a reiteration of our service mission. Just Getting By also connects with millennials–an audience that has been shown to foster deep appreciation for organizations that inspire social good - in a way that more traditional marketing programs often fail to do."
The feature-length documentary launched today, June 9, but the entire campaign launches in Michigan this September, and nationally in January.
Messaging and Misconceptions
Adams then switched gears to talk about increasing our industry's message in order to overcome some of the misconceptions people have about credit unions.
Referencing research from CUNA, he listed the four major misconceptions that act as unnecessary barriers for credit unions: 1) Americans assume that they simply cannot join a credit union, 2) Americans believe credit unions are more for those in need, 3) Americans perceive credit unions as less accessible than their banking counterparts, and 4) Americans are concerned credit unions are not big enough to protect them from fraud and cybercrime.
The 2018 CU Link campaign, There's Strength in Our Numbers, is all about overcoming those perceptions by leveraging numbers that illustrate the value of the credit union movement. Specifically, the campaign will help make an emotional connection between consumers and credit unions.
Adams then shared a video of credit union professionals talking about CU Link's power through this campaign. "We often say that our rates are lower than banks, but being able to share the actual numbers behind that is more powerful," said Lisa Fawcett of Zeal Credit Union.
Before moving on from CU Link, Adams shared that he's heard again and again from people inside and outside of the industry that credit unions are one of the best kept secrets. "Because we're not doing everything we can to spread our message. We need to do everything we can to convey to the public the strength of credit unions."
Pivoting to smartphone use, Adams said that major shifts in technology are changing the ways we engage members and potential members, and while ubiquitous smartphone use presents major challenges for credit unions, it also provides major opportunities.
Digital wallets are gaining ground, especially Millennials using apps like Venmo, Adams said. In fact, Venmo alone grew 125 percent in 2016. Other opportunities arise from the frequency that mobile banking users are checking their account balance before large purchases, or the number of smartphone users relying on their phone to research purchases while shopping.
"We need to be disrupters ourselves," Adams said, stressing the urgency for credit unions to leverage this activity.
"CU Solutions Group (CUSG) and CU Wallet have aligned to form LifeStep Solutions, a mobile app development company managed by CUSG," the League CEO said introducing LifeSteps Wallet.
The LifeSteps Wallet mobile app is designed to enhance a credit union's mobile offerings - and offer members tools for saving time and money on life's major decisions (i.e. shopping, home, auto, financial wellness), while keeping the credit union app top-of-mind and top-of-wallet.
Adams then gave attendees a demo of the mobile app, exhibiting its customizability, interface and content and that culls from Yelp, Zillow, Houzz, AutoSmart, PayPal, Venmo, Home Advisors and many others.
LifeSteps Wallet is designed to merge the credit union service mission with technology to give members better service, Adams said. "Mobile meeting messaging, through mobility."
Go to main navigation