AC&E: Lt. Gov. Brian Calley and Special Guests Open Thursday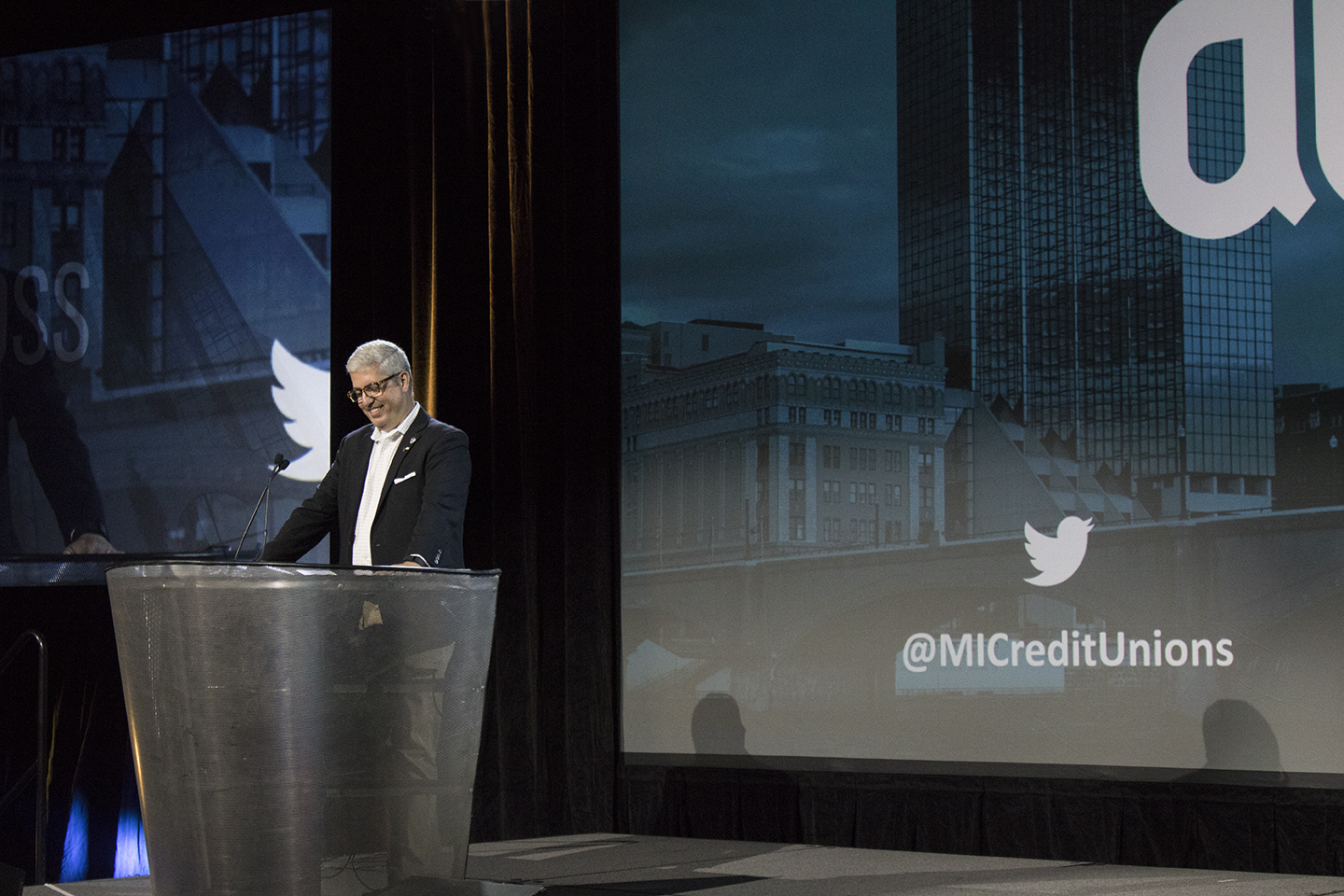 MCUL President/COO Ken Ross welcomed the attendees this morning with a thank you for attending, for coming together to make a large credit union family and for all the good works that credit unions do across the state.
"Now when we work together, with leagues and CUNA, we can make some amazing things happen," said Ross. Continuing to tout the value of credit unions, he said, "we have the human touch that the public can't find from our competitors."
While we're good here in Michigan, we don't go it alone, said Ross speaking about our partnership with CUNA before going into the League's legislative priorities.
"We have some big challenges ahead. Federally, tax reform is on the horizon. Job one is to protect not for profit status." He also mentioned data breach, "We're looking to implement a law in the next year or so that will address this issue," and payday lenders are right around the corner, continued Ross. "We're looking for you to help us address policy makers on this issue."
Ross then introduced MCUL Chairman John Buckley.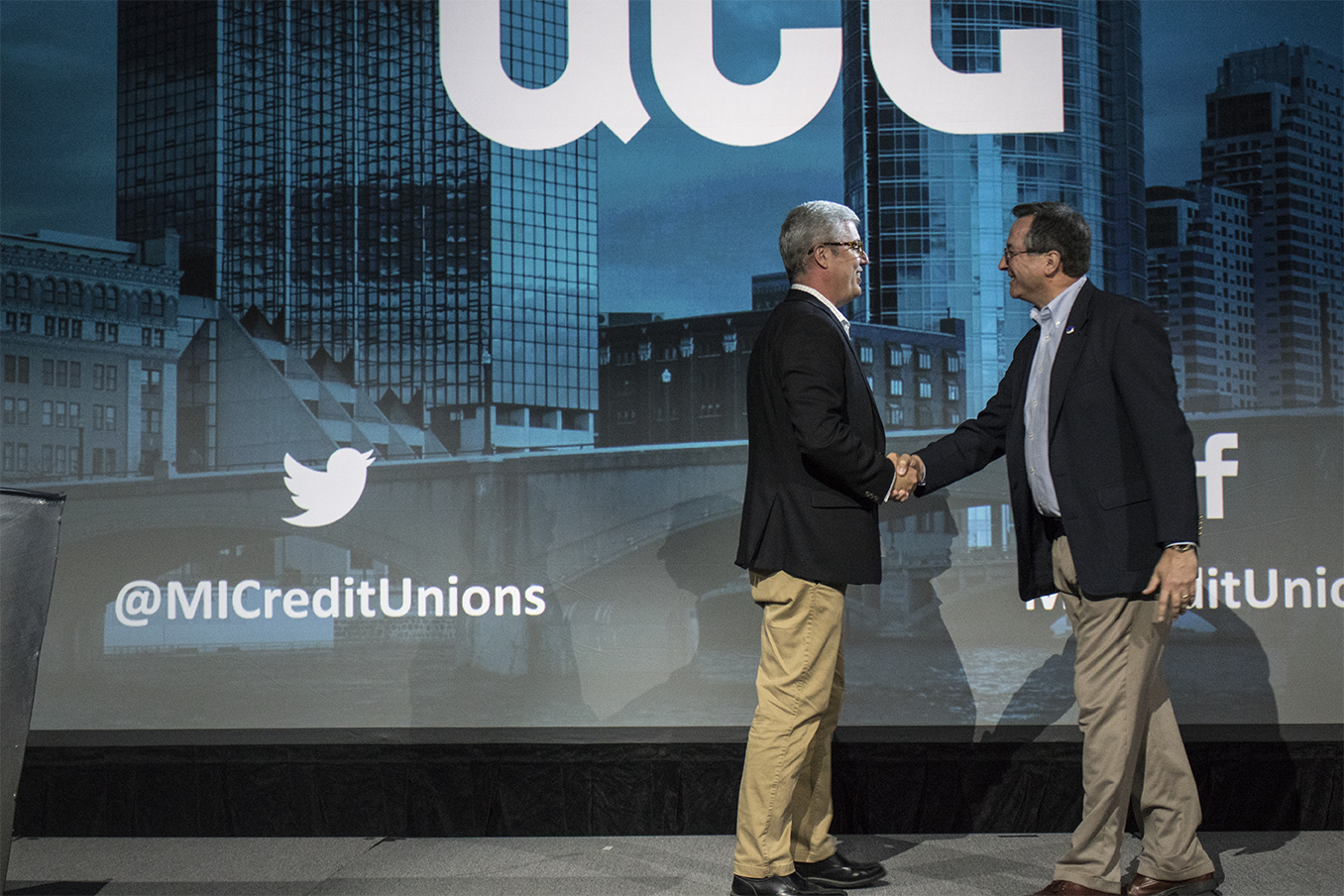 "When we gather together for events like the AC&E, we talk a lot about CU engagement, for a good reason. Real, genuine grassroots commitment is what makes our industry different," said Buckley. Knowing what we do matters–that every single day, we're making a tangible, positive impact on people's lives–is rewarding in a way that many professionals never experience."
"After citing the League's 100 percent affiliation rate and Michigan's climbing credit union memberships, Buckley said, "As we share information, stories and resources through the next several days, let's remember that, together, we can achieve more."
U.S. Representative Bill Huizenga and Governor Rick Snyder were both virtually present through videos, introduced by the chairman.
Huizenga's message was about favoring the lessening of regulatory burdens for credit unions so they can better serve their members. He mentioned the Financial Choice Act as an act that will mainstream the one-size-fits all Dodd Frank Act. It will lift its burdensome requirements, so credit unions can strengthen and support small business better.
The Governor's brief video touched on the state's sinking unemployment rate, remembering the signing of the Michigan Credit Union Act at last year's AC&E and the large role that credit unions play on bolstering Michigan's economy.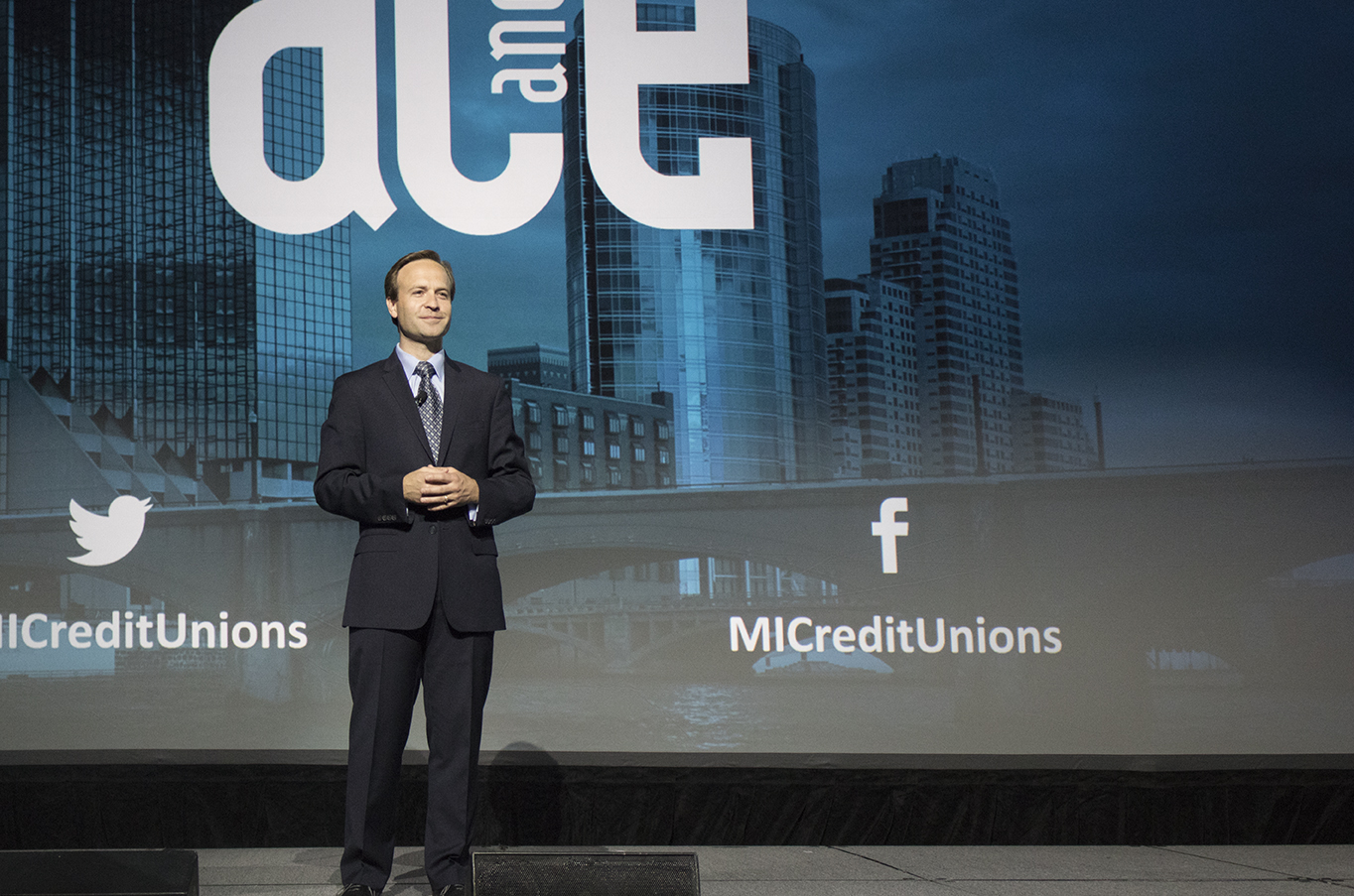 Following the videos, Buckley introduced Lieutenant Governor Brian Calley, who most recently appeared at the MCUL GAC in April.
"It speaks to the strength of our communities," Calley said, opening his speech on the economic comeback Michigan has seen in the past decade.
"If you look at this comeback, there have been fundamental changes that have occurred. First is stability. Seven years ago, we were hemorrhaging jobs, and the housing market was in dismay." To offset this, Calley said their priority was to balance the budget in order to get to a place of stability. "There has to be a reasonable amount of money coming in, in relation to the money going out."
Further, it was important that they create an environment for success around the people who are already here in the state of Michigan. "When I first started, there were no jobs." Now it has shifted, he said. It went from no jobs, to jobs with not enough skilled workers, and now more employers are willing to train those without the skills, getting them to a level necessary to be successful.
Before taking questions, Calley spoke highly of MCUL, "The League has been an outstanding resource for public policy; an interest in the outcome, but also an expertise that is invaluable.
This is an organization that knows what is good for our communities."
The first question pitched to him covered data breaches, to which he responded, "We can't have players out there that have sensitive information, that for whatever reason, when there is a breach, don't notify those who have been breached. There needs to be action taken. There needs to be responsibility and notification."
When asked what the biggest challenges to community lenders in Michigan, Calley echoed Huizenga, saying the previous one-size-fits-all structure placed over lenders "made it impossible to survive for the players that were doing the right kind of lending, while the wrong, dangerous kind of lenders were able to strive."
"When you put someone in a borrowing cycle, you can't solve a debt to income problem with lending," Calley continued passionately. "We need to have protections for those who are vulnerable. There are better answers for those who are desperate for cash. We need to get to the root of these people's problems so they can get on their feet."
Go to main navigation