Compliance Conference Coming to Marquette
Now is the time for credit unions in Northern Michigan to remain current with ever-changing regulatory topics by registering and booking accommodations for the MCUL & Affiliates UP Compliance Conference, being held June 22 at the Hampton Inn, Marquette/Waterfront.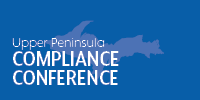 The event features Glory LeDu, manager of league system relations for CU Solutions Group and Sarah Stevenson, senior regulatory and legislative affairs specialist for the Michigan Credit Union League & Affiliates. Agenda topics will cover a "Regulatory Update," "How to Keep Up with the Pros," "White Paper: Internal Fraud," "Military Lending Act and Servicemembers' Civil Relief Act Update" and "How to Train Board Members on BSA." Plus, those with specific questions may bring them along for the Q&A time — a great added value. Registration is just $199 per person.
Go to main navigation