Credit Unions Unite to Support Habitat for Humanity
The credit union philosophy of people helping people was lived out at the Habitat for Humanity ReStore in Shelby Township the first week of May as volunteers from 10 credit unions worked to prepare the store for its soft opening on May 9. The ReStore sells donated goods and uses the profits for home building projects to help underprivileged families. A formal grand opening is planned for June 2 and 3.
The mission of Macomb County Habitat for Humanity is to strive to build, repair, educate and revitalize. Their goal is to improve financial literacy by overseeing mortgages, as well as aiding in retail operation and homeowner development.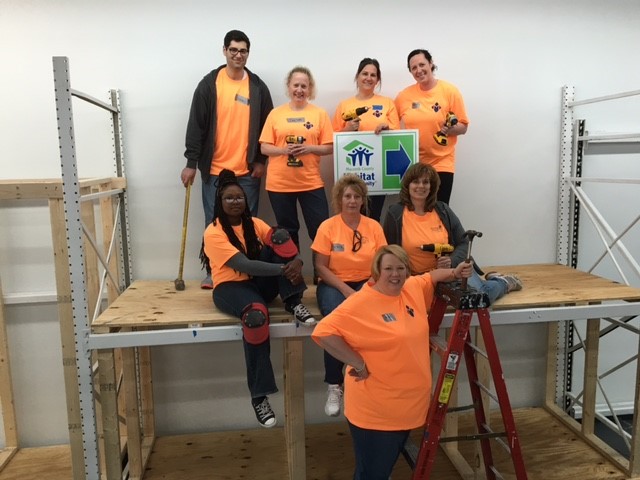 "One-third of our funding comes from proceeds from the ReStore, so our focus is getting the store open so we can build more homes," said Dave Tirsell, Faith and Volunteer relations manager for Macomb County Habitat for Humanity. "The Shelby Township location should provide more visibility than the recently closed Mt. Clemens location."
Volunteers, donned in matching bright orange shirts, laid tile, built storage racks and shelving units, moved furniture into storage units, cemented holes in the parking lot, polished appliances, cut grass and performed other duties to prepare for the opening May 9. The credit union workers are part of the Metro East Chapter of Credit Unions and came together after their charity committee selected Habitat for Humanity as one of its four charities to support in 2017.
After securing grant funds from the Michigan Credit Union Foundation, the Metro East Chapter donated more than $3,400 in new tools to Habitat for Humanity and purchased Money Works books, a financial literacy tool, to share with workers and other volunteers onsite. The credit unions are accepting cash donations in their branches through June to assist with more build projects.
"Credit unions were founded on the philosophy of People Helping People and have always been deeply connected to the communities we serve," said Drema Isaac, president and CEO at FreeStar Financial Credit Union and President of the Metro East Chapter. "Credit unions have shown this commitment through our support of local charities and donating time and resources to help support their missions. Seventy-five representatives from 10 credit unions united to help underprivileged families. Through the collaborative effort of these individuals, we worked together to have a positive impact in our community," added Isaac.
The credit union participants are employed at ABD Federal Credit Union, Advia Credit Union, Christian Financial Credit Union, Community Choice Credit Union, FreeStar Financial Credit Union, International UAW Federal Credit Union, Michigan Legacy Credit Union, Michigan Schools & Government Credit Union, Motor City Co-op Credit Union and Tandem Federal Credit Union.
"It was my first time volunteering with Habitat for Humanity," said Taberah Tolver, Michigan Legacy Credit Union. "It was a life goal for me to be part of something greater than myself. Everybody from all the credit unions had a positive attitude and were focused on our goal. In six hours, we got so much done to assist with the opening."
Volunteers helped on May 16 and 18 at 42461 Orchard Street in Clinton Township to work on a new build, started by students in the Construction Trades Program at Chippewa Valley Schools. Volunteers will also be working on the rehabilitation of a home up the street at 42631 Stepnitz. On May 20, credit union volunteers helped renovate an existing home in Eastpointe at 23729 Normandy Street.
The Metro East Chapter of Credit Unions Charity Committee donated more than $307,000 to support charities in the Metro Detroit area since its inception in 2008. For more information, visit their website.
Go to main navigation