In Brief...
MOON Chapter of Credit Unions Participates in National Child Abuse Awareness Campaign
The MOON Chapter of Credit Unions participated in the National Child Abuse Awareness campaign this past April. This event has become an annual fundraiser for the chapter.
Participating credit unions display cash buckets which have been decorated by children who have been helped at the Child Abuse Council office in Muskegon. Members who donate $5.00 were given the opportunity to enter a drawing to win an autographed Abdelkader Red Wings jersey.
The Child Abuse Council received more than $2,000 from cash donations that were received at the following credit union offices: Lakeshore FCU, Service 1 FCU, Muskegon FCU, Muskegon Co-op FCU, Shoreline FCU, SB Community FCU, Family Financial CU, Tri Cities CU, West Michigan Postal Services FCU, Michigan Coastal CU, Port City FCU, St. Joseph FCU and Best Financial CU.

FreeStar Financial Presents Budgeting Simulation to High School Students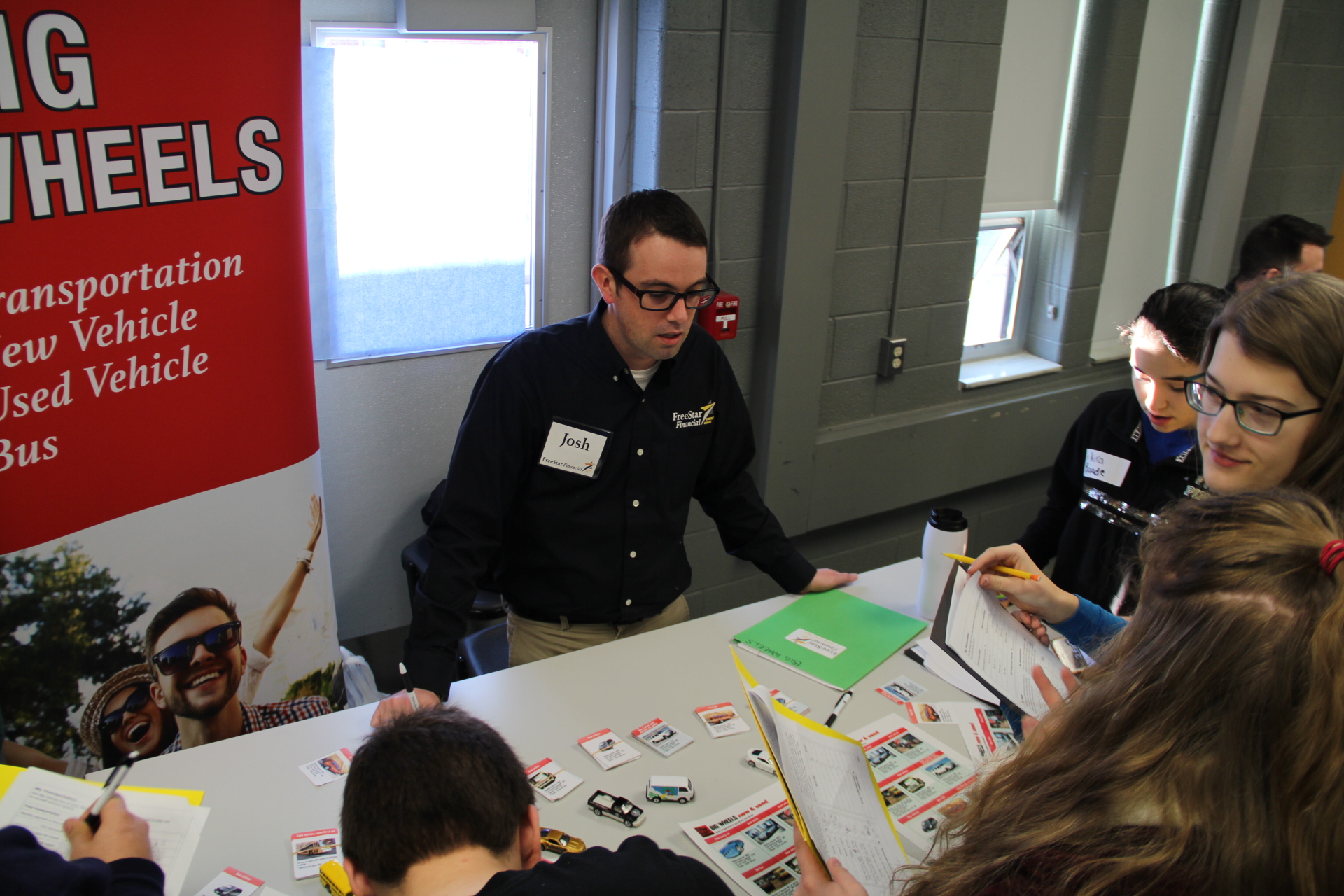 FreeStar Financial Credit Union staff packed their bags and headed to Warren Mott High School on May 4 to host a budgeting simulation for high school students called Mad City Money.
The 90-minute budgeting simulation takes students into the future. They are given a new identity complete with occupation, salary, spouse, student loan debt, credit card debt, and medical insurance payments. Teens get an instant family and then move about 9 stations to purchase housing, transportation, food, clothing, household necessities, day care and other needs.
"We like to pair the students up so that they can practice budgeting as an adult with realistic circumstances," said Laurie Cafagna, Mad City Money team coordinator. "Students can experience the consequences of poor decisions, develop good judgment regarding spending and making a budget and understand that budgeting is a necessary step in good money management."
The credit union offered students an opportunity to get a $25 iSave Certificate of Deposit, at no cost, when they open a savings and checking account at the credit union.
"I am proud that FreeStar Financial Credit Union provides a program that is entertaining as well as beneficial for young students," said Drema Isaac, president/COO. "Mad City Money provides realistic examples of the decisions students make and the consequences of those decisions. Developing saving and budgeting skills early in life will provide an excellent foundation for their financial success."
This school year, the FreeStar Financial team has visited eight schools reaching more than 1,000 students. The credit union updated and enhanced their Mad City Money program with the help of a 2016 Michigan Credit Union Foundation (MCUF) Community Reinvestment grant. MCUF grants are available to help with credit union community outreach and financial education initiatives and 2017 grant applications are due June 30. Learn more on the MCUF website.
Go to main navigation