In Brief...
Honor CU Wins Economic Impact Award from Cornerstone Alliance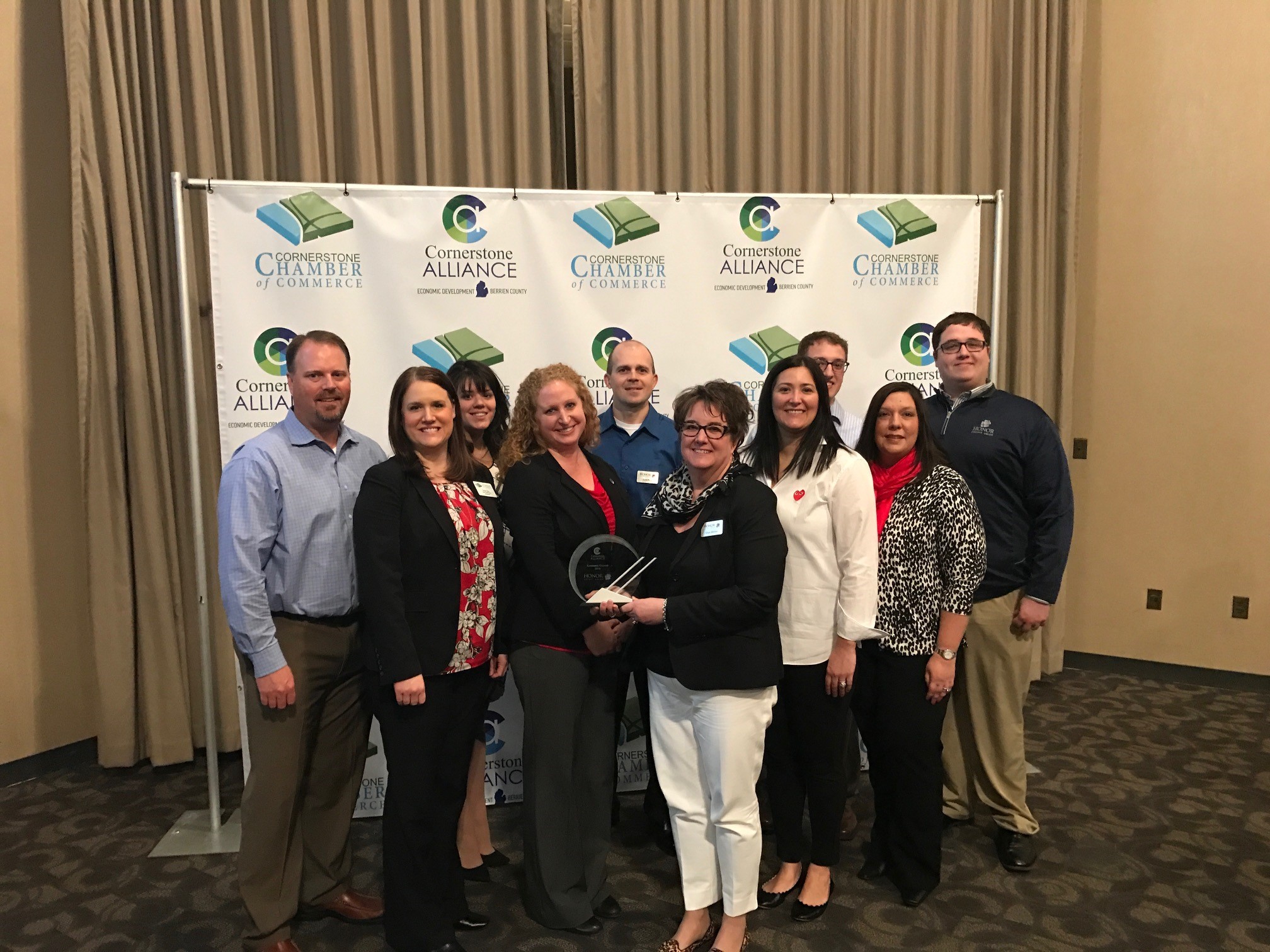 Honor Credit Union was the proud recipient of the Economic Impact Award from Cornerstone Alliance on Feb. 9, at the Cornerstone Alliance and Cornerstone Chamber of Commerce Recognition Breakfast held at Lake Michigan College's Mendel Center.
Shari Weber, Honor's Chief Financial Officer, accepted the award, which recognizes a Berrien County business for their commitment to continued investment and growth in the community.
Honor has six branches in Berrien County, including St. Joseph, Stevensville, Benton Harbor, Coloma, Berrien Springs, and Niles. Honor recently completed construction on a state of the art Operations Center in Berrien Springs and is currently building a new St. Joseph branch on Niles Avenue.
Scott McFarland, Honor CEO, was a nominee for the Pat Moody Chamber Award and Tanya Urias, the St. Joseph branch manager, was nominated for the Chamber Ambassador of the Year Award.
Cornerstone Alliance is a non-profit, investor-governed, economic development organization primarily focused on increasing employment opportunities, private sector capital investments, and the local tax base in southwest Michigan. Cornerstone Chamber of Commerce is a member-driven organization encouraging the growth of business through networking, advocacy, visibility, and benefits for its members.

Rogue River Community Credit Union Awards First Annual Scholarships
At the 61st Annual Meeting on March 29, RRCCU was proud to congratulate the accomplished students who were awarded the 2016 "Rogue River Community Credit Union Educational Scholarship." Each winner demonstrated outstanding scholastic achievement and community service. This program benefits the youth members and children of members of the credit union and provides funding for tuition and other eligible expenses.
The 2016 Educational Scholarships were $1,000 for each student.
Sparta High School Senior
Caleb Soules
Kent City High School Senior
Sarah Meek

DCECU Nationally Recognized for Top Performance in Saving its Members Money
For the second consecutive year, Dow Chemical Employees' Credit Union has received a Credit Union National Association (CUNA) Benefits of Membership Award – also known as the Member Benefits Top Performance Award – for saving its members money. DCECU is the only Michigan-based credit union to receive the award.
CUNA compared DCECU's rates, fees and account yields to those of competing banks, determining that each member household saved an average of $696 this past year compared to the same services from a bank – a nearly 9% increase from DCECU's 2016 award-winning total of $639 in savings.
DCECU is one of only three credit unions in the $600 million and above asset category – the highest of CUNA's three asset categories – to receive the award in 2017. Only nine awards were given nationally across all categories.
"We are proud to offer great rates, provide rebates and rewards when we are able, and engage in principles-based decision-making every day," said DCECU President/CEO Dennis Hanson. "Receiving the CUNA Member Benefits Top Performance Award for the second consecutive year reinforces for us that these actions truly do contribute to meeting our goal of helping our members build a strong financial future."
According to the CUNA website, "the CUNA Benefits of Membership Award recognizes credit unions that offer exceptional financial value to their members in the form of benefits. Credit unions that showcase exemplary value are recognized for their achievements."
Go to main navigation