In Brief...
Credit Union Collection Consortium for April
The Credit Union Collection Consortium is an outstanding resource for answering your most difficult policy and procedure questions in the area of collections. The next meeting will specifically address many of the best practices in the industry. The Consortium's president, Peggy Dombrowski will conduct an open forum discussion on April 12 from 2-4 p.m. at Genysis Credit Union, located at 2100 Executive Hills Blvd. in Auburn Hills. This is an invaluable opportunity to compare notes with other credit unions and to stay current with new operational trends in collections. Everyone is encouraged to bring copies of their collection policies and procedures to share. Attendance to the meeting is open to all credit, collections and loss prevention professionals. No reservations are necessary.

Alpena Alcona Area Credit Union is Awarded MidMichigan Health Leadership Award
During the Alpena Chamber of Commerce Annual Dinner, Alpena Alcona Area Credit Union (AAACU) was awarded the MidMichigan Health Leadership Award.
The Health Leadership Award was presented by the Development Council's Business Relations Committee to AAACU for their initiative to create a healthier lifestyle for staff. AAACU offers to its team members a physical fitness/weight management reimbursement program, quit smoking program, flu shots, paid sick time, Employee Assistance Program and dental/vision/medical insurance to full time employees at no cost to the employee. AAACU also implemented an Employee Walking Program encouraging employees to walk 10,000 steps or more daily. Through the walking program, AAACU team members have walked more than 61,000 miles.

KALSEE Credit Union Awards Rachel Moreland the Inaugural Paul Matyas Award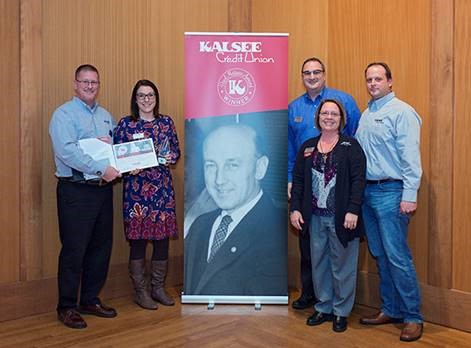 On Feb. 20, at KALSEE's annual Staff Development Day held at the Kalamazoo Institute of Arts, Branch Manager Rachel Moreland was awarded the first-ever KALSEE Paul Matyas Award, the highest honor a KALSEE team member can receive.
The award annually honors an individual whose contributions to the credit union embody the spirit of founder and account #1 holder Paul Matyas, moving the organization closer to fulfilling its mission and vision. The winner must demonstrate a sense of community, an entrepreneurial spirit, perseverance and adaptability, and personal responsibility.
Paul Matyas did so much to better the lives of his fellow co-workers and the community, pioneering the availability and affordability of consumer credit for the hard working, blue-collar people of Kalamazoo. After serving in the United States Marine Corps in WWII and the Korean War, Paul found work at National Water Lift (NWL–now Parker Hannifin). During the heady post war boom of the 1950's and early 1960's consumer credit as we know it today was in its infancy and many Americans had to rely on pawn brokers for small cash loans at high rates of interest. While working at NWL, Paul saw co-workers who were often struggling financially to get by until payday or save up enough money to take a family vacation.
To solve the problem, Paul took the lead in organizing and founding the Lift Line Credit Union in 1954. This cooperative venture started small, making employee loans for $5–$10 to help workers get through until payday; secured with nothing more than a handshake and a promise to repay. Paul's passion to better the lives of others fueled the success and continued growth of the credit union and immeasurably improved the quality of life of those it touched.
By 1965, the credit union had grown large enough to hire its first full-time employee, Bob Moore, who would go on to lead the credit union as CEO for 40 years. In addition to his supervisory duties at NWL, Paul continued to serve as treasurer for the credit union a total of 38 years, until his death in 1991. As the company prospered the credit union continued to grow and expand its services, eventually becoming the institution we know today as KALSEE Credit Union (Kalamazoo Southeast Employees Credit Union).
Award winner Rachel Moreland attended Kellogg Community College with a major in Accounting and minor in Business Management. She then joined Fifth Third Bank where she served as a Financial Center Manager, gaining valuable experience in customer service, branch operations, sales, team building, and coaching. In October of 2015, Moreland joined the KALSEE team as Stadium branch manager. She has recently taken responsibility for KALSEE's largest branch, the Westnedge branch in Portage, Michigan. A driven individual, Moreland brings to KALSEE a passion for developing her staff, advancing their careers and enhancing their sales and service skills, and nurturing relationships with local businesses.

TBA Credit Union Distributes Spirit Check Donations
TBA Credit Union recently distributed $762.00 to local schools through its Spirit Check Program. When a member orders a box of checks imprinted with the school's logo, that school earns $2.
"We are excited to again provide an avenue for TBA Credit Union to provide funding for our local schools", said Christie Dompierre, Marketing Director, continuing " With budget cuts and an increased need for school funding, the Spirit Check Program is a simple way for students, parents, and faculty to support their school". Since the inception of TBA Credit Union's Spirit Check Program in 2009, the credit union has donated more than $6,000.
Go to main navigation