In Brief...
TBA Credit Union Distributes Spirit Check Donations
TBA Credit Union recently distributed $762.00 to local schools through its Spirit Check Program. When a member orders a box of checks imprinted with the school's logo, that school earns $2.
"We are excited to again provide an avenue for TBA Credit Union to provide funding for our local schools," said Christie Dompierre, marketing director, continuing, "With budget cuts and an increased need for school funding, the Spirit Check Program is a simple way for students, parents, and faculty to support their school." Since the inception of TBA Credit Union's Spirit Check Program in 2009, the credit union has donated more than $6,000.
A $190 million (assets) credit union, TBA Credit Union provides financial services to more than 16,000 members in Antrim, Benzie, Grand Traverse, Kalkaska, and Leelanau counties. In addition to two branches located in Traverse City, TBA Credit Union members have access to more than 30,000 surcharge-free ATMs nationwide through the CO-OP Network.
For more information about TBA Credit Union, visit tbacu.com or call 231.946.7090.

Alpena Alcona Area Credit Union Hosts its 63rd Annual Meeting Dinner and Dance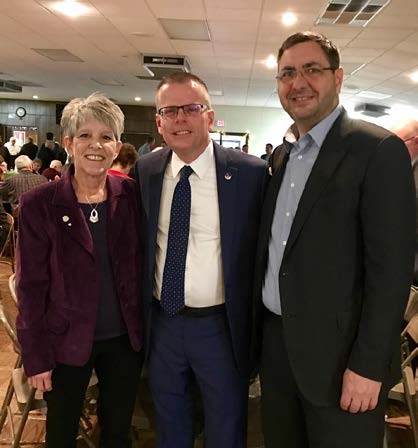 230 employees, volunteers and members gathered to celebrate the 63rd Annual Alpena Alcona Area Credit Union (AAACU) Meeting Dinner and Dance at K of C Hall. Special guests attending included State Senator Jim Stamas and State Representative Sue Allor.
President/CEO Don Mills highlighted some community reinvestment programs AAACU has been involved with throughout 2016, including five Teen Reality Fair programs teaching financial education to more than 600 students, implementation of AAACU's new Youth Development Loan program and donating more than $20,000 back into the communities AAACU serves.
Attendees received a gift, enjoyed appetizers, dinner, an ice cream bar and had an opportunity to win $3,500 in cash prizes. Entertainment was provided by DJ Daryl Kelly. Officers of the Board of Directors were elected at the Organizational Meeting held immediately following the Annual Meeting. Officers elected included: Charlie Negro, (Chairperson), Alan Shillair, (Vice Chairperson), Sheila Panknin, (Secretary) and Terry Nelkie, (Treasurer). Dave McNeil and Brian Shumaker also serve as board members. The Board of Directors is currently comprised of 6 elected volunteer members who are responsible for the general direction and control of the Credit Union. AAACU is seeking an additional volunteer to serve on the Board of Directors.

FreeStar Financial Offering Scholarships - Available Through March 31
FreeStar Financial Credit Union is offering $4,000 in scholarships to high school seniors who apply by March 31. Applicants may choose from two categories: the Military Honor Scholarship (2 available) and the Community Action Scholarship (2 available).
The Military Honor Scholarship honors the foundation of the credit union by offering a member whose parent is active military, reserve or veterans an opportunity to receive $1,000. "We appreciate the men and women who defend our country every day, and this is one way for us to show our thanks."
The Community Action Scholarship recognizes young members who take the time to assist the community and non-profit, charitable organizations. As a credit union founded on the principles of "people helping people" and serving the community, we want to help provide educational assistance to members who are active volunteers in the community.
"Since 2010, we have granted scholarships to some of the county's most outstanding students in the arts, sciences and medicine," said Drema Isaac, president and CEO. "The credit union is proud to support our youth's desire to further their education and their employability."
FreeStar Financial Credit Union is a full-service financial institution serving 10 counties in southeast Michigan and military throughout the state.
For a full description of the scholarships or to apply, visit freestarfinancial.com and submit by March 31. For more information, contact Paula Rose, vice president of marketing, at 586-466-7806.
Go to main navigation