Volunteer Conference: Security, Payments, Strategic Planning and Benefit Costs Covered
Credit union directors and CEOs need to stay abreast of a wide variety of topics and the MCUL & Affiliates 2017 Spring Leadership Development Conference offers just that. Happening April 28–30 at the Soaring Eagle Casino & Resort in Mount Pleasant, seats are filling fast for more than a dozen different breakout sessions.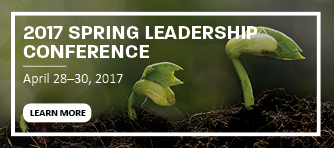 What do directors want to know? Sessions such as "Board Reporting: The Security Perspective," "Payments: Diligence and Vigilance for Credit Unions" and "Strategic Planning" (CUNA Volunteer Achievement Program V404) are all proving to be popular with attendees.
In light of ever-increasing health care and benefit costs, participants are also flocking to a session on "Board Strategies for Managing Increasing Employee Benefits Costs."
Guests are welcome to join attendees at the conference and purchase tickets for meals or a special guest outing to visit the Alden B. Down house and have lunch at Mountain Station.
Go to main navigation